Updated 6:12 p.m. ET: A New Jersey judge on Monday sentenced a former Rutgers University student accused of using a webcam to spy on his gay roommate's love life to a 30-day probationary jail term.
Indian-born Dharun Ravi, 20, was facing up to 10 years in prison after being found guilty of bias intimidation and invasion of privacy in a case that exploded into the headlines when Ravi's roommate committed suicide. Ravi also was facing the possibility of deportation, but the judge recommended Monday that he be allowed to stay in the country.
Tyler Clementi, 18, jumped off the George Washington Bridge on Sept. 22, 2010, after finding out that Ravi saw him kissing another man and appeared to encourage others to watch his romantic encounters through a camera on his computer.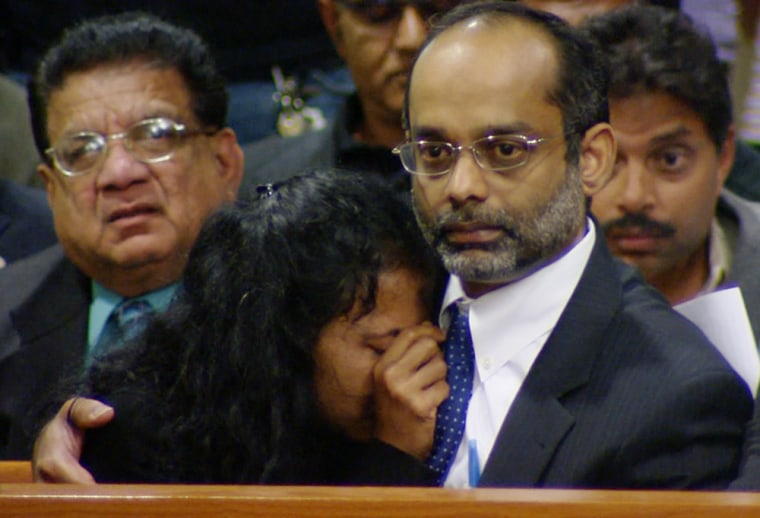 "This individual was not convicted of a hate crime, he was convicted of a bias crime, and there's a difference," Superior Court Judge Glenn Berman said.
"I say that because I do not believe he hated Tyler Clementi. He had no reason to," Berman said, adding that Ravi's crimes were committed out of "colossal insensitivity."
"I heard this jury say, 'guilty' 288 times -- 24 questions, 12 jurors. That's the multiplication," Berman said. "I haven't heard you apologize once."
Ravi's sentence also includes three years of probation, 300 hours of community service and a $10,000 fine.
Prosecutors said they plan to appeal the sentence.
"While the Middlesex County Prosecutor's Office did not request the maximum period of incarceration for Dharun Ravi, it was expected that his conviction on multiple offenses of invading the privacy of two victims on two separate occasions, four counts of bias intimidation against Tyler Clementi, and the coverup of those crimes, would warrant more than a 30-day jail term," Prosecutor Bruce J. Kaplan said in a statement.
As Clementi's father, brother, and mother addressed the court, holding back tears at times, the image that emerged was of a "vulnerable" Tyler "shaken by the cold, criminal actions of his roommate."
"Nobody other than Tyler understood how vulnerable he was," Tyler's father Joseph Clementi said. "We are seeking justice and accountability, not revenge."
The family spoke about their long-running ordeal as the media and several court hearings picked apart every detail of Tyler's last days.
"My world came crumbling apart in September 2010," Tyler's mother Jane Clementi said, adding that Ravi had come to Rutgers with preconceived notions about her son.
"He never really knew Tyler," she said, describing the day she helped her son move into his new room at Rutgers, when Ravi ignored Tyler.
"He could never have known the viper's nest he was walking into," Tyler's brother James Clementi told the court, adding that an apology from Ravi would now be empty and spoken without empathy.
"I love my brother and I will mourn for him every day for the rest of my life," he said.
The court also heard a statement from "MB," the man who was watched via webcam as he kissed Clementi. MB described his emotional pain and a combination of embarrassment, emptiness and fear in the wake of Clementi's death and subsequent court proceedings.
"I do wonder if it has ever entered [Ravi's] mind that he has caused me a great deal of pain, and yet he knows nothing about me," MB's statement read.
Ravi did not wish to address the court, but both of his parents spoke, expressing their belief in the American justice system.
In her grief-stricken statement, which was often interrupted by tears and sobs, Dharun's mother Sabitha Ravi told the court his son's life and health have been devastated by the events that occurred over the past 20 months.
She said her son now only eats one meal a day, and has lost more than 25 pounds.
"He was absolutely devastated and broken into pieces," Sabitha Ravi told the court, as she wiped away tears.
"Dharun's dreams are shattered and he has been living in hell for the past 20 months," she added, hugging her son after finishing her statement.
Dharun Ravi also cried.
"Contrary to the false propaganda, we are not a homophobic family," Dharun's father Ravi Pazhani told the court. "Dharun was not raised to hate gays."
As the hearing began, the judge noted the court had received letters and petitions asking that Ravi be pardoned. Gay activists also made public pleas for leniency in recent days.
Ravi must report to Middlesex Adult Correctional Center on May 31.
More content from msnbc.com and NBC News: