As officials in the wildfire-ravaged Canadian city of Fort McMurray prepared to tour the devastation along with journalists, they warned evacuated residents that images coming from the site would be emotionally disturbing.
The fire that has been growing rapidly since it ignited on May 1 exploded Friday and Saturday, but a sprinkle of rain and snow — along with an army of firefighters — helped to slow the spread of the boreal blaze Sunday.
Officials worried the fire could exceed 1,000 square miles by morning, but on Sunday afternoon said it was being held at 621 square miles — slightly larger than the area of Oklahoma City.
While most of the burning was in rural areas, the entire city of Fort McMurray and smaller communities — a total of about 88,000 people — were evacuated.
About 25,000 of those evacuees had to be relocated again from the north as the fire spread that way — a logistical nightmare that was further hampered by low visibility on the roads due to smoke.
Alberta Premier Rachel Notley said that the three-day-long transportation effort was completed Sunday morning.
Notley also said that favorable weather was pushing the fire away from Fort McMurray, and she planned to tour the charred city on Monday.
Some journalists would also be allowed into the city, but Notley warned that any photos could be devastating to displaced residents.
"There will be some dramatic images," Notley said, noting that mental health services were available to all evacuees.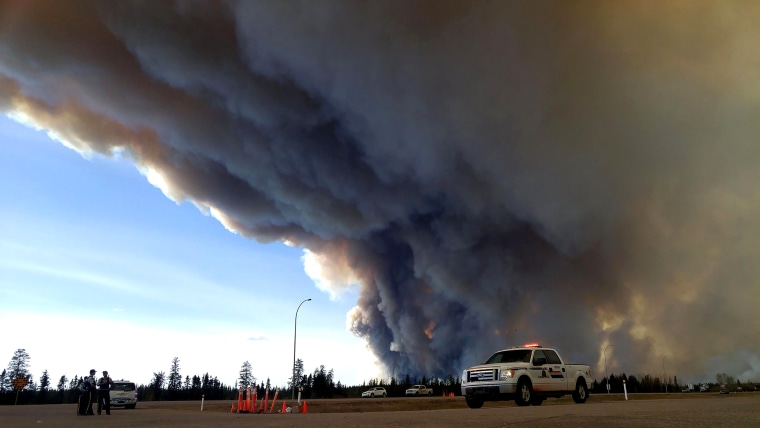 Fort McMurray fire Capt. Adam Bugden told CBC News of the devastation: "I've never seen anything like this in my life and I never want to see it again."
The fire chief of the Alberta municipality of Wood Buffalo, Darby Allen, sought to comfort displaced residents with a message on Twitter.
"We know from all the calls that you're getting frustrated because you don't have any information on your homes," he said. "We're really working hard on that. It's a complicated process — what's damaged, what's left, is it a garage, is it a house?"
"So we really will get that to you as soon as we possibly can," Allen said with a thumbs up.
Scott Long, the executive director of operations at Alberta Emergency Management, said Sunday that officials would "get a much better handle on number of structures up" within the coming week. Firefighters have estimated that more than 1,600 homes and buildings in Fort McMurray have been burned.
Officials said the process of determining out when people could get back into their homes was about to get underway, but the controlling the fire burning in the surrounding forests would likely take months.
More than 500 firefighters working to quell the flames were able to keep the fire away from the Suncor and Syncrude oil sands facilities, but production at Suncor had shut down, said Chad Morrison of Alberta Wildfire.
Notley, the premiere, said government officials would be meeting with leaders in the energy industry on Monday to determine the blow the fire has blown to the important component of the region's economy.
Other losses related to the fire included two people who died in traffic accidents while bring evacuated, Notley said. No fatalities have been reported as a direct result of the fire, officials said.
"Today is Mother's Day. I am hoping, in this crisis, to spend a few minutes today with my own children," said Notley on Sunday through tears. "The fact that not all of us can do so is an awful tragedy. Today on Mother's Day, all of us in Alberta are thinking of you."