Americans weary of the war in Afghanistan should understand that any U.S. presence there after this year "will not be one where we will be putting our men and women directly into harm's way," the chairman of the Joint Chiefs of Staff said Wednesday.
Gen. Martin Dempsey told NBC News that Afghanistan "will remain a dangerous place for some time to come," but he said the American mission there after 2014 will be more about training and helping the Afghan military at high levels, not patrol or combat.
"It will be a very different mission than it is in 2014," he said.
It's not certain that the United States will have any presence in Afghanistan after 2014. President Barack Obama has ordered the Pentagon to plan for a total pullout if the U.S. and Afghanistan can't strike a security agreement.
Obama spoke earlier this week with Afghan President Hamid Karzai, and the White House signaled that Karzai is unlikely to sign a security deal before he leaves office. Elections to replace him are scheduled for April.
Such a deal, known as a bilateral security agreement, would give the United States a legal basis for keeping troops in Afghanistan. The U.S. has kept open the option of leaving as many as 8,000 after this year. There are about 33,000 U.S. troops in Afghanistan now, down from 100,000 as recently as 2010.
Issues of contention between the United States and Karzai have ranged from the conduct of U.S. special-operations forces to the handover of Afghan prisoners in U.S. custody at Guantanamo Bay, Cuba.
The American relationship with Karzai has broken down in recent months. This week's conversation between Obama and Karzai was reportedly the first since last summer. The Afghan president infuriated American leaders by releasing 65 alleged militants two weeks ago.
The United States said some of those militants were linked to attacks that have killed American troops. Karzai said the release of the detainees was "of no concern" to the United States.
The major candidates to succeed Karzai have all indicated they would sign a security deal with the United States, Dempsey noted in the interview. In the absence of such an agreement, "I see no possibility of remaining," he said.
"The one thing we don't want to do is be seen as occupiers, in this part of the world in particular," he said.
But if the United States does stay, it will be a matter less of providing American firepower than lending expertise, Dempsey said.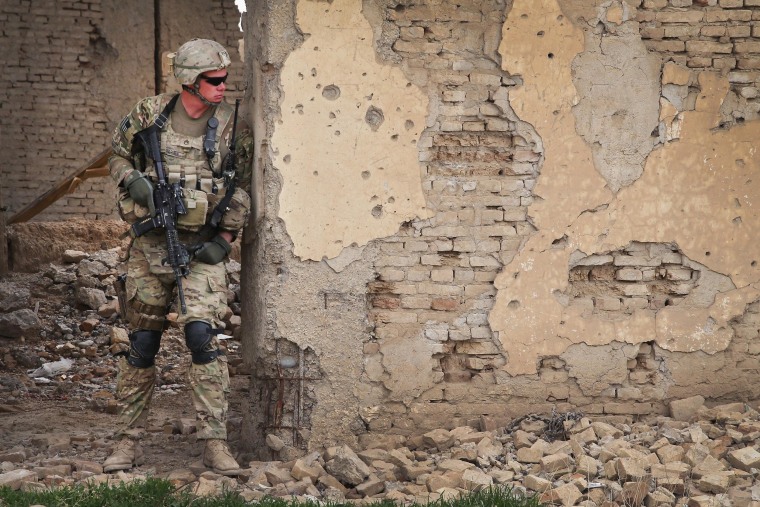 The Afghan war, launched by the United States in October 2001, has steadily declined in popularity, and most Americans now tell pollsters that it has not been worth fighting.
Asked what he would say to war-weary Americans, Dempsey said:
"The president has been very clear that our war in Afghanistan will be over at the end of 2014. And I agree with that, by the way. It has been a very long conflict, and our presence beyond '14 will not be one where we will be putting our men and women directly into harm's way."
The principal reason to remain after 2014 is to keep pressure on al Qaeda, but there are broader strategic interests well, he said, including being a stabilizing influence on the relationship between Afghanistan and Pakistan.
"Nations act principally in their own self-interest, but we also are here because we genuinely care," he said. "We genuinely care about a stable Afghanistan and its people and the progress they've made in health care and education and economic development."
Defense Secretary Chuck Hagel is meeting with NATO leaders in Brussels this week to talk about strategy for Afghan security.