Police have conducted what they say could be Germany's biggest-ever drug bust, seizing 700 pounds of colorful pills and packages allegedly destined to be sold online. The narcotics — a bonanza of cocaine, crystal meth, LSD and marijuana valued at more than $4 million — were found in the Leipzig apartment of a 20-year-old man, police spokesman Andreas Loepki told NBC News on Thursday.
The suspect was arrested last month and accused of selling large quantities of drugs via a website called Shiny Flakes. "Customers of the website mainly used Bitcoins [the virtual currency] as a payment method, " Loepki said. After his arrest, police shut down the website and replaced it with an advertisement for their own "talent search campaign," featuring smiling police officers and a message to sign up for the force.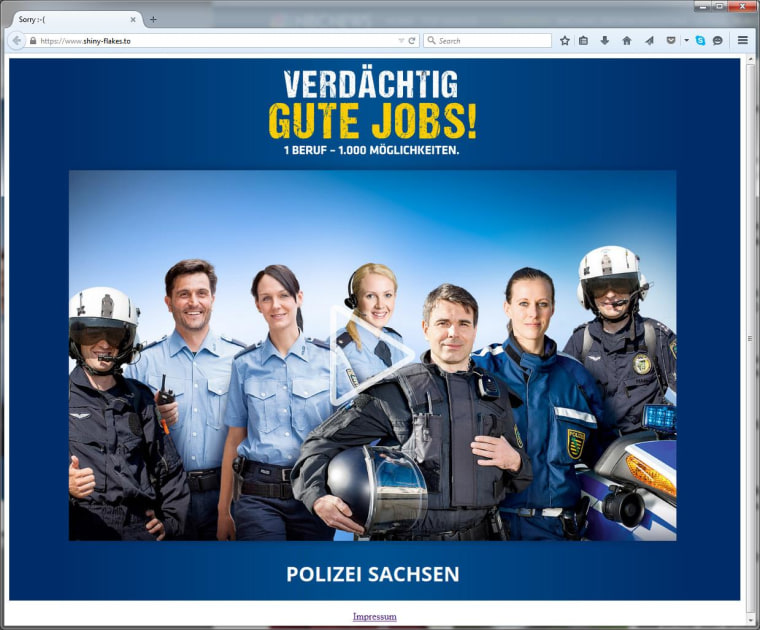 Police began their investigation after packages containing drugs were found in several German cities last year having being sent to incorrect addresses. Officers were searching 38 homes of people that were on the alleged dealer's customer list, Loepki said, adding that "several thousand others can expect a visit from police in the near future."
- Andy Eckardt and Alexander Smith