The number of people displaced by bloody conflict and persecution has exceeded 50 million for the first time since the post-World War II era — a vast population roughly equal to that of South Africa or South Korea, according to a new report from the United Nations refugee agency.
The Office of the United Nations High Commissioner for Refugees said a staggering 51.2 million people were forcibly displaced at the end of 2013, eclipsing the 45.2 million reported in 2012.
In an interview with NBC News National and International Correspondent/Anchor Ann Curry, the head of the UNHCR said the swelling number of refugees, asylum-seekers and internally displaced people has been driven primarily by the horrific civil war in Syria.
Sign up for breaking news alerts from NBC News
"Today's world is a world in which peace is dangerously in deficit," said António Guterres, the U.N. High Commissioner for Refugees and former prime minister of Portugal. "This is a world that, apparently, has lost much of its capacity to prevent conflict and to find a timely solution for those conflicts."
The bloody sectarian conflict in Syria has forced 2.5 million people into becoming refugees and left another 6.5 million internally displaced, according to the U.N. report.
An influx of displaced people was also reported in tumultuous regions of Africa — most notably in the Central African Republic and South Sudan.
"We are witnessing a multiplication of conflicts," including recent turmoil in Ukraine and Iraq, Guterres said.
He added: "It's like the numbers are jumping. And it shows how this peace situation in the world is degrading and how the level of suffering of the victims of conflict is increasing."
The exploding number of displaced people represents a strain on foreign aid budgets in the world's donor nations and an overwhelming challenge for potential host countries caught up in refugee catastrophes, according to the report.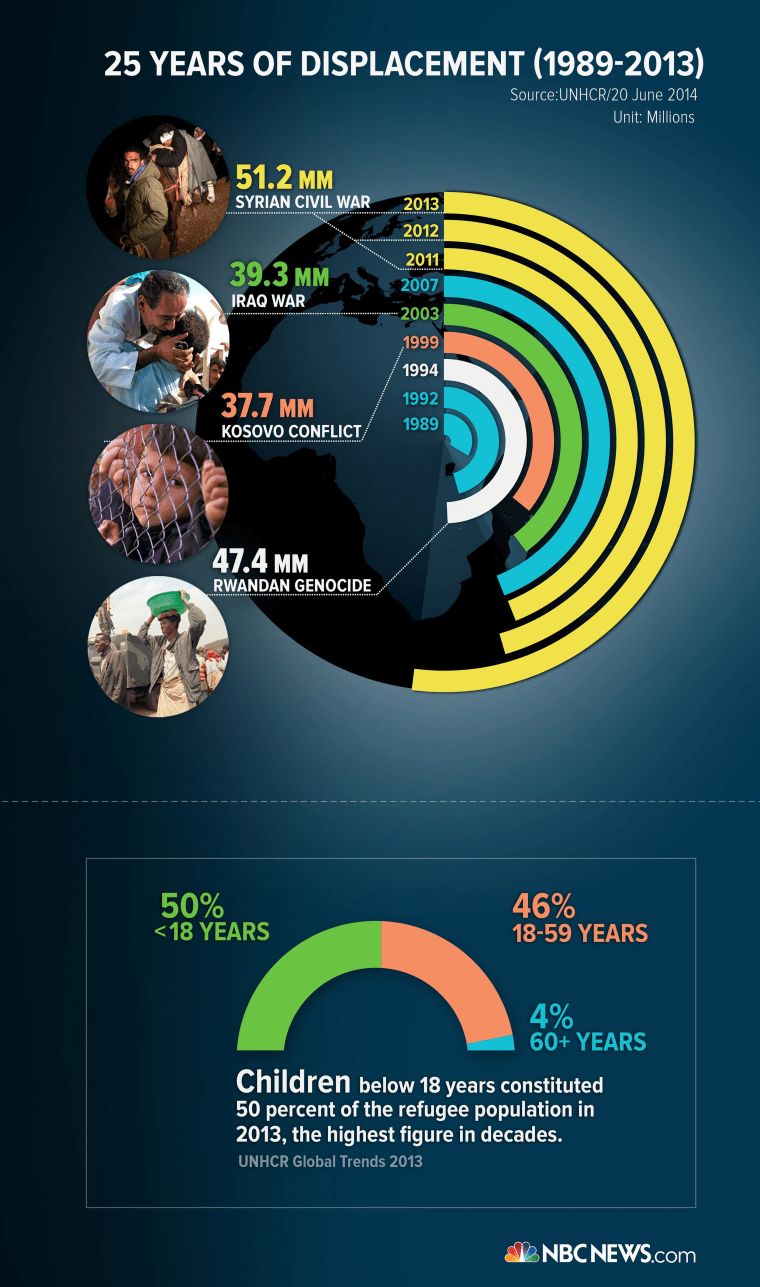 And the refugee crises around the world threaten to continue to grow because of "megatrends" like climate change, urbanization, food insecurity and water scarcity, Guterres said.
"More and more areas of the world are no longer able to sustain human life," Guterres said. "So humanitarian challenges due to conflict and due to environmental degradation are really ... something the world is not able to respond (to) in an efficient way."
The report surveys three groups of people forced to flee their homes amid violence and turmoil — refugees, asylum-seekers and the internally displaced.
The number of refugees across the globe has reached 16.7 million people, 11.7 million of whom are under the UNHCR's care, the report said. The conflicts in Afghanistan, Syria and Somalia account for more than half of the world's refugees. Pakistan, Iran and Lebanon have hosted more refugees than other nations.
The number of asylum-seekers climbed to 1.1 million people in 2013. A record 25,3000 asylum applications represent children who were wrenched from or unaccompanied by parents or guardians. Syrians filed 64,300 claims — more than any other nationality, according to the report.
And the number of internally displaced people — individuals forced to escape their homes but nonetheless remain in their own country — reached a record 33.3 million people. That was the single largest increase of any group in the U.N. report.
Guterres said political leaders have a "responsibility" to "stabilize these situations and .... reduce the threats to global peace and security."
"My appeal to political leaders, especially of those countries that have larger responsibilities, is to overcome their divisions, to overcome their differences, and to be able to work together to stop this nonsense, to stop this multiplication of conflict that we are witnessing in present times," Guterres said.