PASO CANOAS, Panama — Thousands of undocumented Cuban migrants are stranded here, straining humanitarian agencies amid fears that the United States' immigration policy could soon change.
According to Panamanian government figures, there are more than 2,700 Cuban migrants in the country. About 1,400 of those are in one camp in Paso Canoas, a border town that spills into neighboring Costa Rica.
In the sweltering heat, the wait for answers is stifling. Five-year-old twins Sabrina and Sarina Garcia ask for water. Their father made it to the U.S. among the previous waves of migrants that had crossed through Central America. Now, their mother and grandmother are making the treacherous trek with them.
"We hope to give them a better life," said their grandmother, Yenis Jimenez.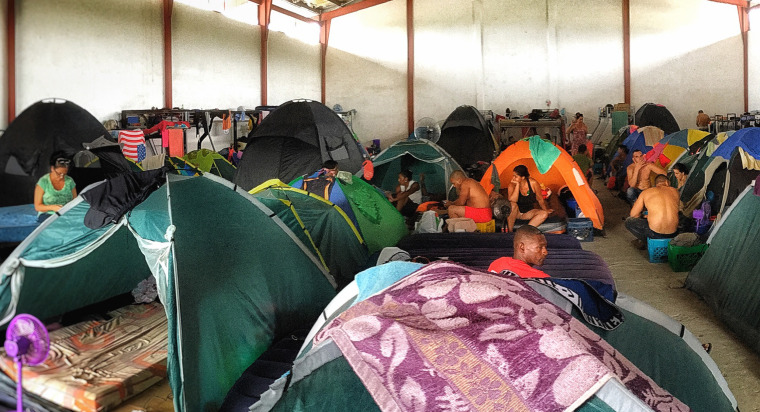 There is an increased police presence at the border crossing, though it's unclear how many migrants the officers — some in riot gear — have actually stopped.
Still, it's an unfolding crisis for the region. For decades, the enduring images of Cuban refugees had been those risking the dangerous journey to America by sea. Now, many are attempting the risky journey by land.
They fly to South American countries like Guyana — previously, it had been Ecuador before that country tightened its visa requirements — and then trudge through Central America, through Mexico, and into the United States.
But late last year, Nicaragua shut its border, causing thousands of undocumented migrants to be stranded in Costa Rica. Earlier this year, the governments of several Central American countries agreed to fly those migrants from Costa Rica to Mexico, bypassing Nicaragua.
Now, Costa Rica has closed its border, spawning a new bottleneck in Panama.
Related: Thaw in Relations Sends More Cubans Fleeing to U.S.
"The only hope that Cubans have is to get to the United States," said Miguel Vives, who had brought his 7-year-old daughter Melanie to Panama from Ecuador, after flying there two years ago. Vives doesn't see himself as a political refugee, but an economic one.
When President Barack Obama announced in December 2014 that the U.S. and Cuba would move toward restoring diplomatic ties, it sparked a new wave of rumors that U.S. immigration policy regarding Cubans would change sooner rather than later — leading many of the migrants to risk the journey through Central America.
For decades, Cuban immigrants have enjoyed protections not given to most other nationalities. The so-called "wet foot, dry foot" policy allows Cuban refugees preferential treatment when they reach U.S. soil.
Citing rampant fraud among those Cubans who have taken advantage of the policy, former presidential candidate Sen. Marco Rubio, R-Fla., has introduced legislation that would end some benefits for Cuban refugees. Rep. Carlos Curbelo, R-Fla., has introduced similar legislation in the House.
Both pieces of legislation are unlikely to gain much traction before this year's election, and the Obama administration does not seem to be in a hurry to change Cuban immigration policy.
"The United States is committed to supporting safe, orderly and legal migration," said Peter Boogaard, a White House spokesman. "The administration will continue to enforce a migration policy that meets that goal."
For now, thousands of migrants are risking the journey — despite the roadblocks.
Lucy Cordoba, a local volunteer who was teaching several of the children at the camp in Paso Canoas, said the Cuban migrants deserve dignity.
"They're human beings," she said. "Love has no borders."