SEOUL — Imagery released on Thursday of North Korea's latest missile test showed new rocket engines and a larger design that likely puts Kim Jong Un closer to his goal of being able to deliver a nuclear warhead to a target anywhere in the world, though without great accuracy yet, analysts told Reuters.
North Korea released dozens of photos and a video after Wednesday's launch of the new Hwasong-15 missile, which North Korean leader Kim Jong Un declared had "finally realized the great historic cause of completing the state nuclear force."
Since July's launch of the Hwasong-14, its first long-range intercontinental ballistic missile (ICBM), North Korea analysts have been looking for signs the isolated country has developed precise guidance systems, reliable and powerful rocket engines, and a re-entry vehicle capable of protecting a nuclear warhead as it speeds toward its target.
"North Korea is continuing to pursue its ICBM in a methodical and pragmatic manner, making progress in incremental steps," said Joseph Bermudez from 38 North, a Washington-based North Korea monitoring project.
U.S. officials noted, however, that North Korea has not proved it has an accurate guidance system for an ICBM or a capable re-entry vehicle.
South Korea's Joint Chiefs of Staff spokesman Roh Jae-cheon cautioned that more analysis is needed to determine the Hwasong-15's full performance, but said North Korea had clearly made significant changes since the Hwasong-14.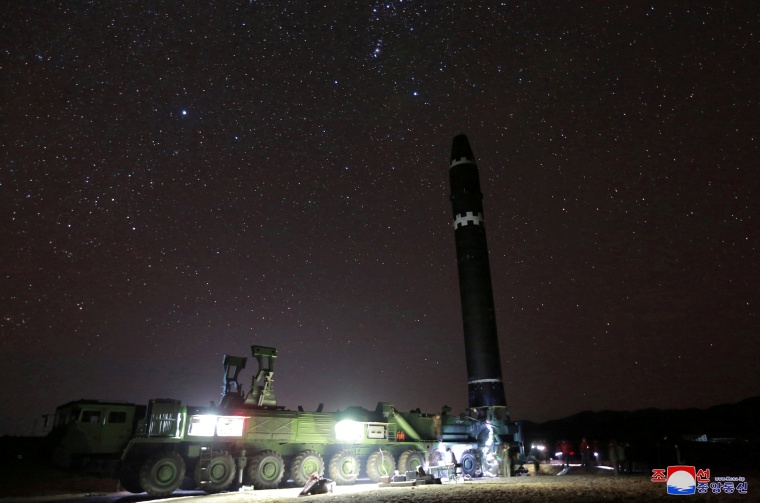 "Our initial analysis of the photos showed that there were clear differences between the Hwasong-15 and Hwasong-14 in terms of the looks of the warhead, the joint of the first and second stages of the missile, and overall size," Roh told a briefing on Thursday.
North Korea said the new missile soared to an altitude of about 2,780 miles, more than 10 times the height of the International Space Station, and flew 590 miles during its 53-minute flight — higher and longer than any North Korean missile, before landing in the sea near Japan.
Larger, more powerful
The missile's large size was immediately apparent in the photos, which analysts said could provide for a more powerful propulsion system.
"This is a very big missile," Michael Duitsman, a research associate at the Center for Nonproliferation Studies, said in an analysis posted to Twitter. "And I don't mean 'Big for North Korea.' Only a few countries can produce missiles of this size, and North Korea just joined the club."
One U.S. intelligence official told Reuters the Hwasong-15 test appears to demonstrate a more powerful North Korean solid-fuel propulsion system, especially in its second-stage rocket.
Related: At United Nations, Ambassador Haley warns North Korea against war
A solid-fuel system for an ICBM would be a significant development and could allow the North Koreans to transport and launch a missile more quickly, compared to a liquid-fuel system that requires lengthy preparation.
The photos appeared to show the missile with at least two large nozzles on its first stage, instead of the one large and several smaller nozzles on the Hwasong-14.
"The first stage seems to use essentially the same case (as the Hwasong-14) but has two engines," said David Wright, of the Union of Concerned Scientists, a nonprofit science advocacy group. "The second stage looks like it can carry more than twice as much propellant. The combination of those two things means it really is a new, more capable missile."
The missile's size and design may also make it possible for it to carry a larger warhead and a more robust re-entry vehicle, analysts said.
The nose section of the missile appeared to be blunter than previous versions, which might suggest progress in developing a re-entry vehicle, Bermudez said.
Mobile launcher?
The photos appeared to show a mobile erector vehicle positioning the missile at the launch site, designed to allow it to be fired from a wider number of areas to prevent it from being intercepted.
While the photos show the vehicle being used to position the missile upright, it is not seen in photos of the launch itself. U.S. intelligence analysts have concluded from satellite and other data that the test missile was fired from a fixed position, not a mobile launcher, three U.S. officials said.
A video released later on Wednesday by state media showed the missile standing alone before launch on a small platform, confirming the intelligence assessments.
That the missile is likely longer and heavier than its predecessors is evidenced by the sheer size of the transporter, which had nine axles instead of eight previously seen in North Korean transporters, he said.
The massive vehicle was "100 percent" a domestic product of North Korea, state media quoted Kim Jong Un as saying.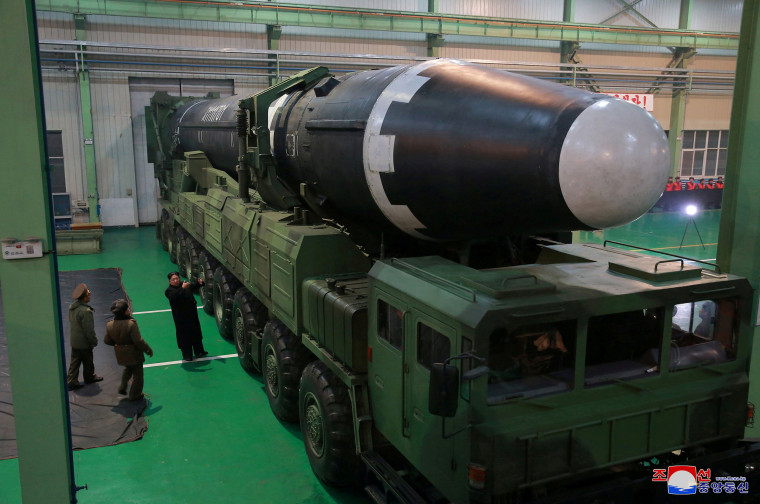 Western analysts said it is more likely the truck was one of about half a dozen vehicles obtained years ago from China, which North Korea has modified since then.
"I would need to see a bit more differences to fully believe they made this themselves," Dave Schmerler, a research associate at the James Martin Center for Nonproliferation Studies, said of the launch transport vehicle.
"They can reverse engineer it, so there is always that option, but from what I saw, I am not inclined to believe they made this yet."