Russia's Olympic team has been barred from the 2018 Winter Olympics in South Korea as punishment for alleged state-backed doping at the 2014 Sochi Games, the International Olympic Committee (IOC) announced Tuesday.
The IOC will allow individual athletes from Russia to compete as neutrals "under strict conditions" at the PyeongChang Games, with uniforms bearing the name "Olympic Athlete from Russia."
"This was an unprecedented attack on the integrity of the Olympic Games and sport," IOC president Thomas Bach said in a statement. "The IOC [executive board] after following due process, has issued proportional sanctions for this systemic manipulation while protecting the clean athletes. This should draw a line under this damaging episode and serve as a catalyst for a more effective anti-doping system."
The decision, announced just several months before the games kick off in PyeongChang, was based on the findings of the two commissions led by IOC member Denis Oswald and the former president of Switzerland, Samuel Schmid.
The panel led by Oswald is prosecuting Russian athletes who are suspected of doping violations in Sochi. The panel chaired by Schmid is studying whether Russian state agencies — including the sports ministry and FSB security service — were involved in the doping program.
Russia has repeatedly denied that a state-sponsored doping program ever existed.
Russian President Vladimir Putin said last month that the flurry of Russian sports doping allegations could be an American attempt to interfere in next year's Russian presidential election.
The IOC announced it had banned Russian government officials from the games. It also imposed a fine of $15 million on the Russian Olympic committee to pay for investigations and future anti-doping efforts.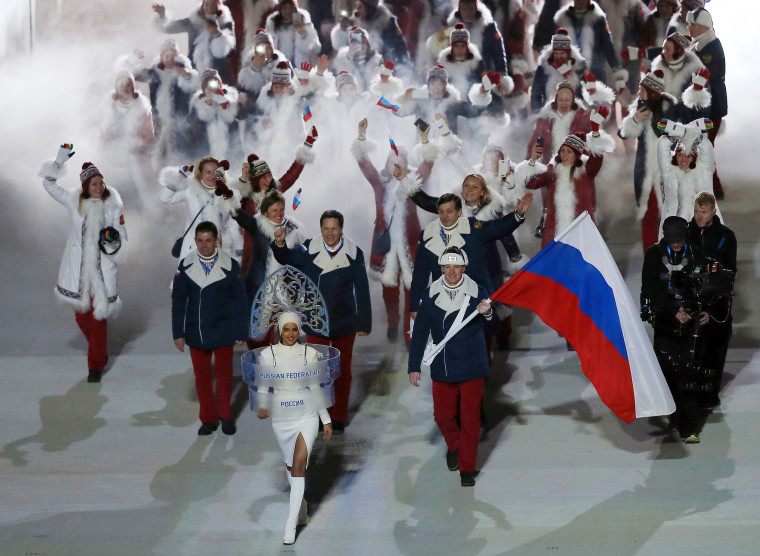 Kremlin spokesman Dmitry Peskov told reporters in a conference call Tuesday that Russian officials were not pondering their options should the Russian team be banned from the Olympics, preferring to "keep silent" before any decision was announced.
However, Peskov also said they intended to defend the interests of the Russian athletes and maintain all ties with the IOC.
Peskov also said on Monday that Russia was not planning to boycott the Olympics if the IOC imposed restrictions on the country's participation.
When the allegations of state-backed doping emerged ahead of the 2016 Olympics in Rio de Janeiro, the International Olympic Committee chose not to bar Russia. Instead, it asked sports governing bodies to decide which athletes could compete. The IOC could now impose a stricter sanction by allowing Russians to compete only as neutral athletes without a national flag or anthem.