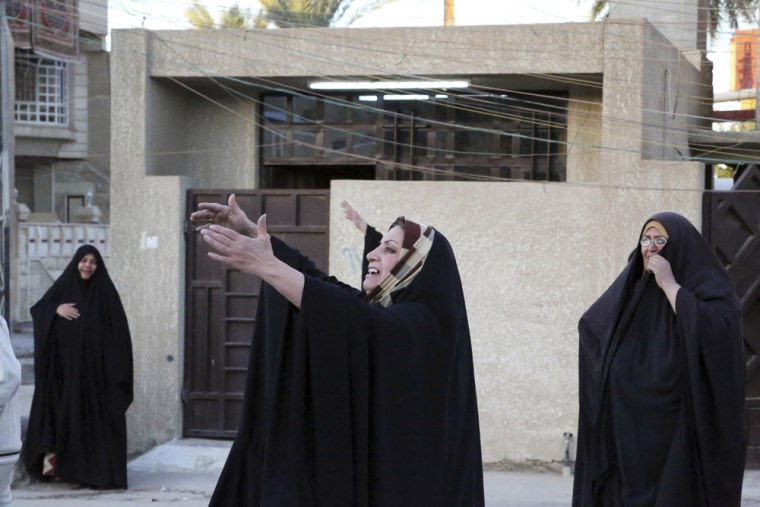 BAGHDAD -- One year after the U.S.-led invasion of Iraq, then-President George W. Bush told a gathering at the White House: "Every woman in Iraq is better off because the rape rooms and torture chambers of Saddam Hussein are forever closed."
A decade on, that statement rings hollow for many Iraqi women.
Although few miss Saddam's iron-fisted rule or the wars and sanctions he brought upon Iraq, women have been disproportionately affected by the violence that has blighted the lives of almost all Iraqis.
Domestic abuse and prostitution have increased, illiteracy has soared and thousands of women have been left widowed and vulnerable. Many women also rue the political leaders that came to power after Saddam was overthrown and the growing social conservatism that has diminished their role in public life.
Once at the vanguard of women's rights in the region, Iraq ranked 21st out of 22 Arab states in a poll of 336 gender experts released on Tuesday by Thomson Reuters Foundation.
The survey, conducted in August and September, asked questions about violence against women, reproductive rights, treatment of women within the family, their integration into society and attitudes towards a woman's role in politics and the economy.
Ibtisam, 40, was injured by an iron bar as she fled shelling in the U.S.-led invasion and was forced to have her uterus surgically removed. During the sectarian carnage that followed, a Shi'ite militia kidnapped her husband and killed him.
"If the 2003 war had not taken place... at least my husband would be still alive and I would not live in such humiliating circumstances," said Ibtisam, who now works on date farms near her home in eastern Baghdad to provide for her two young daughters.
Seated in the living room of her home in Baghdad, Sana Majeed, mother of two, reminisced about the "golden times" during the 1970s, when she went to parties, galleries and restaurants, and was free to dress as she pleased.
The reality of the new Iraq struck her in 2005, when she got out of a taxi and was accosted by a group of men in black who chastised her for wearing inappropriate clothing and told her to go home and cover her hair.
"Islamist parties started to control Iraq and that was the worst nightmare Iraqi women have ever faced," said Majeed, who now wears a black abaya and head scarf. "Religious parties and militia have stolen free life from Iraqi women."
The first piece of legislation Iraq's new leaders sought to change was the personal status law, which enshrines women's rights regarding marriage, inheritance, polygamy and child custody, and has often been held up as the most "progressive" in the Middle East.
Although that first attempt failed, efforts to bring the law in line with Islamic dictates and put family affairs in the hands of religious authorities still continue.
Nadje Al-Ali, a professor of gender studies at the School of Oriental and African Studies in London, said women were often used symbolically to reject the previous political order.
"There has been this increase towards greater social conservatism where women are concerned," said Al-Ali, who co-authored the book "What Kind of Liberation? Women and the Occupation of Iraq".
"I think one has to understand that in a context of reacting against the previous regime and also reacting against Western imperialism. Overall, it has been devastating."
The erosion of women's status in fact began before 2003, when the international community imposed punitive sanctions on Iraq in response to Saddam's invasion of Kuwait in 1990.
With the economy crippled, the government was no longer able to afford services such as child care and maternity leave that had enabled women to enter the workforce as part of Saddam's drive to industrialize Iraq.
"After Saddam was toppled, I had a feeling the good old days would return," said Majeed. "Saddam was gone, the blockade will be lifted, and that gave me a big hope to be a free woman again."
It was a hope shared by many women after the invasion. Sidelined from politics under Saddam, women successfully lobbied for a quarter of seats in parliament to be set aside for them.
But the quota has not translated into meaningful participation, according to several women lawmakers, who said most female MPs did little more than rubber stamp the decisions of their party leaders, all of whom are men.
"Women are not effective in political or government decision-making processes despite the wide participation of women in the political life after 2003," said lawmaker Alia Nussaif Jassim.
In the first government formed after the invasion, women held six cabinet posts, but the number has now fallen to one: the minister for women's affairs, a largely ceremonial department with a meager budget and few employees.
"Believe me, if Iraqi culture, tradition and mentality would accept a man to have this post, the men would not even give that to a woman," said lawmaker Safia al-Souhail, one of 21 women who won enough votes to enter parliament without the quota.
Souhail lamented that women were also denied a single seat on key parliamentary committees such as security and defense, and reconciliation.
Within the parliament, women's efforts to cooperate across the political spectrum have been stymied by disputes between Shiite Muslim, Sunni and ethnic Kurdish factions that have all but paralyzed the Iraqi political process.
"This term, women were not able really to work together," Souhail said. "This fight between political parties and blocs and the division reflects on the women MPs as well."
The invasion has been kinder to women living in Iraq's Kurdish north, which bore the brunt of Saddam's authoritarian rule, but is now prospering.
The autonomous region has largely managed to insulate itself from the violent instability that afflicts the rest of the country and has even become a refuge for many Arab Iraqi men and women alike.
The region's government won praise in 2011 for passing a law that criminalized domestic violence, honor killings and female genital mutilation, but activists and women's rights groups say there is still work to be done.
Back in Baghdad, Majeed said women must not give up.
"Women in Iraq must not quit trying to reclaim their freedom," said Majeed. "I think we should keep our voice loud, if not for ourselves, for the sake of our daughters."
Related: