JENIN, West Bank — Israel's military pressed on Tuesday with its biggest incursion into the occupied West Bank in 20 years, while seven people were injured in an attack on Tel Aviv as fears grew of a significant escalation after months of rising violence.
Militant groups praised the car-ramming and stabbing attack in the bustling Israeli city as a "heroic" response to the massive raid on the Jenin refugee camp, which continued into a second day with 10 Palestinians killed and streams of civilians fleeing.
The Israeli military said its operation is meant to target militants in the area, which has become a stronghold, but the rare intensity of the operation, involving drones and troops, has drawn international alarm.
The raid follows months of intensifying incursions by Israeli troops into the West Bank city as the country's far-right government faces domestic pressure to crack down after a spate of militant attacks. Palestinians blame extremist settlers, emboldened by leaders pursuing increased settlement construction, for the growing cycle of violence.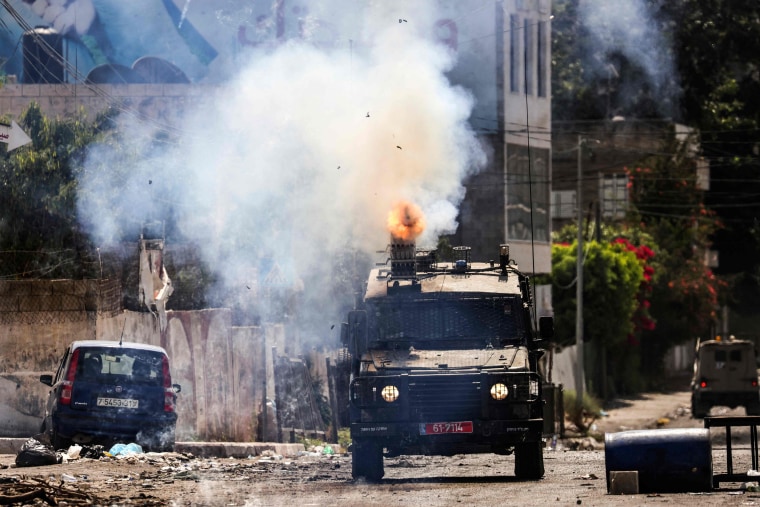 'They wanted to terrify us'
Hundreds of Israeli troops, some traveling in armored vehicles and bulldozers, entered Jenin on Monday backed by drone strikes.
Thousands of residents fled as the raid killed at least 10 people and injured more than 120, Palestinian health officials said, and reduced parts of the sprawling camp to rubble. Streets usually home to bustling crowds were deserted, instead marked by burning tires and debris-strewn roadblocks.
Israel says it is allowing people to leave, and the Palestinian Red Crescent rescue service said as many as 3,000 had fled by midnight. But some residents complained that ambulances were not able to reach injured people because the military operation was blocking their paths.
"There are no paved roads inside the camp, the streets are filled with water, and the number of injuries is increasing," said Ahmad Jibril, the head of the Palestinian Red Crescent.
Abdel Nasser Abu Obeid, 50, a father of four who lives about 100 yards from the camp, said: "The Israeli bulldozers destroyed everything in its sight. They wanted to terrify us."
Ali Salahat, 24, who has relatives in the camp, which is home to 14,000 people, said: "If someone gets shot in his leg or his arm, it takes the ambulance an hour to reach them because of the army. We couldn't reach the camp. We can't enter it or even get near it, because the occupation jeeps are located all around the vicinity."
The Palestinian Health Ministry said 10 people had been confirmed dead by Tuesday morning. The Israeli military has said all were militants, without providing details.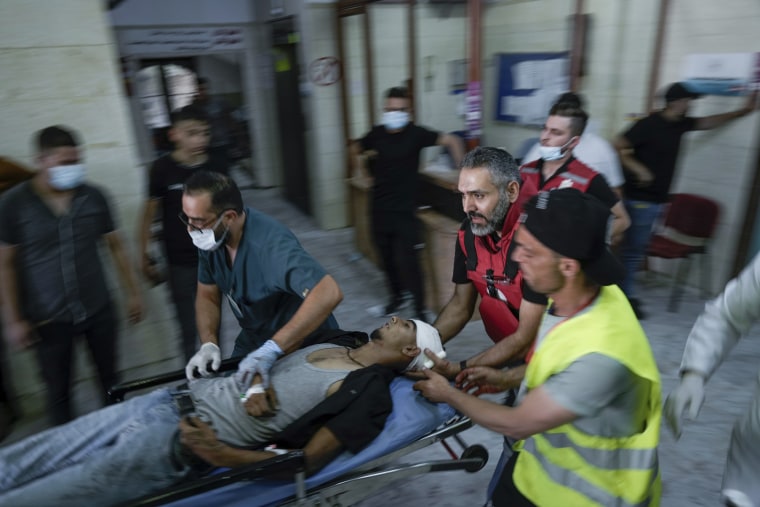 Tel Aviv attack
Israel says it is targeting the refugee camp because it is home to Palestinians responsible for a spate of attacks on Israeli citizens in recent months. Early Tuesday, Israeli forces said they had been able to find and seize weapons and explosives, as well as destroy tunnels and command posts.
"In recent months, Jenin has turned into a safe haven for terrorism. We are putting an end to this," Israeli Prime Minister Benjamin Netanyahu said, adding that the operation was being carried out with "minimum harm to civilians."
Some Palestinians say the violence is a consequence of more than 50 years of occupation by Israeli forces. They observed a general strike across the West Bank in protest.
An attacker rammed into pedestrians on Tel Aviv's Pinchas Rosen Street in Tuesday's attack before getting out and stabbing people with a "sharp object," police in the bustling city said, adding that "the terrorist has been neutralized."
Israeli Police Commissioner Kobi Shabtai told reporters that an armed civilian shot and killed the assailant, The Associated Press reported.
Security video showed a car crashing outside an area where people were sitting at tables; the driver then climbed out the window and chased people.
Three of the injured were in serious condition, two were in moderate condition, and two were in mild condition, police said.
Hamas, which praised the attack, is classified as a terrorist organization by Israel, the U.S. and others.
International alarm
The Palestinian leadership in the West Bank condemned the raid and said late Monday it would freeze its few remaining points of cooperation with Israel, as well as minimize contact with Israel's main benefactor, the U.S.
A spokesperson said the State Department supported Israel's "right to defend its people" against "terrorist groups." The spokesperson cautioned that it was "imperative to take all possible precautions to prevent the loss of civilian lives" and urged "Israeli and Palestinian security forces to work together to improve the security situation in the West Bank."
International bodies have also expressed concern. 
The United Nations' special coordinator for the Middle East peace process, Tor Wennesland, warned that the escalation was "very dangerous."
Lynn Hastings, the U.N. humanitarian coordinator in the Palestinian areas, tweeted that she was "alarmed" by the "scale of Israeli forces operation" and noted the airstrikes in a densely populated refugee camp. She said the U.N. was mobilizing humanitarian aid.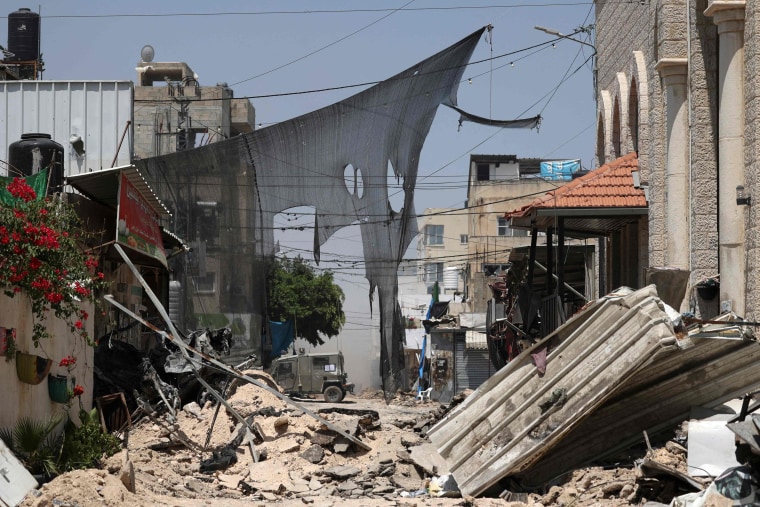 Some commentators in Israel have also suggested that the move may be an attempt to please members of the country's far-right-led government, which is dominated by West Bank settlers and their supporters.
"Proud of our heroes on all fronts and this morning especially of our soldiers operating in Jenin," tweeted National Security Minister Itamar Ben-Gvir, an ultranationalist who recently called for Israel to kill thousands of militants if necessary. "Praying for their success."
Israeli forces routinely conduct raids in the occupied West Bank even though the Palestinian Authority has partial administrative and security responsibilities in the area, part of more than a yearlong spike in violence in which some of the worst bloodshed in the area in nearly two decades has occurred.
Israel says that most of those killed in recent raids have been militants. Palestinian health officials say that others — including youths protesting the incursions and other people not involved in confrontations — have also died.
Israel captured the West Bank, east Jerusalem and the Gaza Strip, territories the Palestinians seek for their hoped-for independent state, in the 1967 Mideast war.
CORRECTION (July 7, 2023, 5:02 p.m. ET): A previous version of this article misstated the level of control the Palestinian Authority has in the West Bank. It has partial administrative and security responsibilities, not full.
Lawahez Jabari reported from Jenin, in the West Bank, and Alexander Smith reported from London.