Israel's political crisis is far from over. 
Prime Minister Benjamin Netanyahu may have relented to unprecedented public pressure and paused his contentious plans to overhaul the country's judiciary, but experts warned that the battle for the country's future may only be beginning.
The group leading the protests in which hundreds of thousands flooded the streets in Jerusalem and Tel Aviv and launched a general strike said Tuesday that they would keep up the pressure, even as the public unrest dissipated and the country's figurehead president invited negotiating teams from rival political factions to a meeting to begin talks toward a potential compromise.
Netanyahu, re-elected in November to lead his country for a third time, was scrambling to salvage his political future and his country's international reputation. And in the firestorm over his judicial moves, Netanyahu is on trial on corruption charges, which he has denied.
"I feel relief but with doubt."
— Tel Aviv resident and protester Fega Gutman
With President Joe Biden playing a role in persuading Netanyahu to think again — and with Washington signaling a long-awaited invitation to the White House may now follow — the U.S.'s foreign policy is tied up in its ally's internal crisis, too. 
Here's what's at stake and what could happen next:
What is the fight all about?
While Israel's domestic feud erupted onto the global stage Monday, it has been spiraling for months.
In January Netanyahu, two weeks after he was sworn in, announced plans to overhaul the country's Supreme Court and allow politicians a greater say in its appointments and decisions. 
Under the plans, the Knesset, Israel's parliament, would be able to pass laws even if the court had declared them illegal. They would also give Netanyahu and his allies the final say in appointing the country's judges.
Critics argue that the proposals would deal a potentially fatal blow to the country's system of checks and balances, which are not enshrined because Israel does not have a written constitution. Opponents have framed the move as a power grab by Netanyahu to entrench his rule and the power of his right-wing allies, who hold a fragile majority in the Knesset.
Netanyahu argues that he is merely bringing his country in line with other major democracies and rebalancing power toward elected lawmakers.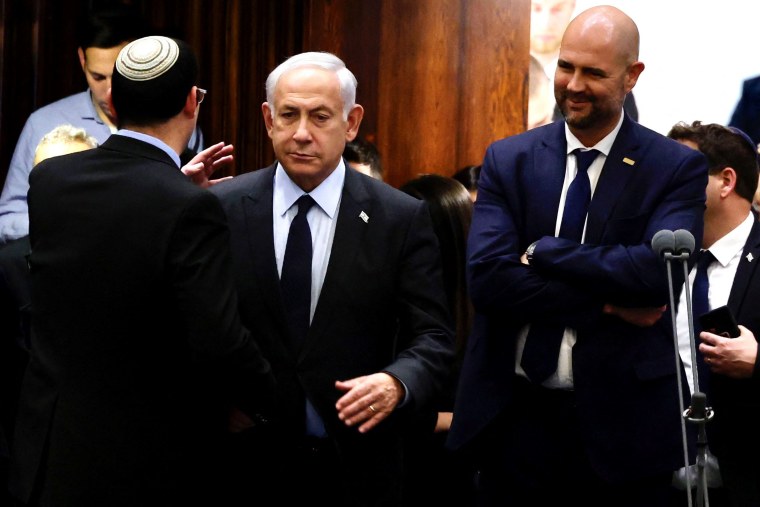 Mass protests began soon after, with tens of thousands marching in Jerusalem and Tel Aviv for months. 
The protests intensified suddenly Sunday night after Netanyahu fired his defense minister, Yoav Gallant, for expressing concerns that the divisions over the bill were harmful to Israel's security. 
On Monday trade unions called a general strike, grounding planes and shutting down shopping malls. Netanyahu eventually gave in to the pressure, telling the nation in a prime-time address Monday night that he would put the plans on hold for a month and would seek a compromise with his political opponents "to avoid civil war."
For many the news was greeted as a relief, but the scale of the protests and Netanyahu's history of political maneuvering gave others pause.
"Had the bill been passed, I think we would have gone down the path of losing our democratic character, because without judicial independence, preservation of the rule of law and the protection of human rights, you can't really talk about liberal democracy in the true sense of this term," said Guy Lurie, a research fellow at the Jerusalem-based Israeli Institute for Democracy.
"But one thing that I want to emphasize is that this is not over: The government very clearly said that they're not withdrawing the proposals altogether."
Who are the two camps?
The protesters, thousands of whom waved Israeli flags outside government offices and the Supreme Court on Monday, included many of Netanyahu's long-standing political enemies, including trade unions and youth groups.
But opposition to the judicial overhaul had spread far beyond, drawing in business leaders, diplomats and, crucially, Israel's vaunted military.
Many of those who joined the protests were moderate, secular Israelis without political affiliations who were concerned about the threat to the country's democracy.
"There's a large liberal segment of society, and, I think even more so, there is a majority of Israelis who think that the [legislative] process was flawed and that any kind of change of such a constitutional significance must be made to a wide consensus," Lurie said.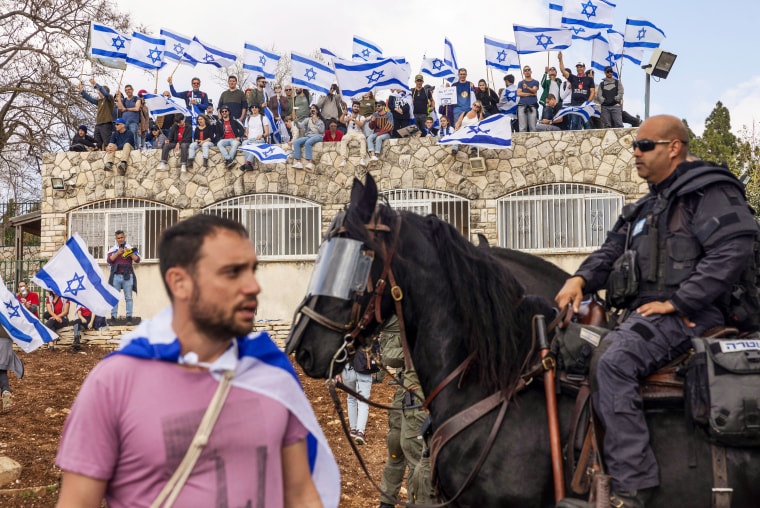 By the time Gallant's public warning prompted Netanyahu to fire him, concerns about the impact on Israel's security had been mounting at home and abroad after fighter pilots and military reservists threatened not to serve. They were ultimately joined by workers from tech startups and McDonald's in Monday's general strike.
On the pro-government side are ultranationalist right-wing parties and activists who agree with Netanyahu that the Supreme Court is a barrier to the government's political goals. 
National Security Minister Itamar Ben-Gvir and Finance Minister Bezalel Smotrich were among the far-right leaders who encouraged supporters to turn out in force Monday night.
Thousands heeded the call in Jerusalem, some arguing with anti-government protesters, although little reported was violence.
What about the Palestinians?
Netanyahu's ruling coalition is made up of religious, nationalist far-right parties that oppose Palestinian statehood and support contentious Israeli settlements in the West Bank.
While this government is in power, the prospect of statehood for Palestinians, or even relative peace, looks bleak — but a weakened Supreme Court could allow even more construction and possible annexation in the West Bank.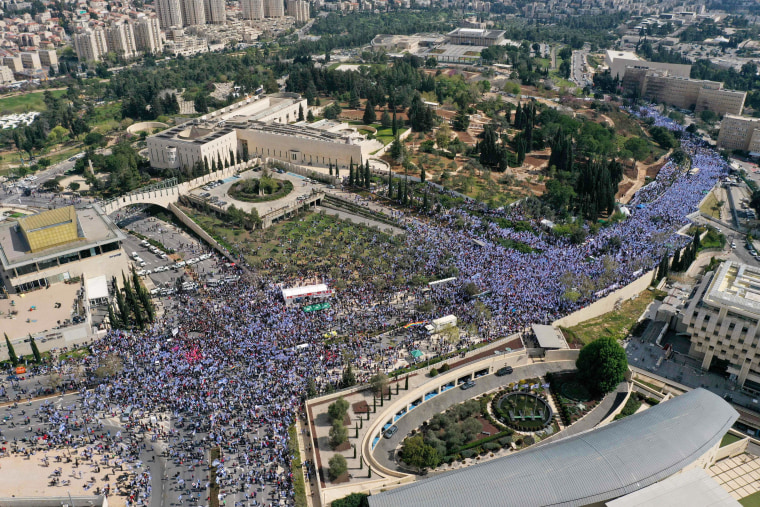 "I think the long-term ramifications or potential ramifications of the government's agenda and policies are still there. It's not just the Palestinians — it's the Palestinian Muslim minority within Israel and the other minorities at risk within Israel," Lurie said.
Those citizens have largely sat out the protests, many viewing Israel's democracy as long tarnished by its treatment of them and Palestinians in the occupied West Bank.
There has been a string of violent incidents in the West Bank and east Jerusalem this year, including the deaths of 11 Palestinians in a single raid by Israel's military in February.  
What role has the U.S. played?
Netanyahu this week spoke warmly of his 20-year friendship with Biden while admitting that they have not always agreed.
That may have been an understatement, at least in the case of the judiciary overhaul: The Biden administration had used a mix of careful public statements and intensive behind-the-scenes discussions to prod Netanyahu to come up with a compromise.
Speaking to reporters Tuesday from North Carolina's Raleigh-Durham International Airport, Biden described himself as a "strong supporter" of Israel and said he was "very concerned" about Netanyahu's move to overhaul the judiciary.
"I'm concerned that they get this straight," he said. "They cannot continue down this road. I've sort of made that clear."  
Biden added that he would not invite Netanyahu to the White House in the near future.
The two men spoke by phone on March 19 in a conversation that became contentious, according to a person with knowledge of the call. 
John Kirby, a White House National Security Council spokesman, told reporters Monday that Biden's message to Netanyahu was that he needed to "design a way forward that was based on compromise and that could result in that sort of consensus support."
The U.S. ambassador to Israel, Tom Nides, said in an interview with Israel's Army Radio on Tuesday that Netanyahu would most likely receive an invitation to the White House "relatively soon."
The White House believes that the judicial plan has most likely been abandoned, a senior administration official told NBC News on Monday night.
Netanyahu is due to speak at a virtual summit meeting of the world's democracies this week amid calls for him to be disinvited.
What now?
Although Netanyahu is still in power, he is weakened, and much more could be trouble ahead.
"It's difficult to see how he could really return to business as usual," Lurie said, pointing to polls that suggest Netanyahu and his allies would lose if the country were to hold yet another election.
President Isaac Herzog announced that he would host negotiating teams from the opposition and the governing coalition for their first meeting late Tuesday.
But the Umbrella Movement Against Dictatorship in Israel, a protest group, said in a statement Tuesday that Netanyahu was starting negotiations only to buy time and that it will pass the law at the start of the next parliament session. 
"I feel relief but with doubt," Tel Aviv resident Fega Gutman told The Associated Press on Tuesday, adding that Netanyahu over the years "promised us a lot but didn't always fulfill, unfortunately."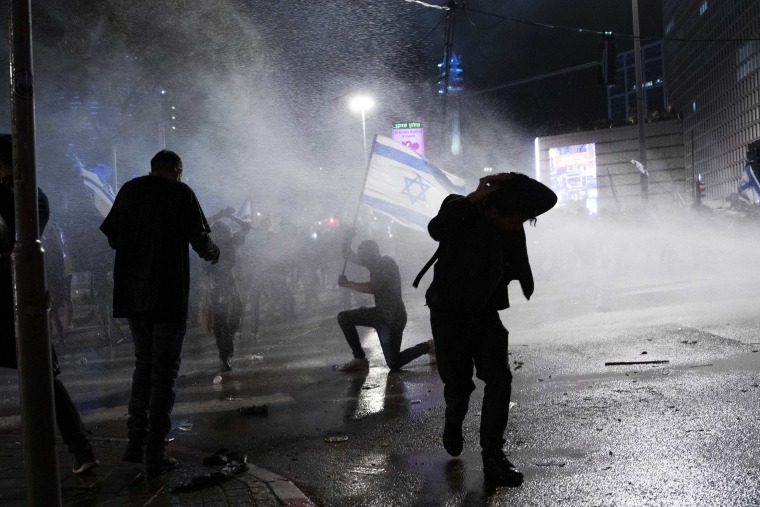 Netanyahu leads a fragile coalition featuring far-right nationalists who may not be impressed with his bending to popular, liberal opinion. And with a rancorous and vocal public ready to protest again, the bill's passage into law would not be smooth. 
Political uncertainty also imperils Israel's status as a burgeoning economic powerhouse in the region, as well as its sense of security as violence soars in the West bank and Iran presses ahead with its nuclear ambitions.
With little clarity over what might come next, more far-reaching solutions might be viewed as necessary.
"One of the conclusions from this episode is that withdrawing the governmental proposals might not be enough," Lurie said.
"The fragility of Israeli democracy," he added, "might necessitate a grander constitutional change that will bring about stronger protections of judicial independence and human rights."