TEL AVIV — An Israeli passenger held at an airport for five days has taken a DNA test to prove she is the mother of her child after authorities questioned the girl's origin when the pair arrived from Sri Lanka.
Galit Nakash, 48, has been at Tel Aviv's Ben Gurion airport since Saturday when immigration officials denied the baby permission to enter the country because of concerns over her identity.
Nakash says she gave birth unexpectedly in her seventh month of pregnancy while on a business trip to Sri Lanka. The girl has a Sri Lankan passport in the name of Tahel.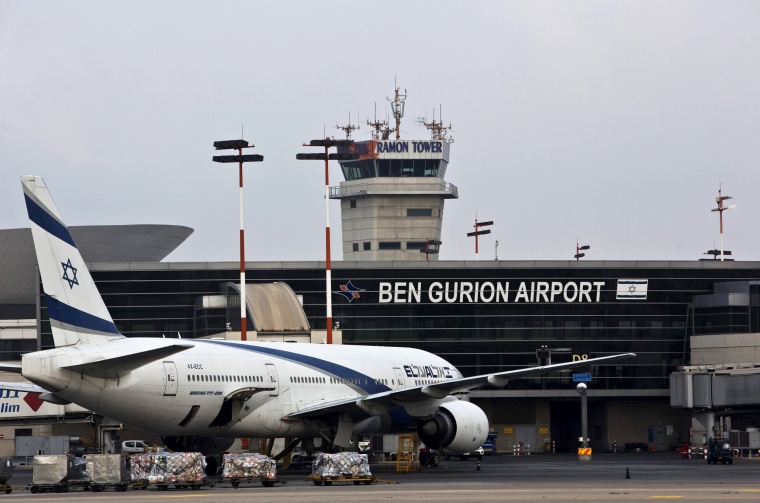 Israeli officials told NBC News that Nakash had refused to take a DNA test for Israeli consular officials in Sri Lanka or neighboring India and that documents she presented at the airport on Saturday — the girl's birth certificate and her own birth certificate — were not signed and verified by authorities.
Sabin Hadad, a spokesman for the Interior Ministry's Population Administration Authority, said Nakash somehow used a child's passport issued to a family in central Israel with the same first name "Tahel" in order to fly from Sri Lanka via Turkey. However, she presented the girl's Sri Lankan passport to Israeli officials upon arrival.
"Meanwhile, the Israeli passport has disappeared," Hadad said.
When she arrived at Ben Gurion airport she entered the passport control area alone, Hadad said, while her brother Yossi Nakash, who was traveling with her, carried the child separately.
Nakash's lawyer, Matan Hodorov, told the BBC he hoped his client and the child would be moved to a facility at Ayalon prison in Ramle until the results of the DNA test are known.