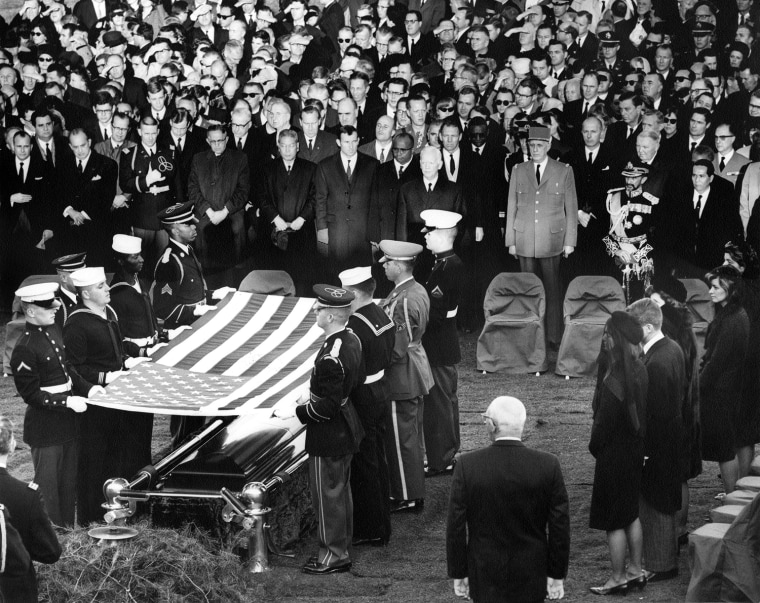 "The address was the cemetery," Jimmy Breslin says.
That is the columnist speaking. He talks the way he has spoken through his fingers for the 50 years since that Monday in 1963, when the nation was transfixed by a riderless horse with boots turned backward in its stirrups, and by a little boy saluting the father whose impact he would feel until his own untimely death, but who he could barely have known.
"I'd been writing out of Selma, so I'm in Selma when he got shot," Breslin says. "I went from Selma, to Dallas and then I flew to Washington." 
The cemetery, Arlington National Cemetery, was the only correct address to head for in the geography of Jimmy Breslin's brain.
"I could go to the funeral. There were a thousand reporters. I didn't want to go. I went to the guy's house," Breslin now says. Then they headed to the gravesite.
The guy was a gravedigger named Clifton Pollard. The column that resulted from the visit changed many things. Just one of them was the future of journalism, where well into the digital era it remains a cornerstone of costly graduate school curriculums. 
James Breslin was 33 that fall, and fresh from Selma, Ala., where he had been covering the only story in America that season. Now he had stepped off a plane from Dallas, where he had typed hard and fast to capture the pain that unfolded in Parkland, Hospital and found himself in Washington, D.C.
Here is how the man whose bark I first heard in 1977, when he had already become "JB Number One," began that most famous of his columns, written for the New York Herald Tribune:
Washington -- Clifton Pollard was pretty sure he was going to be working on Sunday, so when he woke up at 9 a.m., in his three-room apartment on Corcoran Street, he put on khaki overalls before going into the kitchen for breakfast. His wife, Hettie, made bacon and eggs for him. Pollard was in the middle of eating them when he received the phone call he had been expecting. It was from Mazo Kawalchik, who is the foreman of the gravediggers at Arlington National Cemetery, which is where Pollard works for a living. "Polly, could you please be here by eleven o'clock this morning?" Kawalchik asked. "I guess you know what it's for." Pollard did. He hung up the phone, finished breakfast, and left his apartment so he could spend Sunday digging a grave for John Fitzgerald Kennedy.
When Pollard got to the row of yellow wooden garages where the cemetery equipment is stored, Kawalchik and John Metzler, the cemetery superintendent, were waiting for him. "Sorry to pull you out like this on a Sunday," Metzler said. "Oh, don't say that," Pollard said. "Why, it's an honor for me to be here." Pollard got behind the wheel of a machine called a reverse hoe. Gravedigging is not done with men and shovels at Arlington. The reverse hoe is a green machine with a yellow bucket that scoops the earth toward the operator, not away from it as a crane does. At the bottom of the hill in front of the Tomb of the Unknown Soldier, Pollard started the digging
And here is how Breslin, 83, remembered it Thursday from his home, in bed, recovering from a dental appointment to treat two teeth that he described ("He took off half my head.") with the certainty with which he hammered on his typewriter keyboard the words that shaped decades of columns:
 "I told him he could go to see the Kennedy funeral.
"He said 'I gotta dig this thing.'"
"He was mad because the boss of the cemetery told him he was assigned to dig a grave for JFK and then to dig a grave for some schlemiel."
"He drove to the cemetery. I went along."
Leaves covered the grass. When the yellow teeth of the reverse hoe first bit into the ground, the leaves made a threshing sound which could be heard above the motor of the machine. When the bucket came up with its first scoop of dirt, Metzler, the cemetery superintendent, walked over and looked at it. "That's nice soil," Metzler said. "I'd like to save a little of it," Pollard said. "The machine made some tracks in the grass over here and I'd like to sort of fill them in and get some good grass growing there, I'd like to have everything, you know, nice."
James Winners, another gravedigger, nodded. He said he would fill a couple of carts with this extra-good soil and take it back to the garage and grow good turf on it. "He was a good man," Pollard said. "Yes, he was," Metzler said. "Now they're going to come and put him right here in this grave I'm making up," Pollard said. "You know, it's an honor just for me to do this."
"It was a good piece. No one else was there."
"I wrote the piece. I handed it in. To the Tribune. I got on the train. Got off the train in New York and took the Long Island Railroad to Queens."
"I went in to Pat's bar and I never came out.  You just drank the sickness right out of your system; the bleary day."
It is the voice of a man whose voice never was old, a voice that always was fresh, and a man whose voice marked the beginning, the middle and the end of my own journey through the tabloid newsrooms of New York.
Our first encounter occurred when I was a copyboy in 1977 and was ordered by the New York Daily News Metropolitan Editor, Dick Oliver, to pick up Breslin's column, which was late, again, and bring the pages to him. "Don't let him stall you. Take them from him," Oliver said.
But Breslin wouldn't let me take the pages until I had read them while they still sat in the carriage of the machine. "Move your lips when you read it. That's how the reader reads it. Fix it. If you don't like it, fix it," Breslin said. "F--- Oliver." And he stuck a dollar in my pocket.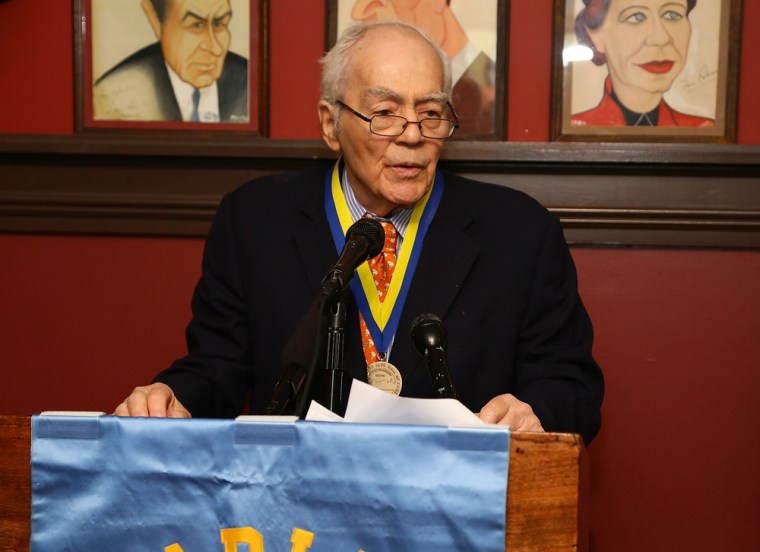 Those columns, one after another, three times a week, decade after decade, shaped newspapers, helped shape a city, a state, and a nation:
Mario Cuomo's first run for the Albany statehouse.
Albert Gore Jr.'s debut speech, "That kid's a comer," he said the day he wrote it. Later, when young Albert had become Al Gore and was running again for president, the column remembered the first campaign in 1988 as a run "on straight race" and wondered if Gore still kept his "quaint Tobacco Road customs."
His letter from the Son of Sam: "Hello from the cracks in the sidewalks of NYC…"
And the one he wrote for the New York Herald Tribune on Nov. 22, 1963, titled "Death In Emergency Room No. One:
            "…A nurse pointed to emergency room No.1 and Doctor Perry walked into it. The room is narrow and has gray-tiled walls and a cream-colored ceiling. In the middle of it, on an aluminum hospital cart, the President of the United States had been placed on his back and he was dying while a huge lamp glared in his face.
            "John Kennedy already had been stripped of his jacket, shirt and T-shirt, and a staff doctor was starting to place an endotracheal tube down the throat. Oxygen would be forced down the tube. Breathing was the first thing to attack. The President was not breathing.
            "Malcolm Perry unbuttoned his dark blue glen-plaid jacket and threw it onto the floor. He held out his hands while the nurse helped him put on gloves.
                        "The president, Perry thought. He's bigger than I thought he was..."
More from NBC News Investigations: