LONDON — Actor Kevin Spacey on Thursday denied allegations that he sexually assaulted four men in London, as he gave evidence for the first time in his high-profile criminal trial.
Wearing a gray suit, a white shirt and a light blue tie, Spacey, a two-time Oscar winner, took the stand at Southwark Crown Court and denied that he had sexually grabbed the complainants against their will.
"Slowly over time it became more sexual but to be clear we never had sex because he made it clear he didn't want to go any farther…and that happens sometimes with people and I respect that," Spacey said, referring to the first complainant in the case.
This touching was romantic, he said, adding that it "did not happen in a violent, aggressive, painful way." Asked whether he was flirtatious, Spacey agreed: "I'm a big flirt."
The court previously heard evidence from the four complainants who each allege that Spacey subjected them to sexual or indecent assaults from 2001 to 2013. Prosecutor Christine Agnew told the court on the trial's opening day that the actor is a "sexual bully" who aggressively grabs men in the crotch.
None of the four complainants in the case can be named as they are afforded lifelong anonymity under English law.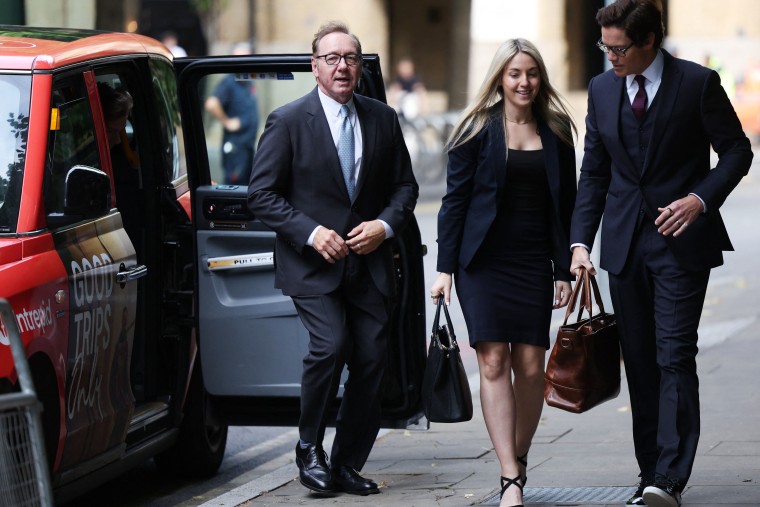 Asked by his defense attorney, Patrick Gibbs, about the first complainant, a man Spacey knew in the early 2000s, the actor paused, smiled and said: "I liked him a lot. … We had a good time together. We laughed a lot."
The alleged victim had earlier testified that Spacey was a "sexual predator" who painfully grabbed his crotch while he was driving and tried to groom him.
Spacey admitted that he did touch him intimately but that it was consensual. He said the headline-grabbing allegation that in 2004 or 2005 he grabbed the man so hard he nearly crashed a car was untrue. "No, I was never on a suicide mission in any of those years," he said.
He added that he was hurt by the accusation. "I never thought that [the man] I knew would ... 20 years later stab me in the back," he said.
Spacey also denied an allegation from another man, described in court as an aspiring actor. That complainant alleged that he was invited to Spacey's London apartment and drugged before he woke up to find the star performing oral sex on him.
Spacey admitted that he performed oral sex on the man but he said it was consensual.
"If I am interested in somebody the first thing I want them to do is feel comfortable," Spacey said.
Spacey also gave a brief account of his life history, his rise to stardom in theater and movies and how he came to live in London in the early 2000s. He mentioned various celebrity friends in the course of his evidence, including Dame Judy Dench.
Spacey denies 12 charges of sexual and indecent assault and one count of causing a person to engage in penetrative sexual activity without consent.
The trial is expected to last at least two more weeks.