LAHORE, Pakistan — At least 45 people were killed on Sunday when a suicide bomber blew himself up on the Pakistani-Indian border, police said, just after a daily ceremony when troops from both sides simultaneously lower the two nations' flags. Hundreds of people visit the Wagah border crossing near the Pakistani city of Lahore to witness the flags of both countries being lowered just before sunset.
"The death toll increased to 45,'' the provincial police chief in the Pakistani city of Lahore told Reuters.
Authorities had earlier put the death toll at 37. Pakistani police said they were investigating and a doctor said up to 70 people had been wounded.
A Taliban splinter group claimed responsibility for the attack, which took place on the Pakistani side of the border.
"It was a suicide attack and the target were the Pakistani security forces," said Ehsanullah Ehsan, the spokesman of Tehrik-e-Taliban Pakistan Jamaat-ul- Ahrarul. He spoke to NBC News on phone from somewhere in Afghanistan. "This is the beginning of our strikes, they should wait for more such attacks," Ehsan threatened.
"According to initial information it was a suicide attack,'' Inspector General of Punjab Police, Mushtaq Sukhera, told local television channels. "When ... security was a bit relaxed, the suicide attacker blew himself up near a restaurant.''
India and Pakistan have fought three wars and remain locked in a bitter conflict over the region of Kashmir, which both sides claim. India accuses Pakistan of sponsoring jihadist groups in the region and encouraging them to make inroads into Indian territory to stage attacks against Indian forces, a charge Pakistan denies. "I was sitting in my office near the border when I heard the blast. I rushed to the scene and saw scattered bodies, injured men, women and children and smashed cars,'' a Pakistani intelligence source told Reuters.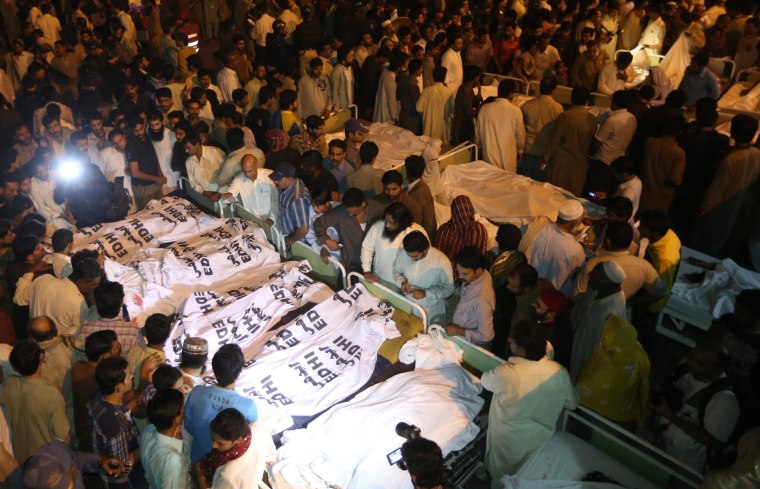 — Reuters with NBC News' Mushtaq Yusufzai