BENGHAZI, Libya — Saif al-Islam Gadhafi, the son of the deposed Libyan strongman, has been freed by an armed group holding him in the western town of Zintan where he was taken after a 2011 uprising, according to one of his lawyers and a statement from the brigade.
The lawyer and the brigade said he had been released under an amnesty law passed by a parliament based in eastern Libya. The lawyer, Khaled al-Zaidi, said Saif al-Islam was headed to another Libyan city, but he could not say where for security reasons.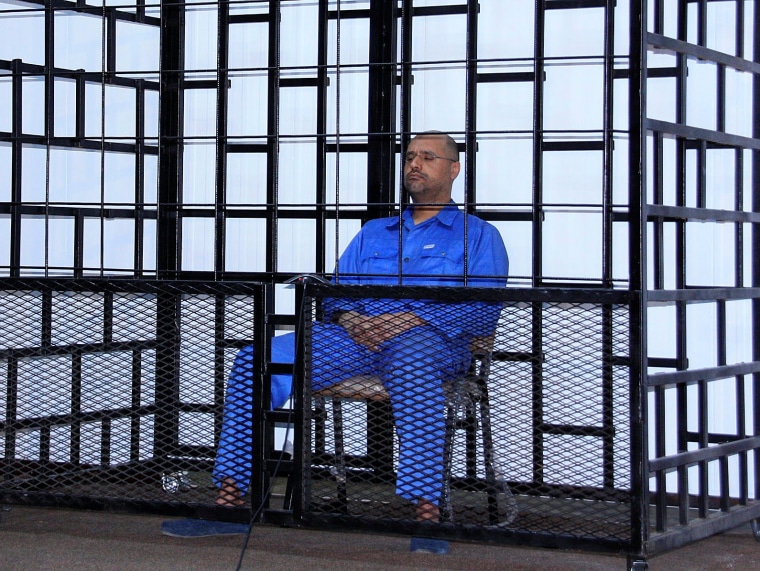 Previous reports that Saif al-Islam had been released from Zintan turned out to be false and there have been conflicting reports about his status since his capture.
Saif al-Islam, 44, is the most prominent of Moammar Gadhafi's children, and was touted by some as a possible successor before the uprising six years ago in which Gadhafi senior was toppled and killed.
Zintan's Abubaker Sadiq brigade, which was responsible for guarding Saif al-Islam, said it had decided to release him following requests from the ministry of justice of a government based in eastern Libya.
"We decided to release Saif al-Islam Moammar Gadhafi, who is free, and we confirm that he left Zintan on the date of his release on the 14th of Ramadan (Friday)," the brigade said.
A Tripoli court sentenced him to death in 2015 for war crimes, including killing protesters during the revolution.
Libya slid into turmoil after Gadhafi's overthrow, with rival armed factions and governments competing for power. A U.N.-backed government now in Tripoli has struggled to assert its influence especially over powerful factions in the east.
Zintan, which grew powerful through its role in the 2011 revolt and has been at odds with authorities in Tripoli, had refused to hand Saif al-Islam over.
He is also sought by the International Criminal Court, which says the trial in Libya did not meet international standards.