A craze for lifelike dolls thought to bring good luck is sweeping Thailand, reflecting widespread anxiety as the economy struggles and political uncertainty persists nearly two years after a coup.
Thailand is predominantly Buddhist and has been modernizing rapidly over the past two or three decades but many people are highly superstitious, their beliefs co-existing with notions of animism, astrology and "black magic."
"I can see it in other people's eyes," said Natsuda Janbtim, 45, who has been raising her doll Nong Ruay Jung, or Pretty Rich in Thai, for 8 months. "I know some of them must be wondering why I am carrying a doll but I just don't care."
The plastic dolls, about the size of a real baby or an American Girl doll, are called "look thep", or "child angel" and cost between $40 and $800 USD.
"These people do not have mental health problems."
Devotees of the dolls lavish attention on them, often treating them like real babies, even taking them to be blessed by monks in the hope that benevolent spirits will possess them and bring good luck.
"My life has changed a lot, for the better," said Jantabtim, who lives with her daughter and owns a beauty salon. "When I hug her, I know it's love. I tell her I love her all the time."
Panpimon Wipulakorn, deputy director-general of the Department of Mental Health, said the economic downturn exacerbated the phenomenon.
"There have always been groups in Thai society that hold such beliefs and economic worries only help to heighten these beliefs," Panpimon told Reuters. "These people do not have mental health problems."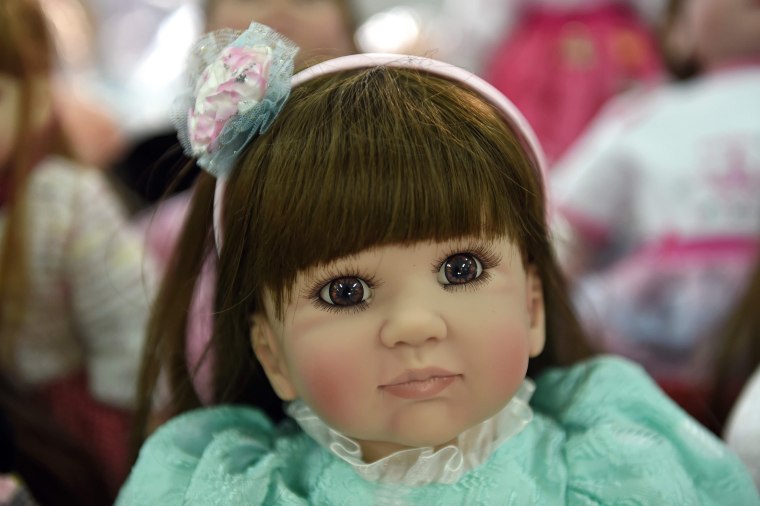 Mananya Boonmee, 49, sells dolls and raises her own called Nong Petch, or baby jewel.
"The economy is bad right now. Everybody needs something to hold on to," said Boonmee, who claims Nong Petch helped her win the lottery by telling her what numbers to buy in her dreams.
Thailand has been ruled by a junta since a May 2014 coup and the generals have struggled to revive the export-dependent economy, while promising to restore democracy with an election next year.
Such fads have happened before. After a 2006 coup, many people turned to plasticine amulets, or charms, in the belief they would bring riches.
Prime Minister Prayuth Chan-ocha weighed in on Monday saying people who could not afford to buy the dolls should not do so.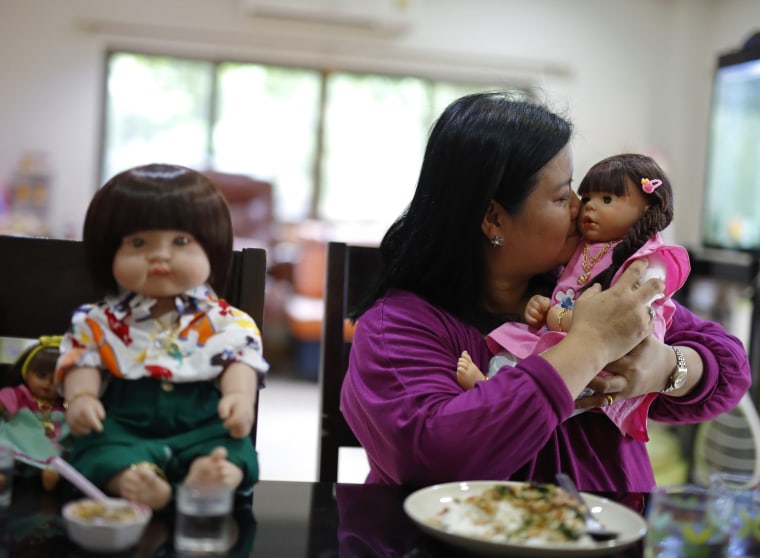 But the craze persists, according to Phra Winai Thidtapanyo, a 64-year old monk at the Bua Khwan Temple in Nonthaburi. He has blessed more than 30,000 dolls since last year.
"Since then, people have constantly been coming to me," Thidtapanyo said.
Some businesses are cashing in on the trend.
Thai Smile, a subsidiary of national flag carrier Thai Airways, said it would charge passengers who bring dolls on board and would serve them snacks.
But the Civil Aviation Authority of Thailand said it would stop airlines selling tickets for dolls over concern they could be used to smuggle drugs.