For the second time in two days, North Korea was reported to have launched a military projectile Monday morning, prompting South Korean President Moon Jae-in to call a security meeting.
The device, which appeared to be a short-range ballistic missile, flew for about 6 minutes and landed in the Sea of Japan, U.S. military officials told NBC News.
The South Korean military said the missile was launched from a site in the vicinity of Wonsan in Gangwon province, on North Korea's southeast coast of the Sea of Japan, at 5:39 a.m. Monday (4:39 p.m. ET Sunday) and flew about 280 miles.
Kim Dong Yub, a North Korean studies professor at the Institute for Far Eastern Studies in Seoul, told NBC News that while South Korean officials described the projectile as a Scud, it could have been an intercontinental ballistic missile in disguise.
TIMELINE: How Events in North Korea Have Unfolded Under Trump
"Wonsan area is where North Korea has been consistently testing ICBM related missiles," he said. "It could have been a test to stabilize and strengthen safety of [a] new engine type."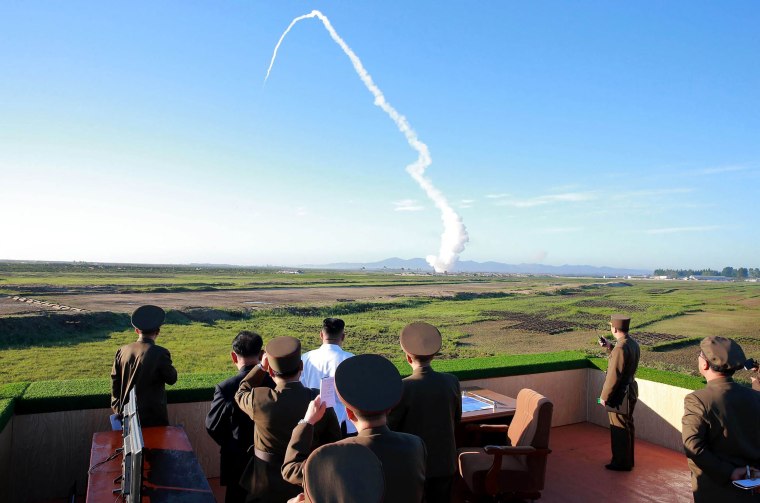 But if it was a Scud, Kim said, the launch could have tested a better designed, solid fuel-equipped missile.
A third option is that North Korea's choice of a coastal launch site — instead of the usual inland area — means it could be developing "a surface to sea ballistic missile targeting submarine," he added.
North Korean state media claimed Sunday that the country had previously tested a "new type of anti-aircraft guided weapon" and had fixed "defects" in the system. The state news agency KCNA didn't report when that test occurred, but it said leader Kim Jong Un personally supervised it.
The new reported launches come amid heightened tension in the Korean peninsula after international condemnation of several banned ballistic missile tests this year.