DETMOLD, Germany — An 88-year-old Auschwitz survivor who traveled from his home in California to Germany was denied the opportunity to testify at a former Nazi SS guard's trial Friday.
Joshua Kaufman, who lives in Los Angeles, had hoped to win permission to tell the court about how he removed bodies from gas chambers at the World War II death camp after victims had been killed with Zyklon B.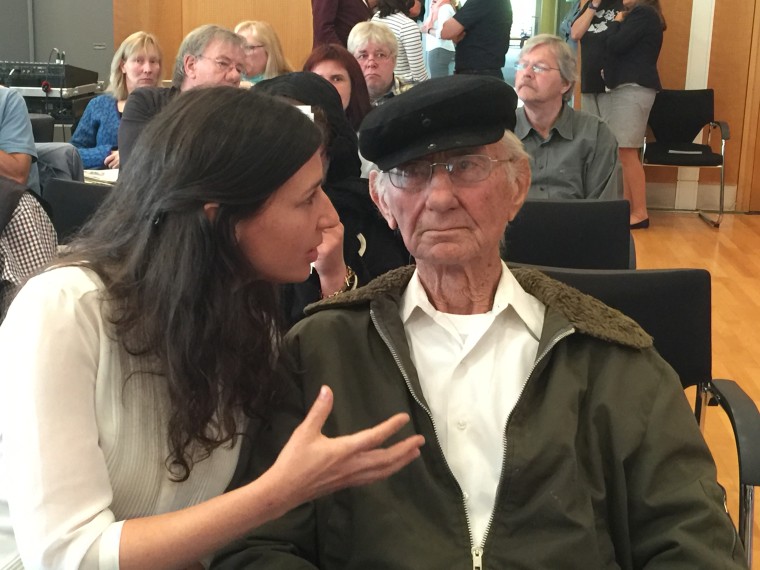 Reinhold Hanning, 94, is on trial accused of being accessory to the murder of at least 170,000 people. Although Hanning was not directly involved in any killings at Auschwitz, prosecutors accuse him of facilitating the slaughter in his capacity as a guard at the camp.
Around 1.2 million people — most of them Jews — were killed at the site, which is located in Poland.
More than a dozen witnesses have already testified in the trial and a verdict is expected on May 27.
At the start of Friday's session, Kaufman's German lawyer Markus Goldbach asked the court if his client could also be heard.
"He will be able to tell you that the bodies looked as if they were frozen and that he could see the horror of the death fight in their faces," Goldbach said in his application statement.
"I lost my whole family, I survived five concentration camps and I represent the dead people. They should at least respect me."
The lawyer argued that his client would be able to give evidence of the specific killing process.
Judge Anke Grudda agreed to consider the request but after a break in the proceedings ruled that Kaufman would not be allowed to testify. She stressed that the decision was based entirely on German law and was not out of "reasons of respect or disrespect."
Speaking before the Grudda announced her ruling, Kaufman said he "came to speak for those who can no longer be heard."
"I always think positive, if they don't want to hear me, I will just go home, but it is important that I came here to seek justice," the father of four told NBC News.
Kaufman's lawyer called Grudda's decision a "scandal," saying that "he is shocked that the court referred to the code of criminal procedures" when one of the last Auschwitz survivors wanted to speak.
Kaufman later said he had hoped to address the court for no longer than 10 minutes.
"It is not fair," the Holocaust survivor told NBC News. "They know who I am. I lost my whole family, I survived five concentration camps and I represent the dead people. They should at least respect me."
Looking at the two daughters who joined him in Germany, Kaufman added: "This is my revenge to the murderers that I have four beautiful daughters, college educated, and four grandchildren."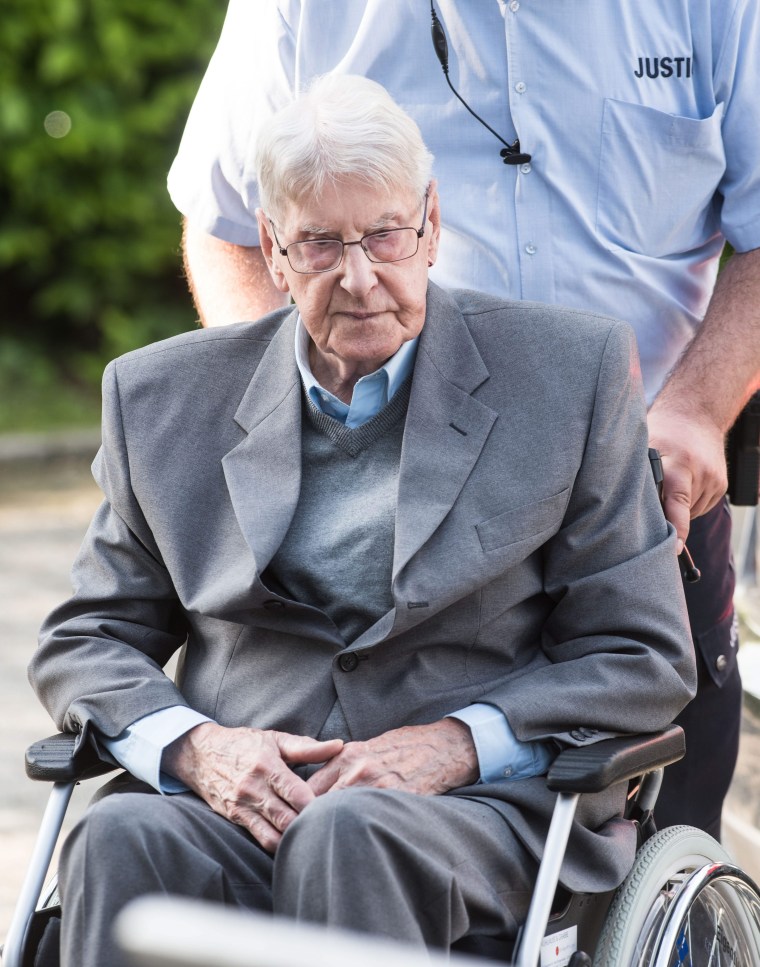 Kaufman also recounted his time at Auschwitz for reporters.
"Can you imagine working in a crematorium, when you are only 15 years old?" he asked. "I had to break the bones of the dead to get them untangled ... I am not Joshua Kaufman, I am number 109023."
For his daughters, the trip was a difficult and emotional journey.
"My father is strong and determined, but it would be sad for us if they do not let him speak," Rachel Kaufman said before the decision was announced.
Hanning was a member of the 3rd company SS Totenkopf guard battalion at Auschwitz. He also served as a guard at the Sachsenhausen death camp.
Last month he spoke out in court, apologizing to victims and saying he regretted being part of a "criminal organization" that had killed so many people and caused such suffering.
"I am ashamed that I saw injustice and never did anything about it and I apologize for my actions,"
"I'm ashamed that I knowingly let injustice happen and did nothing to oppose it," Hanning said from his wheelchair in the court. "I am very, very sorry."