NEW DELHI — India's capital is pulling out all the stops to put its best face forward as it hosts leaders from around the world this weekend. An army of government workers is rounding up stray dogs, scaring away hungry monkeys — and evicting some of New Delhi's poorest residents by bulldozing their dwellings.
The annual summit of the Group of 20 economies is the largest gathering of world leaders ever in New Delhi, with attendees including President Joe Biden, British Prime Minister Rishi Sunak and others.
They will be greeted by some of the cleanest streets New Delhi has seen, ornamented by hundreds of thousands of lush flowers potted on freshly painted pavements. What they will not see are the hundreds of thousands of people who have been displaced, or the slums that have been flattened or obscured by temporary fences bearing the G20 summit's logo and photos of Prime Minister Narendra Modi. 
Modi's government hopes the beautification project will help showcase the best of what the world's most populous country has to offer, further cementing its position on the global stage.
Anything that might disrupt that effort is unwelcome. 
"We have to look out for any seditious signs or postings. There is a lot of stress due to the summit, we have to fulfill the responsibility," said Nitish Kumar, 27, a paramilitary police constable from the eastern state of Bihar who is one of thousands of officers brought to New Delhi from all over the country to prevent any suspicious activity that could jeopardize the summit.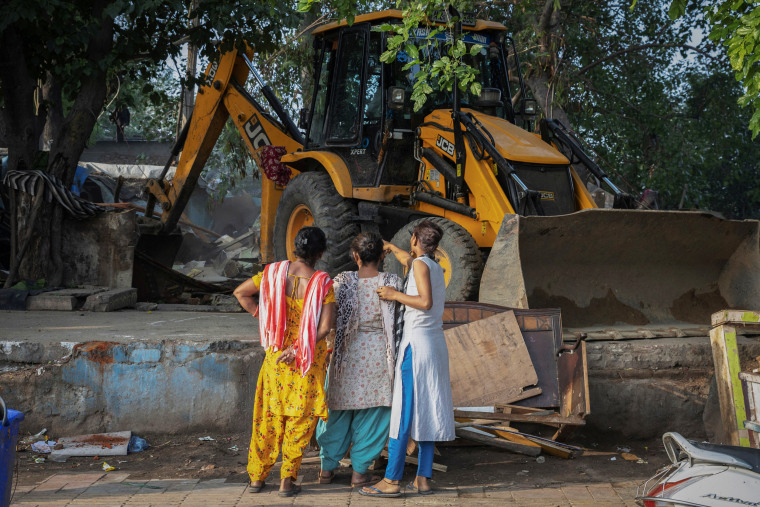 From his designated spot in Connaught Place, a business district in the heart of New Delhi, motorcades could be seen passing by every few minutes this week as droves of arriving diplomats headed to nearby luxury hotels. Kumar arrives at 7 a.m. every day for his almost 12-hour shift, taking shade  under a tree as the searing heat intensifies.
In addition to police officers, the New Delhi Municipal Council has deployed at least 3,000 of its staff to undertake the capital's giant facelift and maintain it for the summit.
Ensuring the bustling streets of Delhi remain clean is no easy feat. Nand Kishor, 54, is responsible for more than a quarter-mile stretch of a four-lane road, which he cleans while wearing an orange T-shirt bearing the summit's logo.
"We've been given instructions to do our best work as the summit is going on. Everything should remain clean. But how much can I clean alone?" he said during a shift Wednesday, usually the one day he has off every week.
Often as Kishor moves from one end of the road to the other, he sees people littering on the section he has just swept. Sometimes he argues with them, but other times, he says, "I can't be bothered." 
Even the city's foliage has received an upgrade.
"I plant almost 300 flowers a day," said Lalit Kumar, 33, a gardener who has been working around the clock so that the visiting delegations are greeted with scenes of fresh flowers.
A spokesperson for the municipal corporation said the city aimed for almost half a million new plants ahead of the summit.
Not far from Connaught Place, Mahendar Palia's team of eight has been working 12 hours a day at the Mandi House subway station. Officials had invited artists like him from around the country to paint murals there and on walls around the city. 
After mixing some paint, he turned on a spray-paint machine and climbed metal scaffolding to add outlines to a flower petal.
"We were told to make Delhi beautiful with eye-catching designs and color schemes that if any visitor sees, they should say 'Wow,'" Palia said as his team put the finishing touches on the jungle design it had been working on for 10 days.
"We are so happy to do this, it's an artist's dream," he said.
While flowers and art are being put front and center, two of the most common sights in New Delhi — rhesus monkeys and stray dogs — are being kept out of sight as much as possible.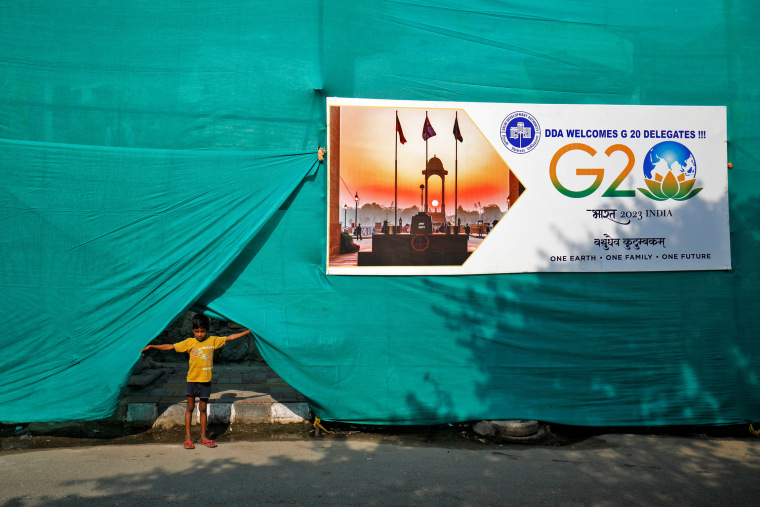 To protect public areas from rhesus monkeys, which are a nuisance and often attack people, officials have put up life-size cutouts of langurs, a bigger primate that the rhesus monkeys find intimidating. 
Authorities say they have also deployed several dozen people to mimic the sounds made by langurs so that the rhesus monkeys will be further convinced the cardboard animals are real.
About 1,000 stray dogs have also been taken off the streets, with activists accusing authorities of using cruel measures.
"They have not made any arrangements for them. These dogs are traumatized, confused and some of them are even injured," said Ambika Shukla, a trustee of the nongovernmental organization People for Animals.
"It's ironic that the slogan of the G20 talks about 'one family' and they're removing all the other living beings among us," she added.
The municipal corporation said the reports of cruelty were "exaggerated" and that the dogs were being relocated "without harming them." 
The Delhi makeover extends to its residents. According to a July report by Concerned Citizens Collective, a rights group, almost 300,000 street food vendors, cigarette sellers, shoe polishers and others have been displaced from neighborhoods where the visiting diplomats might see them.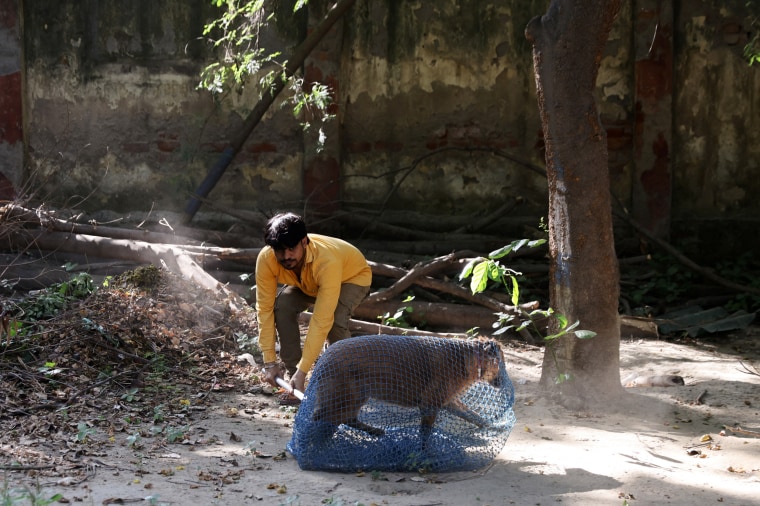 The government has also flattened dozens of areas occupied by what it calls "unauthorized encroachers." 
Amit's nine children were asleep late last month when their home was suddenly raided by officials who brought four bulldozers with them. They were among almost 125 families whose homes were destroyed in South Delhi's Subhash camp, 10 miles from the summit's main venue.
"They didn't even let us grab our belongings and started beating us before we could even finish," the 34-year-old  ragman who collects trash and sells it to a recycler said in an interview Wednesday.
Many had spent their entire lives in the area. 
"I was born here, I grew up here, I got married here and had a kid here," said Gujjar, 21, who like Amit and many other slum residents goes by one name. 
Some of them had found refuge under a tree near where their homes had previously stood, while others slept under a flyover in front of the slum.
The Delhi Development Authority says it carries out demolition programs regularly. The Subhash demolition, a spokesperson said, was to "remove encroachments" from a nearby pond "which is in very dirty and unhealthy condition."
Residents said the situation made it difficult to study for their children, some of whom were playing in the pond or on a makeshift swing. Others lay sick under a tree as mosquitoes buzzed around them. 
"This means we are now just dirty and pests for the same politicians who came and begged for our votes during the election," Amit said. 
"These visiting delegates only want to see clean Delhi streets," he added.