/ Source: Associated Press
COPENHAGEN, Denmark — Five Nordic prime ministers who posed for a photo clutching a soccer ball weren't intending to make fun of a viral image from U.S. President Donald Trump's trip to Saudi Arabia, a senior official said Wednesday.
Norwegian government official Sigbjoern Aanes says the photo taken Monday at a meeting of regional government heads in Norway was meant as "a funny stunt" to promote U.N. environmental sustainability goals, which were written on the soccer ball.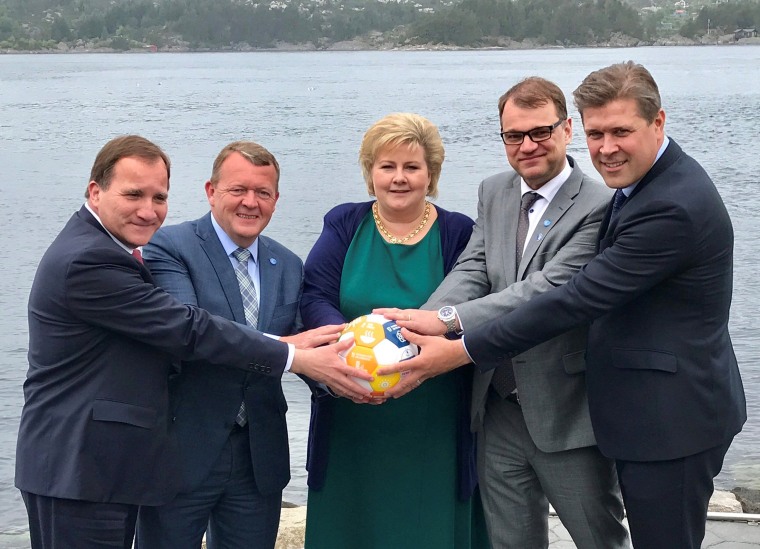 He told The Associated Press that Norwegian Prime Minister Erna Solberg only later realized that the photo was reminiscent of the one of Trump at the opening of a counterterrorism center in Saudi Arabia earlier this month. Trump, the Saudi king and the president of Egypt gathered around a lighted orb.
Late Tuesday, Solberg posted a montage of the two photos on her Facebook page with a note about sustainability.
"Who rules the world? Riyadh vs Bergen," Solberg wrote on her official Facebook account under the combination of the two photos in a reference to the two-day meeting in Norway's second-largest city, 193 miles west of Oslo.
"I do not know what they thought on the top image. On the bottom picture, the (prime ministers from Norway, Denmark, Sweden, Iceland and Finland) are holding a ball with sustainability targets. We hope they will be a roadmap for the future," Solberg wrote.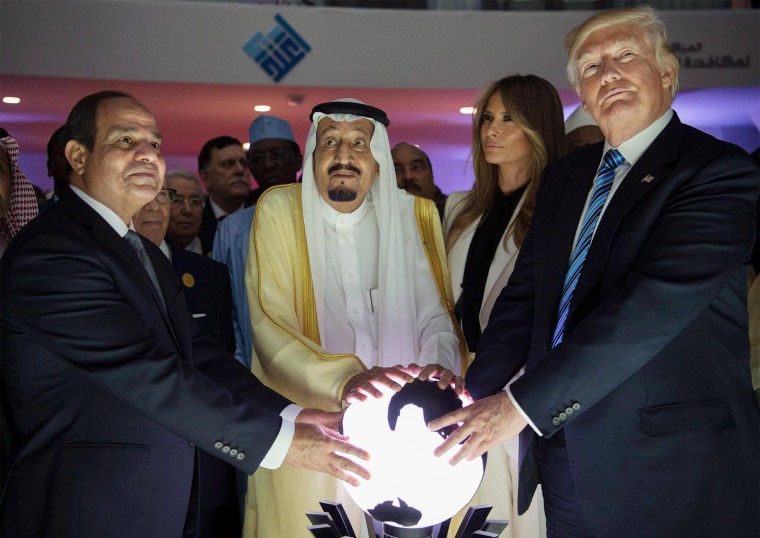 "We didn't even think about it when we took the picture," Solberg told the Norwegian news agency NTB, adding the ball had 17 sustainability goals and was a topic at the gathering of the Nordic prime ministers.
Earlier this year, U.N. Secretary-General Antonio Guterres tapped Solberg along with others, including Argentinian football player Lionel Messi, to promote the U.N. goals, and a similar ball was recently given to Chinese leaders.
Trump is debating whether the U.S. will withdraw from the 2015 Paris Agreement that aims to slow global warming.