SEOUL, South Korea — North Korean leader Kim Jong Un vowed to further bolster his country's nuclear fighting capabilities as he supervised the second test-flight of a new intercontinental ballistic missile designed to strike the mainland U.S., state media reported Thursday.
Kim's statement suggested North Korea would ramp up weapons testing activities to expand its arsenal in response to recent U.S. steps to enhance its security commitment to ally South Korea.
"The present unstable situation in which the security environment on the Korean peninsula is being seriously threatened by the hostile forces every moment," Kim said, according to state media. "(That) requires more intense efforts to implement the line of bolstering nuclear war deterrent."
The U.N. Security Council scheduled an open meeting late Friday afternoon to discuss the ICBM launch at the request of the United States, Albania, France, Japan, Malta and the United Kingdom.
The Korean Central News Agency reported Kim's comments a day after the launch of the Hwasong-18, which was first test-fired in April and which Kim has called the most powerful weapon of his nuclear forces.
The road-mobile ICBM has built-in solid propellant, which makes it more difficult to detect in advance than liquid-fueled missiles.
KCNA said the launch was meant to reconfirm the technical credibility and operational reliability of the missile. Kim called the launch "another important stride" in efforts to strengthen the North's strategic forces, KCNA said.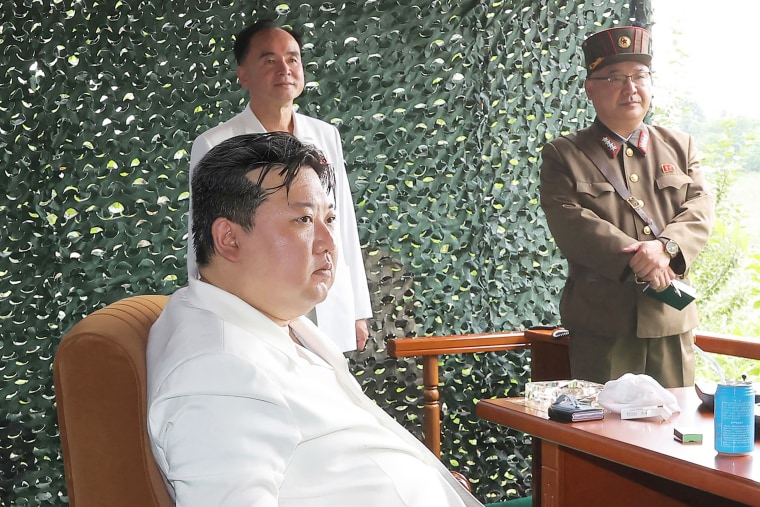 According to KCNA, the missile was launched on a high angle to avoid neighboring countries. It flew 74 minutes and a distance of 622 miles at a maximum altitude of 4,130 miles before landing in a targeted area in the open waters off the North's east coast.
The missile's flight time is the longest recorded by any weapon launched by North Korea. If launched on a standard trajectory, the missile could fly to the mainland U.S., though some experts say North Korea still has some technologies to master to acquire functioning nuclear-armed missiles.
South Korea, Japan and the United States criticized North Korea over the launch, which they said posed a threat to regional and international peace. Adam Hodge, a spokesperson for the U.S. National Security Council, said in a statement that the U.S. will take all necessary steps to ensure the security of the American homeland and South Korean and Japanese allies.
Kim set forth unspecified tasks for the North's national defense sector, saying North Korea will take "a series of stronger military offensive" until the U.S. and South Korea "admit their shameful defeat of their useless hostile policy toward (North Korea) in despair and give up their policy."
That signals Kim will intensify his push to modernize his missile arsenals with sophisticated weapons like the Hwasong-18. Other weapons on Kim's publicly stated wish list are a multi-warhead missile, a hypersonic weapon, a spy satellite and a nuclear-powered submarine.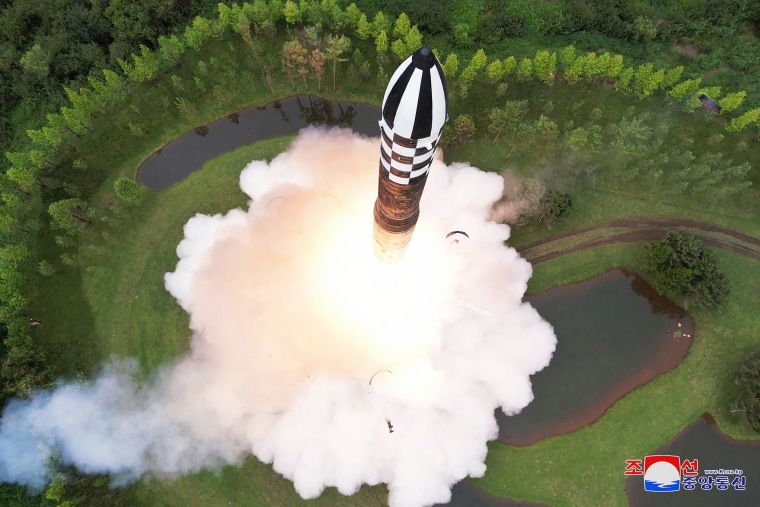 North Korea has been focusing on reinforcing its nuclear capability after Kim's high-stakes nuclear diplomacy with then-President Donald Trump collapsed in 2019 due to disputes over U.S.-led sanctions on North Korea.
KCNA accused the U.S. and South Korea of recently making "frantic confrontation attempts" and bringing "a new chain of nuclear crises" on the Korean Peninsula.
North Korea often issues such harsh, warlike rhetoric in times of tensions with its rivals. The KCNA dispatch cited a U.S.-South Korean agreement to strengthen the allies' deterrence capabilities such as the periodic docking of a U.S. nuclear-armed submarine in South Korea and the establishment of a new bilateral nuclear consultative group, whose inaugural meeting is slated for next week in Seoul.
The United States has expanded military drills with South Korea and taken steps to enhance "regular visibility" of U.S. strategic assets to the Korean Peninsula in response to the North's advancing nuclear arsenal. North Korea conducted about 100 missile tests since the start of last year. Experts say Kim eventually aims to use his enlarged arsenal to win greater concessions in future diplomacy with the United States.
Wednesday's ICBM launch came two days after Kim's sister and senior adviser, Kim Yo Jong, threatened "shocking" consequences to protest what she called provocative United States reconnaissance activity near North Korean territory. The U.S. and South Korean governments dismissed the North's accusations as groundless and urged it to refrain from escalatory actions.