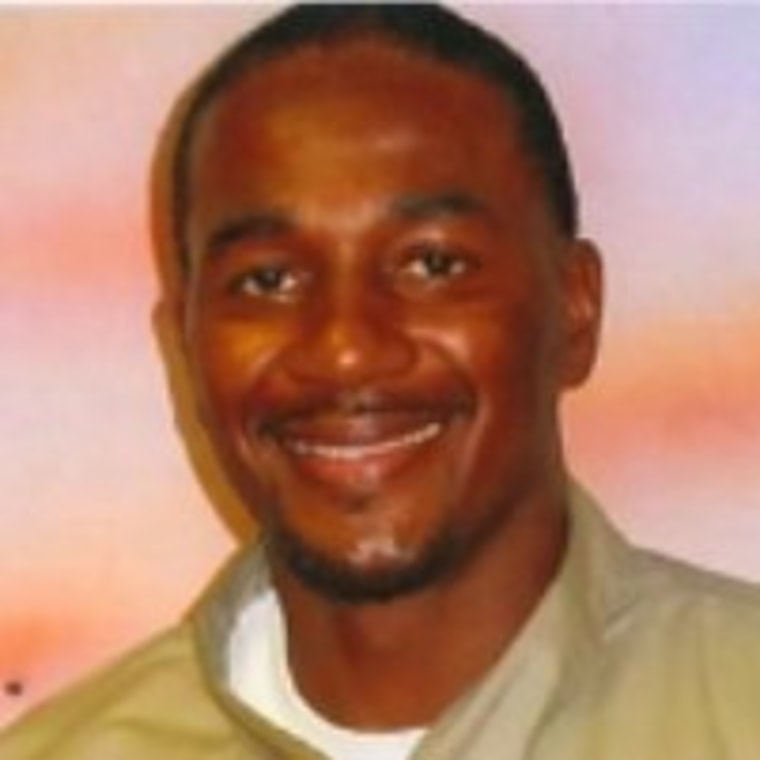 As we've detailed previously, Dafna Linzer's May 13 report in ProPublica and The Washington Post has led to pressure being placed directly upon the White House -- thanks to a letter from Michigan Democrat John Conyers and another member of the House Judiciary Committee -- to investigate that report's claims: that triple-life prisoner Clarence Aaron's commutation plea was allegedly mishandled in 2008 by Ronald Rodgers, the current head of the U.S. Pardon Attorney's office.
On Sunday's "MHP," the volume was turned up considerably by someone who knows the Aaron case intimately. Sam Morison was working within the U.S. Pardon Attorney's office in 2008, handling Aaron's case while there in 2008. He closed his #nerdland appearance (below) on Sunday with an emphatic statement directed at the President:
"President Obama could solve this problem this afternoon...if he asked my opinion, I would tell him, 'since you've been elected to office, Mr. President, you've had to make a lot of tough decisions. This isn't one of them.' There is no reasonable person who really believes Clarence Aaron deserves to die in prison."
Morison had, in 2008, recommended that Aaron's triple-life sentence be commuted. The harsh sentence was handed down as a mandatory minimum for what amounted to a first-time, and minor drug crime (as Melissa herself described the issue as such prior to Sunday's interview). Conservative San Francisco Chronicle columnist Debra J. Saunders, while taking issue with the word "minor," found herself agreeing with Morison in a Monday blog post:
He was a small player in two large planned cocaine deals — one happened, one didn't.  But his role in those crimes does not warrant a sentence that would keep a 23-year-old with no criminal record in prison until his natural death.
Saunders prefaced that assessment with this: "This story provides another example of how Barack Obama is worse in the war on drugs than George W. Bush." That seems like quite the rhetorical leap, but Saunders doubled down today in her column:
As a candidate for president in 2008, Barack Obama pledged to "immediately" review federal mandatory minimum sentences "to see where we can be smarter on crime and reduce the ineffective warehousing of nonviolent drug offenders." Obama also had written memoirs, in which he admitted to using marijuana and cocaine - "maybe a little blow when you could afford it" - as a teen. And he's the first black president.
Linda Aaron, a black Alabama grandmother, voted for Obama. For years, Aaron had been hoping that President George W. Bush would commute the obscenely long prison sentence of her son, Clarence. Because of Draconian federal mandatory minimum sentencing, a federal judge sentenced Aaron when he was 24 to three sentences of life without parole for a first-time nonviolent drug offense...
Obama was supposed to bring sanity to a federal sentencing structure that over-punishes nonviolent drug offenders. But I guess he's just too busy to get to Clarence Aaron.
Her language there at the end seems a bit snarky, the shots at the President's past drug use are Fox News-y, and the bit about Aaron's mother ("a black Alabama grandmother, voted for Obama") is somewhat patronizing. But Saunders does make an important point: President Obama should be held responsible for following up on that campaign promise to review mandatory minimum sentences, three of which Aaron received all at once.
It's a good thing, then, that such a review is already underway. (Oddly, it went unmentioned in Saunders' column.)
In the autumn of 2010, the President signed the defense spending bill for the next year -- and authorized, on its last page, the U.S. Sentencing Commission to undergo a year-long review of federal mandatory minimum sentencing laws. The group which organized last week's Aaron press event at the National Press Club, Families Against Mandatory Minimums, has a detailed timeline noting the results of that review -- which was critical of mandatory minimum sentences -- and what's happened since.
Saunders' argument also fails when it comes to the issue of President George W. Bush, considering that Linzer's report also details how another inmate serving life for a drug offense, Reed Prior, was granted clemency on the same day that Aaron's request was denied. Prior, a big-time meth dealer and recidivist from Iowa, was set free despite a recommendation from local prosecutors and the Pardon Attorney's office that he be kept right where he was.
So why did President Bush set him free? Prior's attorney played the game the right way and networked, raising questions about how seriously the Bush White House took the clemency process:
[Prior] had the support of influential family friends, senior judges and the wife of Iowa's then-governor. In addition to petitioning through the pardon office, Prior's lawyer met with Fred Fielding, the White House counsel. A week later, Prior was ordered freed after 14 years of incarceration.
"Going through the pardons office didn't work," said Robert Holliday, the Des Moines lawyer who handled Prior's case for free.
"Going directly to the White House did."
Clarence Aaron didn't have that luxury at the time. Thanks to Linzer's journalism and Congressman Conyers' co-authored letter, his case is finally being brought directly to the White House. While it's certainly fair to put pressure upon the President's shoulders to review the details of this case and urge him to expedite his administration's review of mandatory minimum sentencing, it is fallacious to argue that he has ignored the issue altogether, and that he is significantly worse on the issue than was President Bush.