Pakistan's military chief warned the Afghan Taliban on Friday of an "effective response" by his forces if they fail to stop harboring militants who plot cross-border attacks from Afghanistan.
The stern remarks by the army chief, Gen. Asim Munir, came after two militant attacks this week killed 12 Pakistani soldiers in the country's southwestern Balochistan province, which borders Afghanistan.
During a military meeting Friday in Quetta, the capital of Balochistan, Munir paid tribute to the fallen soldiers. Seven attackers were also killed by troops returning fire during the attacks on Wednesday.
Both the Pakistani Taliban, a separate militant group that is also an ally of the Afghan Taliban, and the extremist Islamic State group have a presence in Balochistan.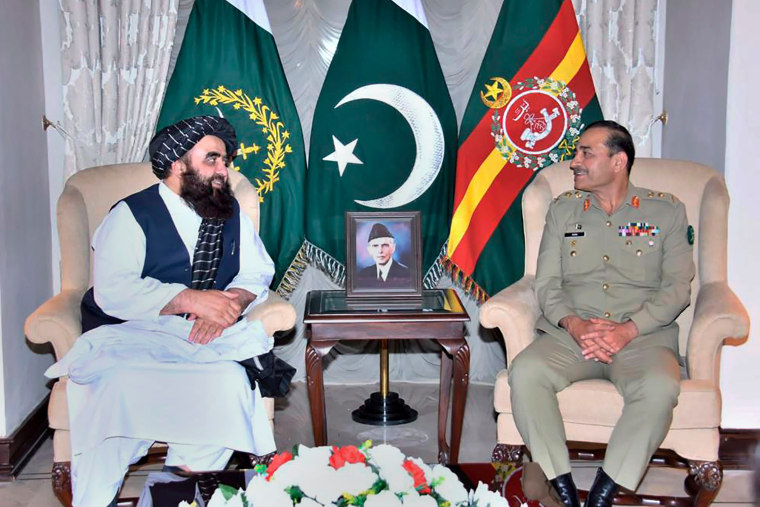 However, a newly formed militant group Tehreek-e-Jihad Pakistan claimed responsibility for one of Wednesday's attacks. That attack, in the Zhob district, left nine soldiers dead. It was unclear who was behind the other attack, in the Sui district, which killed three soldiers.
The Taliban-run government in Kabul did not immediately respond to the Pakistani general's remarks.
Munir was quoted as saying that Pakistan's armed forces were seriously concerned about the "safe havens and liberty of action" the Pakistani Taliban have in Afghanistan. He said he expects the Afghan Taliban to live up to their promises from a 2020 agreement with Washington to bar any terror group from using Afghan soil for attacks.
If they fail to do so, these "intolerable attacks would draw an effective response," he said.
Along with the Pakistani Taliban and ISIS militants, local Baluch separatist also have a strong presence in the gas-rich Baluchistan. The province has been the scene of a low-level insurgency by nationalists for two decades. They initially wanted a higher share of the provincial resources, but later initiated an insurgency for independence.
Along with the Baluch separatists, the Pakistani Taliban — the outlawed Tehreek-e-Taliban Pakistan or TTP — have claimed responsibility for most of the attacks on Pakistani troops and police in the province.
The TTP has become emboldened since the Afghan Taliban seized power in Afghanistan in August 2021 as U.S. and NATO troops were in the final stages of their pullout from the country after 20 years of war.