Pakistan is "standing on the edge of darkness" as it struggles with political turmoil, violence and what some, including former Prime Minister Imran Khan, are calling "undeclared martial law."
"What is happening right now is a total dismantling of our democracy," Khan told MSNBC's Mehdi Hasan in an interview this month.
"When you do not have rule of law, which is what is happening now, it is might is right," he said. "There's an undeclared martial law in Pakistan. There's darkness ahead. We are standing on the edge of darkness."
Khan, 70, a cricketer-turned-populist politician who was ousted in a parliamentary vote of no confidence in April 2022, is at the center of a political crisis in the nuclear-armed South Asian country of 230 million.
Backed by his supporters, Khan is trying to mount a comeback in a rare public challenge to Pakistan's hugely powerful military, which has ruled the country directly or indirectly for most of its 75 years of independence.
His eligibility to run for office could be imperiled by more than 150 criminal cases authorities have brought against him on charges including corruption, blasphemy and terrorism. Khan denies any wrongdoing and says the cases are politically motivated.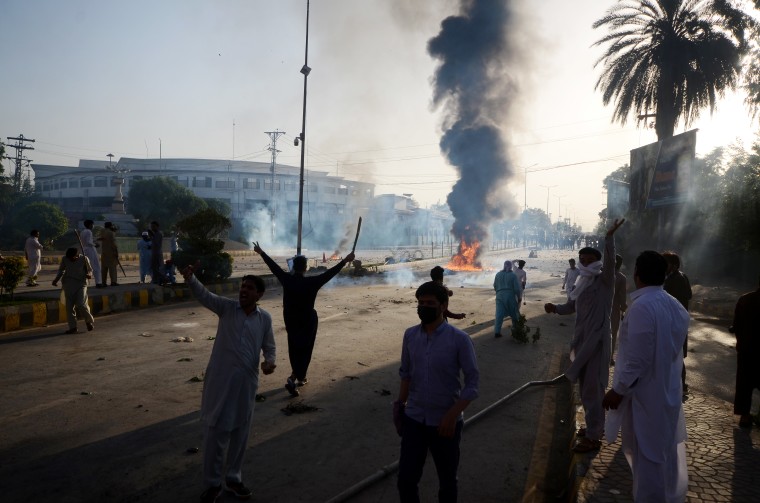 On Tuesday, Khan appeared before a special tribunal of Pakistan's Election Commission, which said he would be indicted next week on charges of publicly insulting commission officials last year.
He also appeared before another agency on charges that he exposed an official secret document last year when he waved it at a rally and said it was proof of a U.S. plot to oust him from power. Khan has since backed away from the claim, which both the White House and the Pakistani military denied.
"I will prove that each and every case they filed against me is forged and bogus," Khan said in a speech to his followers Monday.
Khan still has strong grassroots support, and his dramatic May 9 arrest at a courthouse in the capital, Islamabad, set off deadly mass protests aimed at the military that ended only when the Supreme Court ordered him released. Thousands of his supporters have since been arrested, including senior leaders of his party, Tehrik-i-Insaaf, also known as the PTI.
Khan has accused the military — known in Pakistan as the "establishment" — of pressuring top officials to quit his party in what he calls "forced divorces."
A spokesperson for the military said Khan's allegations were "totally frivolous, baseless, misleading and devoid of any truth."
Last week, dozens of PTI members said they were quitting the party to form their own, saying Khan was promoting "politics of hatred and confrontation."
Khan also called on the U.S. and other Western governments to condemn what he says are Pakistani authorities' abuses.
"Surely this is not what the Western countries should want," he said. "They should just speak out against it."
Khan's successor as prime minister, Shehbaz Sharif, has said the government has every right to prosecute protesters accused of criminal intimidation, rioting and assault, comparing them to the Jan. 6 rioters being prosecuted in the U.S.
The White House says it does not take positions of support for political candidates or parties in other countries but does call for the respect of democratic principles around the world.
"We just want to make sure that whatever happens in Pakistan is consistent with the rule of law, with the constitution," Secretary of State Antony Blinken told reporters after Khan's arrest in May.
From allies to nemeses
The political situation in Pakistan is "extremely volatile," said Farzana Shaikh, an associate fellow in the Asia-Pacific program at Chatham House, a London-based think tank.
"It's no secret that the institution that really wants Khan out of power and possibly disqualified at least for the next five to 10 years is the military," she said.
Though Pakistan has long aspired to be a functioning democracy, that ambition has been interrupted by several periods of direct military rule. Multiple political leaders have been assassinated, and no prime minister has ever completed a full five-year term.
Pakistan has also been struggling with an economic crisis, although the threat of a sovereign default has receded after the International Monetary Fund approved a $3 billion bailout deal this month.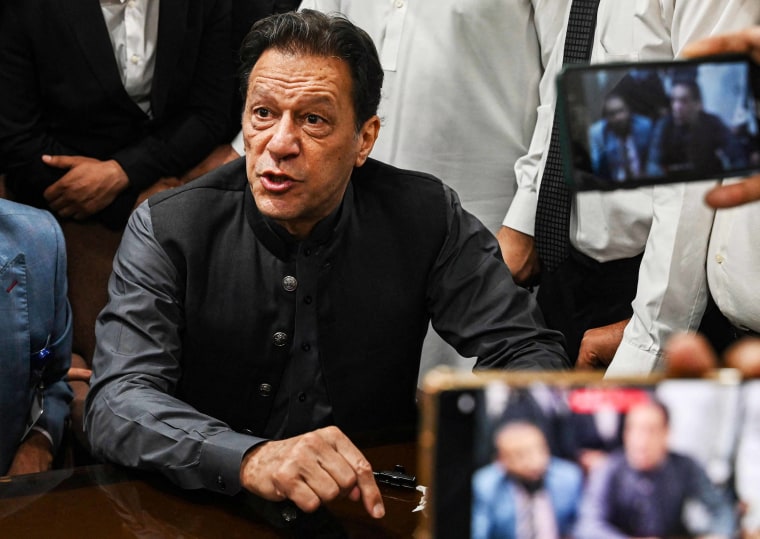 Experts say that Khan himself was backed by the military when he was elected on an anti-corruption platform in 2018 and that his nearly four years in office were marked by rights abuses and a decline in press freedom.
Khan dismissed such comparisons as a "false equivalence."
"You cannot compare what was going on in my time to this," he said.
Khan's relations with the military soured after disagreements over key appointments and foreign policy. He was further undermined by Pakistan's economic troubles, including double-digit inflation, and he lost the support he needed in Parliament.
In addition to the U.S., Khan also blamed his ouster on the military, which denied any involvement. Since he left office, Khan has kept up his attacks on the army-backed government, accusing it of being involved in an assassination attempt against him in November, which it denied.
The acrimony reached a fever pitch after Khan's arrest in May. He denied that his supporters, who blamed the military for his arrest, were responsible for attacks on several army installations around the country, including the home of a top military commander in Lahore that was stormed and set on fire.
"Predictably enough, the military reacted ferociously," Shaikh said.
Human Rights Watch accused police of firing on and using excessive force against people protesting Khan's arrest. Authorities also cut off mobile internet service and restricted social media, saying the curbs were necessary to protect public safety and slow the spread of misinformation.
Coverage of Khan, Pakistan's most popular political leader according to polls, has all but vanished from mainstream media, which Khan says was a government directive. The Pakistan Electronic Media Regulatory Authority did not respond to a request for comment.
Though Khan is free on bail, "everything points to the possibility that he may be facing arrest very soon," Shaikh said.
Khan's party has done well in by-elections since his ouster. But if the PTI defections continue — or if Khan is imprisoned — it will affect its chances of success in national elections expected in the fall.
Shaikh described the PTI as "basically a one-man party" built around Khan.
"I think that's what the military is banking on," she said. "If you cut off the head, the rest of the body will simply fail to come alive."