PYONGYANG, North Korea — It is one thing Americans and North Koreans can agree on: there is simply no place on earth like this.
But the two sides mean entirely different things by it.
For Americans, and most of the rest of the world, the country is the most closed, repressive and isolated totalitarian state on Earth.
North Korea's 24 million citizens are taught that they live as chosen people in a paradise the whole world envies and that only their leader can protect them against the evils that lurk on their borders.
PHOTOS: Reclusive North Korea Cracks Open Door to Outsiders
From the official bus laid on by the government for foreign journalists, both viewpoints were visible as the country prepares for one of the greatest celebrations of its uniqueness; an extravaganza to mark the 70th anniversary of the founding of its ruling Communist Party on Saturday, October 10.
Uniformed bands were practicing, children were drilling, many as young as five, marching in step to the drummers ahead. Roadsides were being painted, red patriotic signs erected — there wasn't a scrap of garbage anywhere. For miles along the road, work crews were laboring, directed by men in suits. Dozens of groups were harvesting in the fields.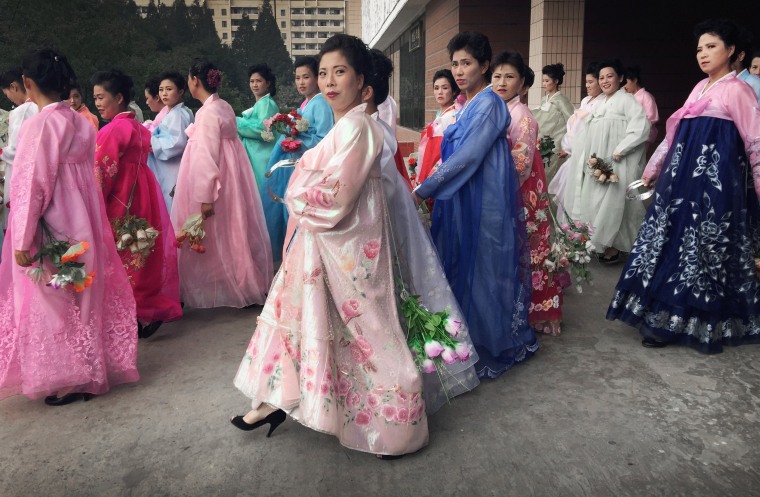 Officials wearing badges picturing the founder of the country, Kim Il sung and his son, Kim Jong Il, were smiling broadly. This is what they brought us to see; a socialist workers' paradise that knows how to throw an orchestrated party and led by a man described in the magazine Korea Today as a "marvelous statesman, a master of ideology, a genius."
"Kim Jong Un," the magazine concluded, "is the present-day sun."
Yet on the hour-long trip from the shiny new airport to the capital, Pyongyang, there are many posters and murals depicting his father and grandfather but none to the present day leader of the state.
Kim Jong Un may be the world's youngest leader, but at 32 — no-one is entirely sure of his exact age — he is still untested in a crisis.
However, as the in-flight magazine of the state airline Koryo Air points out, "these days the song 'we can't get along without him' is much in vogue". And he is about to lead the celebration of seventy years of "victory and glory in which the Korean people have led a free and happy life as citizens of a dignified, powerful country." That, at least, is what the government wants to tell us.
Curiously in this paradise of equality, our plane — a Russian-built Tupelov - had Business Class seats. Party officials were whisked through customs and security checks. (One hadn't made it from Beijing airport because Chinese customs were not convinced his boxes full of dozens of gold rings were all for his wife.)
The in-flight video featured an all-woman rock band in their twenties belting out patriotic tunes with guitars, saxophones and an energetic drummer, dressed in combat gear and aviator jackets, in front of a warplane. On the sparse landscape below, vast tracts of brown dirt contrasted with the cultivated fields of China.
Here was image and reality. You can listen to the patriotic rock band all you want, but listening to South Korean music is enough to have you thrown in the gulag.
The airport, opened just weeks ago, has a coffee bar and shops selling champagne, chocolates and suits.
Yet North Korea's people, according to the U.N., are among the most malnourished in the world.
There was no garbage in the streets, but neither was there any dissent. A word spoken against the supreme leader would mean a trip to the gulag.
Foreign journalists — a despised breed that North Korea has, for centuries, warned its people to shun — were given a blue armband to wear whenever they venture outside.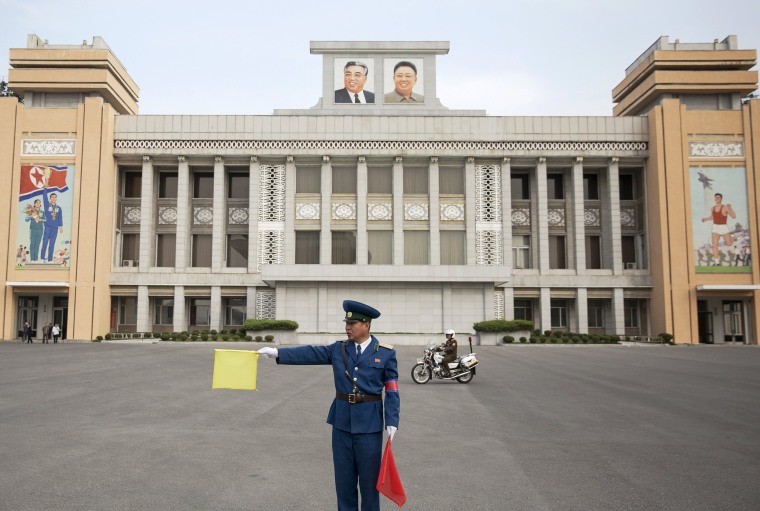 Western cell phones say 'no service' but foreigners are given a North Korean SIM card that allows outside calls. Ordinary people can only make local calls. Like their Internet, their phones are not connected to the outside world.
Yet a select few have been allowed inside this hermit kingdom, the most isolated state – waiting for the fireworks to begin. Analysts are certain that North Korea won't launch a long range missile or their second satellite, or test their fourth nuclear weapon to coincide with the national triumphalism.
One other thing Americans and North Koreans might agree on; nobody does a military parade quite like the people of this sealed country. It will be interesting to see what they will show the world at their parade, and what they hide.