Tough-talking Philippine President Rodrigo Duterte announced his country's "separation" from long-time ally America Thursday, declaring that he was pivoting instead to China.
The leader — who has been compared to Donald Trump — made his comments during a visit to Beijing, which he used to pave the way for what he calls a new commercial alliance as relations with Washington deteriorate.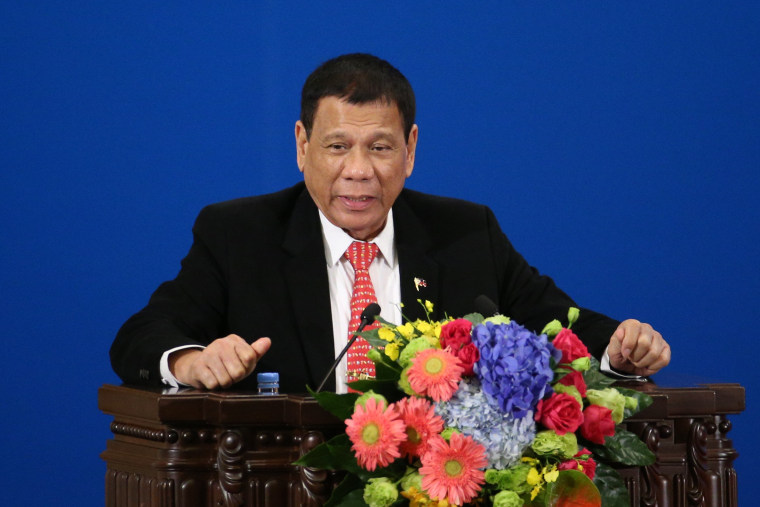 "In this venue, your honors, in this venue, I announce my separation from the United States," Duterte told Chinese and Philippine business people, to applause, at a forum in the Great Hall of the People attended by Chinese Vice Premier Zhang Gaoli.
"Both in military, not maybe social, but economics also. America has lost."
Duterte's efforts to engage China, months after a tribunal ruling in the Hague over South China Sea disputes in favor of the Philippines, marks a reversal in foreign policy since the 71-year-old former mayor took office on June 30.
"I've realigned myself in your ideological flow and maybe I will also go to Russia to talk to (President Vladimir) Putin and tell him that there are three of us against the world — China, Philippines and Russia. It's the only way," Duterte added.
Duterte, who has been criticized by Washington over human rights concerns amid his bloody war on drugs, has called President Barack Obama a "son of a b****" and told him to "go to hell."
In response, President Obama cancelled a bilateral meeting with Duterte at a summitt of South East Asian nations in Laos in September. Obama also called his Duterte a "colorful guy".
About 1,000 anti-U.S. protesters gathered outside the U.S. Embassy in Manila Wednesday calling for the removal of U.S. troops from the southern island of Mindanao.
China has welcomed the Philippines approaches, even as Duterte has vowed not to surrender any sovereignty to Beijing, which views the South China Sea Hague ruling as null and void.
America's relationship with the Philippines is an extremely important element of the Obama administration's strategy in that part of the world to build a counter weight to China's growing economic and military prowess, the so-called pivot to Asia.
The Philippines is also one of the nations in a multinational trade deal, the Trans Pacific Partnership, that President Obama is struggling to get Congress to approve before he leaves office. He has called the deal essential to U.S. "credibility," in the region.
Such stakes are another reason why the administration is trying to downplay Duterte's overtures to China as a major concern.
A senior Obama administration official this week stressed the decades-long history with the Philippines.
"The U.S.-Philippines alliance is built on a 70-year history, rich people-to-people ties, including a vibrant Filipino-American diaspora, and a long list of shared security interests," the official told NBC News. "We also remain one of the Philippines strongest economic partners; the current stock of U.S. foreign direct investment stands above $4.7 billion."
Deputy Press Secretary Eric Schultz told reporters on Thursday that administration doesn't see the China issue as a "zero sum game."
"It's important for our allies to have strong relationships with China," he said.
However, the administration is keenly aware of Duterte's rhetoric as see it as "inexplicably at odds with the very close relationship we have with the Filipino people," State Department spokesman John Kirby told reporters on Thursday.
"And we are going to seeking an explanation about what exactly the president meant when he talked about the separation from the U.S., we're not clear what exactly that means in all its ramifications," Kirby said. "So we are going to be seeking a clarification on that."