Wagner mercenary group chief Yevgeny Prigozhin trafficked in fury to cultivate his status as a public champion of the legions of hard-line pro-war voices who were disillusioned with Russia's military leadership. But now the explosion of his bitter feud into a fast-aborted rebellion has fueled fury of its own.
Some who backed the mutiny were dismayed at Prigozhin's decision to turn back before his fighters reached Moscow, while others were outraged at the apparent deal the Kremlin reached to end the crisis.
While the fate of the defiant mutineer and his fighters remain uncertain, there are signs that his hold over onetime backers may have been weakened by the saga. And Russian President Vladimir Putin — eager to restore his authority and undermine his challenger — has sought to exploit this growing divide, according to analysts.
"You set us up," said one camouflage-clad man wielding a gun in a video posted to Telegram after Saturday's short-lived revolt. The video claimed to be from members of one of the Russian army's Storm-Z brigades, which experts have suggested are made up of ex-convicts turned fighters. The same group had earlier posted videos in support of Prigozhin.
The group also insulted Prigozhin, saying they had supported his rebellion and now felt betrayed.
A BBC News analysis of online messages by Wagner troops and their families found some furious with the decision to bring the rebellion to an abrupt halt. One user claiming to be a Wagner fighter on a popular Telegram channel derided Prigozhin as a "bald waste of space" who had "destroyed" the militia group he claimed to have launched the mutiny to save.
Meanwhile, some Russian pro-war commentators and military bloggers — who have become increasingly influential and had found common cause with Prigozhin's criticism of the defense ministry — equated the mutiny with treason and called for its leaders' execution.
Their social media channels were rife with rumor and speculation in the wake of the crisis, much of it focused on who might pay the price.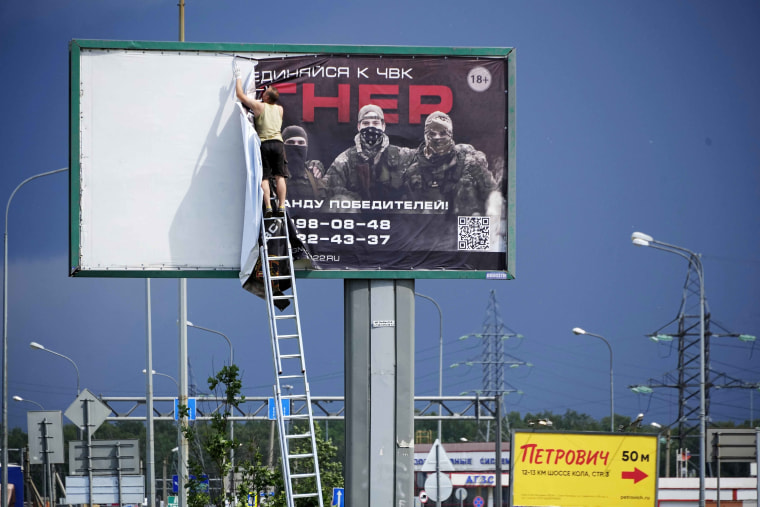 As Prigozhin's troops marched deeper into Russia, they reportedly clashed with the military's aerial forces, killing at least 13 pilots.
"The question hangs in the air: who and how will answer for the deaths of Russian servicemen during the 'march of justice'?" the influential pro-war Telegram channel Rybar wrote on Saturday.
"A bullet to the forehead is the only salvation for both Prigozhin and Utkin," said Andrey Gurulyov, a member of Parliament and a retired army officer, referring to top Wagner commander Dmitry Utkin, in an appearance Sunday on state TV.
Igor Girkin, an ex-Russian army officer turned popular military blogger, also called for Prigozhin's execution. He said it was "necessary to preserve Russia as a state," he said on Telegram Monday.
Once a shadowy figure, Prigozhin emerged as a face of the war in Ukraine as his mercenaries led parts of Russia's campaign on the eastern front lines. Boosted by seizing the symbolic prize of Bakhmut, he stepped up his feud with military leaders in Moscow. Boasting of Wagner's prowess and mocking his enemies, Prigozhin often went well beyond the rhetoric commonly allowed in such a heavily controlled political system. That helped him broaden his celebrity and rally his supporters.
Even after Prigozhin turned back from Moscow, people on the streets of the southern city of Rostov-on-Don cheered as Wagner fighters who had seized it departed, many chanting in support and some even running to shake hands with Prigozhin as he drove away in his SUV.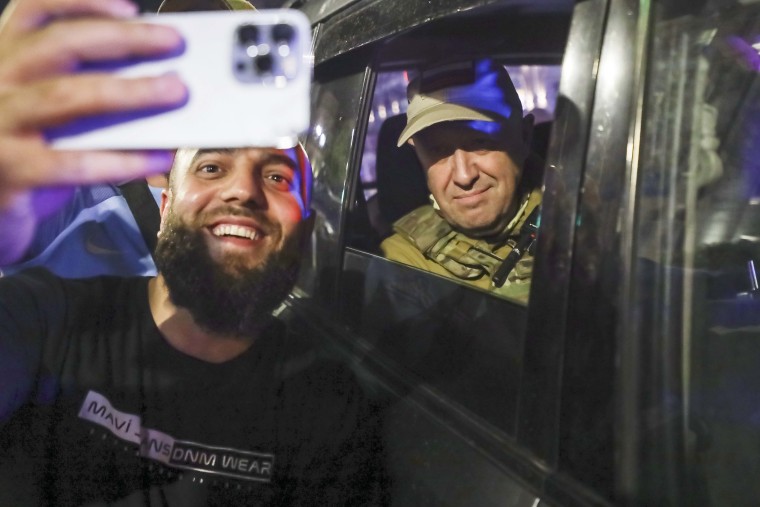 But now the man whose grip on power Prigozhin undermined has seemingly had enough.
Though the Kremlin has so far apparently stuck to the deal to drop charges against Prigozhin and allow him to leave for Belarus, Putin has targeted the mercenary leader in speeches while notably praising Wagner fighters themselves.
"Putin is trying to present Wagner Group financier Yevgeny Prigozhin as corrupt and a liar to destroy his reputation among Wagner personnel and within Russian society," said the Institute for the Study of War, a Washington-based think tank.
"The Kremlin needs to separate Prigozhin's cause from his persona," the institute said, adding that it would "likely continue to attack Prigozhin's character to break Prigozhin's popular support, discourage Wagner personnel from following him to Belarus, and destroy his financial power."
What Prigozhin ultimately gained from the brief revolt remains unclear.
"The plan was to make a lot of noise and fuss, to attract Putin's attention and bargain for comfortable conditions for further work — a role, security and money," Tatiana Stanovaya, a nonresident scholar at the Carnegie Endowment for International Peace, said Sunday on Twitter.
Prigozhin defiantly framed the mutiny as a bid to save Wagner from coming under the control of the defense ministry, but the Kremlin has now offered his fighters the chance to join the Russian military's ranks, go home or follow their leader to an uncertain future in Belarus.
It's unclear how many will rush to join him.