Embattled Toronto Mayor Rob Ford's leave of absence appears to be treating him well.
"Rehab is amazing," Ford told the Toronto Sun a week into his time off, which he took after a new photo emerged showing him with a copper pipe. "It reminds me of football camp. Kind of like the Washington Redskins camp I went to as a kid."
The latest image of the crack-smoking mayor was taken from a video that showed Ford smoking, inhaling, and "frantically shaking his right hand," according to the Globe and Mail. Ford's office announced last week that he was taking a break from his campaign for re-election to seek help for alcoholism.
"I feel great," he told the Sun in a story published Wednesday.
While Ford said he didn't have a date in mind yet for when he would return to work, he told the newspaper he would definitely be back in time for the election.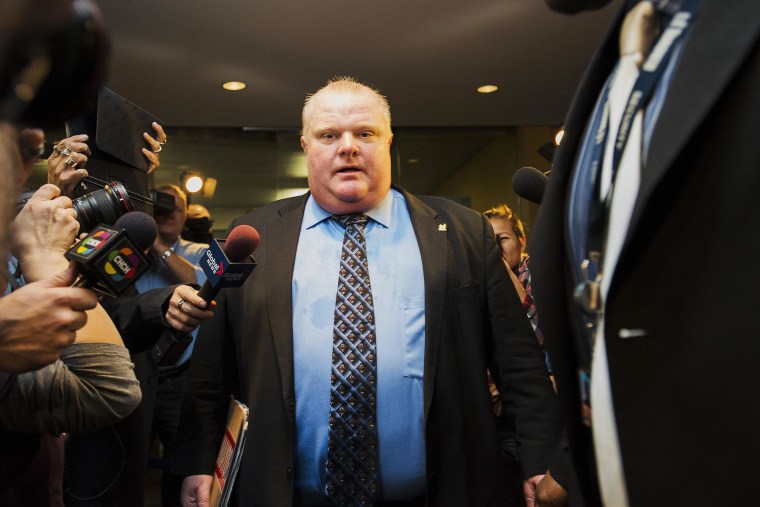 "I will be on the ballot for mayor in October, guaranteed, and I will do well," he said. "On Oct. 28, there will be no need to change the locks. There will be no need to clean out my office because I am coming back."
Ford did not reveal where his rehab is, or even whether it's in Canada. Last week, he was reportedly turned away from the U.S. while boarding a plane for Chicago on his way to a substance-abuse center.
But he gave other details about his treatment: He said he participates in meetings with four to eight people, then has a meal before his one-on-one sessions.
"I am working out every day and I am learning about myself, my past and things like that," he told the Sun.
The treatment center treats "addictions to alcohol and other things," he said, and is helping him realize he needs to change.
"I think alcohol is the worst drug of all. It makes you do things that you would never do or say things that you wouldn't," he said.
Two doctors and a professional athlete are among the others getting treatment with him, he said.
"There are terrific people in my group. We are all supporting each other. We are connecting in a weird way."
Ford called going to rehab the best decision he ever made.
"I said to myself, 'Am I going to try to cover it up for the rest of your life or deal with it and go to professional help?' " he said. "I decided to get help."
—Elizabeth Chuck