The Kremlin put on a show of public support for Russian President Vladimir Putin on Wednesday, but mounting questions over the fate of the country's top generals undermined efforts to move on from the mercenary rebellion that weakened his authority.
Putin was shown being greeted by jubilant crowds in the north Caucasus region of Dagestan on Wednesday night, in a display of national unity and the latest apparent effort to showcase his solid grip on power just days after his two-decade rule was challenged by a former confidant.
It was a marked break from years of public appearances in which the Russian leader has steered clear of engaging with crowds.
The Kremlin has strained to project order since the weekend's short-lived mutiny, which saw Wagner mercenary chief Yevgeny Prigozhin's fighters march on Moscow before turning back. Some high-profile figures have been missing from the propaganda distributed in its wake, however, fueling growing speculation that a purge may have been launched.
At the center of the storm is Gen. Sergei Surovikin, the deputy commander of Russia's forces in Ukraine.
The general — known to have been close to Prigozhin — has not made any appearances or statements since Saturday, when the Russian Defense Ministry released video of him urging Wagner fighters to abandon their mutiny.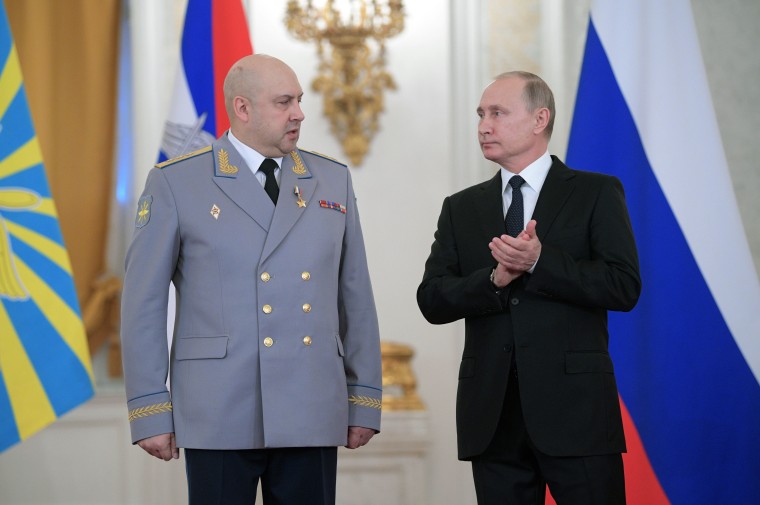 A series of media reports citing U.S. officials have added fuel to the fire.
Surovikin was sympathetic to the rebellion, U.S. officials told Reuters, though the news agency added that Western intelligence did not know with certainty if he had helped in any way. The New York Times previously cited U.S. officials as saying that Surovikin had "advance knowledge" of Prigozhin's plans to rebel against Russia's military leadership. 
NBC News has not confirmed the reports, but they only added to questions about whether support from top military figures may explain the apparent lack of armed resistance to the mutiny.
Kremlin spokesman Dmitry Peskov dismissed the reports about Surovikin as "speculation and gossip." He refused to answer any questions on Surovikin during his call with reporters Thursday, deferring to the Defense Ministry. 
The general, who earned the nickname "General Armageddon" for his brutal tactics, is viewed as one of Russia's most effective. He was replaced as the head of the Ukraine war by Gen. Valery Gerasimov, who has also not been seen in public since the rebellion. 
The Defense Ministry has not mentioned Gerasimov since June 9, and has not said anything publicly about the two generals' whereabouts despite the rampant speculation across Russian social media.
A display of unity in Dagestan
With Russia shaken by the rebellion and its fallout, the Kremlin seemed determined to display unity.
Footage distributed by Russian state media late Wednesday showed Putin stretching his arms toward a seemingly elated crowd during a scheduled event in the city of Derbent. 
A group of people behind a barrier can be heard cheering and reaching for him with their hands and cellphones, as cameras roll and his guards appear to make a gap in the security cordon for him to get closer. 
It's a remarkable departure for Putin, who has led a largely isolated existence since the Covid pandemic, forcing those around him to enter quarantine for weeks and meeting with officials across a very long table. 
Suddenly breaking with that protocol, which has continued long since the pandemic's peak, suggested a desire to project the idea that he still has the nation's adoration as he seeks to resurrect his image as Russia's guarantor of stability. 
The Kremlin regularly holds carefully staged events for public consumption.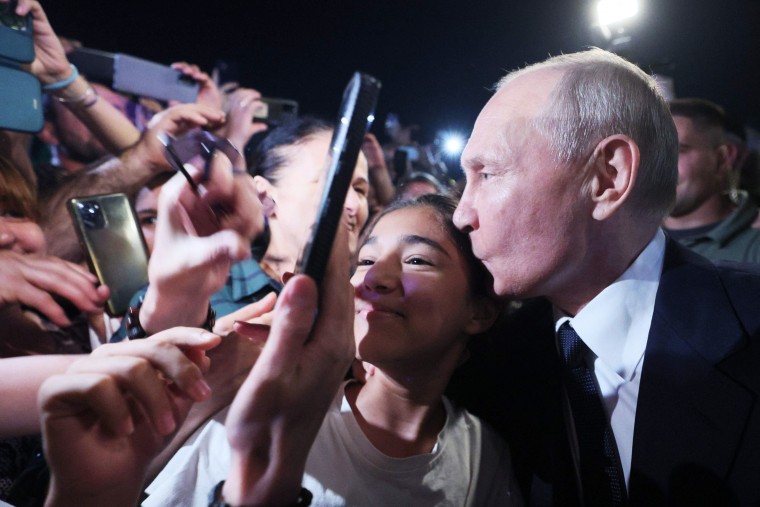 "Putin needs a picture surrounded by people so much right now that for this he even forgot about Covid, quarantine and social distance," Abbas Gallyamov, a Russian political analyst and former Putin speechwriter, wrote on Telegram. "Everyone should see that the people still love their president."
"The Tsar comes down to the people," Sergey Radchenko, a historian and professor at the Johns Hopkins School of Advanced International Studies, wrote on Twitter. He described the event as an attempt "to re-establish the charismatic basis for his waning authority."
Peskov said Thursday that the whole city had come out to meet the president in "an absolutely amazing demonstration of the support and joy of the local population," state news agency Ria reported. 
While denouncing Prigozhin's revolt as "treason," Putin has made a point of saying that the "patriotic spirit of the citizens" played a decisive role in stifling the mutiny.
The display in Dagestan could also be the Russian leader's attempt to outmatch Prigozhin, who was seen being cheered on by crowds as he left the southern city of Rostov-on-Don on Saturday. 
Putin will hope to have boosted his battered image with the public showing that was plastered across state television as a sure sign of his hold on power. But the fate of his generals left the Kremlin shrouded in uncertainty as its military battles the Ukrainian counteroffensive.
Military analysts told NBC News that if rumors of Surovikin being in on Prigozhin's plans were true, it would be a significant blow to Putin, given the respect for the general within the Russian military. 
"The worry for Putin would be that Surovikin's alienation reflects a wider sense of disenchantment within the leadership of the operations in Ukraine," said Christopher Tuck, an expert in conflict and security at King's College London.
Speculation about his possible detention could signal that Putin is going to deal harshly with anyone he thinks was cooperating with Prigozhin, said Phillips O'Brien, a professor of strategic studies at the University of St. Andrews in Scotland. 
"That could lead to a lot of bad blood and suspicion throughout the armed forces," he added.