CANBERRA, Australia — Australia's highest court on Monday dismissed Russia's application for an injunction that would have prevented Moscow's embassy being evicted from a site in the national capital, Canberra. A man who had been occupying the site in a portable cabin for more than a week in an apparent act of Russian defiance left soon after.
High Court Justice Jayne Jagot described Russia's challenge on constitutional grounds to a law terminating the lease as weak. "I do not perceive (Russia's) case ... to be a strong one. Indeed, it is difficult to identify a serious question to be tried," Jagot said.
Parliament passed emergency legislation on June 15 that terminated Russia's lease on the largely empty block on security grounds because the new embassy would have been too close to Parliament House.
Government lawyer Tim Begbie said Russia appeared to be applying for the injunction to protect its own security and intelligence interests.
"It's not just that they haven't made a compelling case for constitutional invalidity in this application, they've made absolutely no case for it," Begbie said.
Russia's lawyer, Elliot Hyde, had argued that Ambassador Alexey Pavlovsky would not have confidence in the integrity and security of a consular building already on the site if the embassy was not allowed to maintain possession until the challenge to the lease's termination is decided.
Hyde said a man who had been living on the site since at least last week was a security guard protecting the compound. The man had been described in the media as a Russian diplomat.
Prime Minister Anthony Albanese said he welcomed the High Court decision and expected the Russians to leave the site.
"The court has made clear that there is no legal basis for a Russian presence to continue on the site at this time, and we expect the Russian Federation to act in accordance with the court's ruling," Albanese told reporters.
"Australia supports the law. Russia has not been real good at upholding the law in recent times," Albanese added, referring to the invasion of Ukraine.
The security guard left the fenced compound after the decision and did not say anything to reporters as he walked out the gate. He was carrying bags and was collected by a car with diplomatic license plates.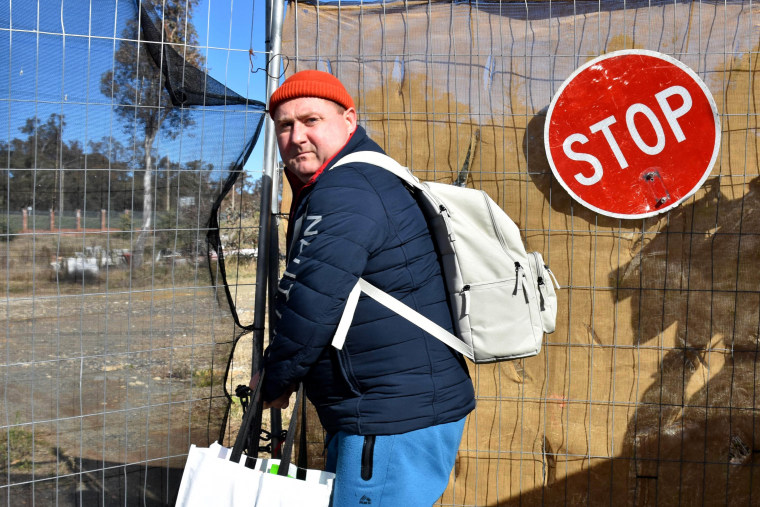 The Russian Embassy did not immediately respond to a request for comment. Russia had accused Australia of "Russophobic hysteria" for canceling the lease of the site in Canberra's diplomatic quarter where Moscow wanted to build a new embassy. The current Russian Embassy is in the Canberra suburb of Griffith and its operations are unaffected.
Australian National University international law expert Don Rothwell said an examination of the published list of accredited Russian diplomats in Australia revealed there were only three male diplomats who could be the man guarding the embassy site.
Given Elliot's description of the squatter as a guard, Rothwell doubted the man had diplomatic immunity, which could have prevented Australian authorities from removing him from the site.
With him gone, police could avoid any further legal challenge by securing the site and preventing any Russian diplomat from taking his place, Rothwell said.
Australian Federal Police last week declined to explain why the man had not been removed from the contested site as a trespasser.
The legal wrangle over the site is a new low point in strained elations between Russia on one of Ukraine's most generous supporters outside NATO.
Albanese on Monday announced an additional 110 million Australian dollars ($74 million) in aid to Ukraine that includes 70 military vehicles and features 28 M113 tracked armored personnel carriers. The aid also includes ammunition and AU$10 million ($6.7 million) in humanitarian help for shelter, health services, clean water and sanitation.
The new aid package brings Australia's total Ukraine aid to AU$790 million ($528 million) since Russia invaded last year.