KYIV, Ukraine — The head of a Russian mercenary group is emerging from the shadows to challenge Moscow's ruling establishment, using battlefield success in Ukraine to burnish his credentials as a new face of the war.
Yevgeny Prigozhin claimed victory for his Wagner group of military contractors in the salt mining town of Soledar on Wednesday, in what would amount to the Kremlin's first battlefield success for months after a string of embarrassing setbacks.
The Ukrainian government said its soldiers were still holding out under a fierce onslaught after a monthslong battle on the eastern front lines, however, while Russia's Defense Ministry appeared to contradict Prigozhin — the latest hint of growing discord at the top of Moscow's war effort.
NBC News was not able to verify any of the claims. 
Capturing Soledar may not prove decisive in the course of the war, but it could offer Prigozhin a launching pad for his personal campaign, which appeared increasingly at odds with the wishes of the military leadership in the Kremlin.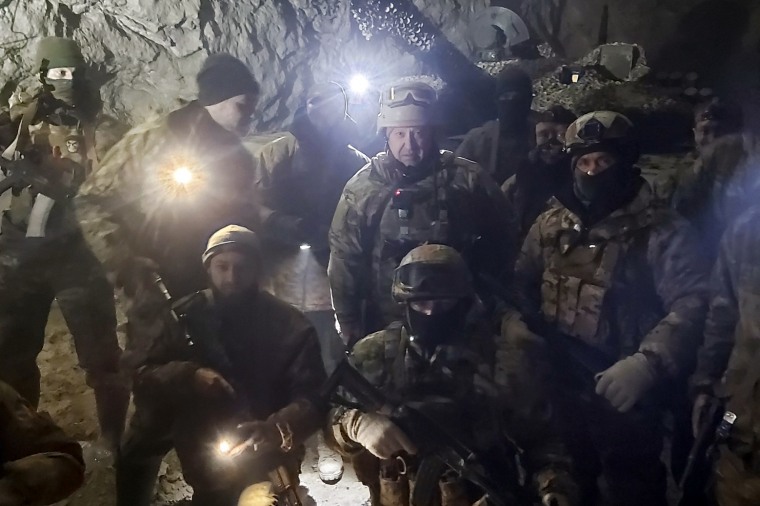 While Prigozhin was claiming victory, the Defense Ministry announced another shake-up at the top of its "special military operation," replacing its overall commander in Ukraine after just three months in charge.
The new role for Gen. Valery Gerasimov and the demotion of Gen. Sergei Surovikin could reflect a desire to squash Prigozhin's ambitions, some analysts said. Prigozhin has accused Gerasimov, Russia's top military officer, of incompetence.
"We don't know the exact roots of this initiative … but the target is to neutralize Prigozhin, especially among the Russian population," Vadym Skibitsky, Ukraine's deputy military intelligence chief, said Thursday.
He said "political games" were being played around Russian President Vladimir Putin, the intrigue fueled by his faltering military campaign in Ukraine and the impact of sanctions and mobilization at home.
"Even if Prigozhin says it's Wagner who is doing the fighting, we still know that Russian artillery and aviation are supporting them. … Now that Gerasimov has been appointed director of the so-called special military operation, there are doubts that support will continue, because he needs his own gains and achievements, and he will do everything he can to neutralize Wagner," he added.
On Wednesday, Prigozhin posted a photo of himself among soldiers at what he said was a mine in Soledar, which, along with the nearby city of Bakhmut, has been devastated by some of the most intense fighting since Russia invaded last year.
"The units of the Wagner PMCs took control of the entire territory of Soledar. … I want to emphasize once again that no units participated in the assault on Soledar except the fighters of the Wagner PMCs," said a statement attributed to Prigozhin on a Wagner-linked Telegram messaging channel. 
NBC News has not been able to confirm where the photo was taken.
By contrast, Kremlin spokesman Dmitry Peskov neither confirmed that Soledar had fallen to Russian forces or mentioned the Wagner group's involvement in attempts to take it. 
"Let's not rush and wait for official statements," he said. 
Russia's Defense Ministry said that its airborne troops "blockaded Soledar from the northern and southern parts of the city" but added that "assault squads are fighting in the city."
Prigozhin's post — and his emphasis on his own troops' success — comes amid a flurry of online statements, photos and videos in recent weeks that analysts said constituted a brazen campaign of self-promotion and open antagonism toward the military leaders behind a war that has been faltering badly since the invasion in February.
Once known as Putin's "chef" for catering state events, Prigozhin, 61, long publicly denied leading the Wagner group, a private military company that has also operated in Syria, Mali, the Central African Republic and other countries. Russia has consistently denied the involvement of the Wagner Group in its official military operations.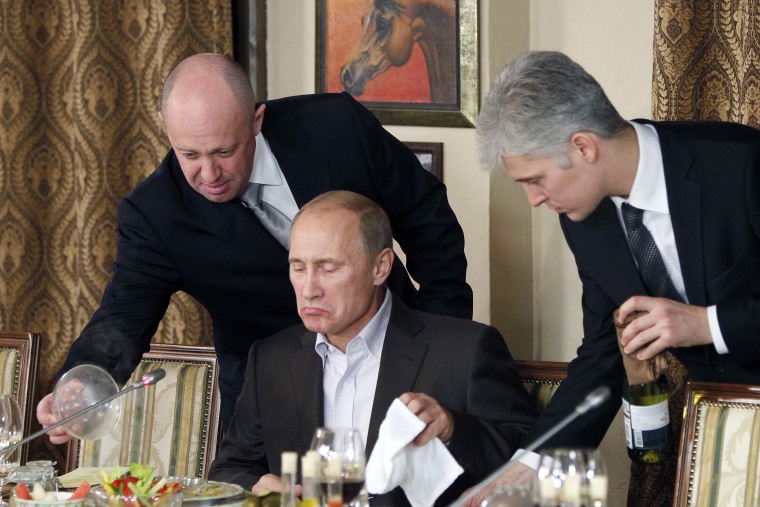 But he has embraced the public eye during the conflict in Ukraine, where his fighters are leading the charge against Kyiv's troops in the eastern Donetsk region at massive human cost.
Private military companies are technically illegal in Russia, but in November Wagner opened offices in St. Petersburg emblazoned with its logo.
Prigozhin has donned military fatigues and appeared in videos appearing to show him recruiting prisoners or in the thick of the action at the front line, in contrast to the city-dwelling elites he derides in some of his posts.
He has openly criticized Russian military top brass, and a Wagner-linked social media channel shared a rant by two men who claimed to be Russian soldiers criticizing army chiefs amid reports of low morale and organizational disarray. Prigozhin subsequently vowed to "make them [the military] solve" the problems on the front line in an audio post.
Such tactics are highly unusual in a top-down political system in which dissenters are routinely imprisoned and even poisoned or found after having mysteriously fallen from hotel windows and balconies.
Some experts say that with the Kremlin's military campaign in Ukraine largely stalled and Putin up for re-election in 2024, the time may be right for a power play.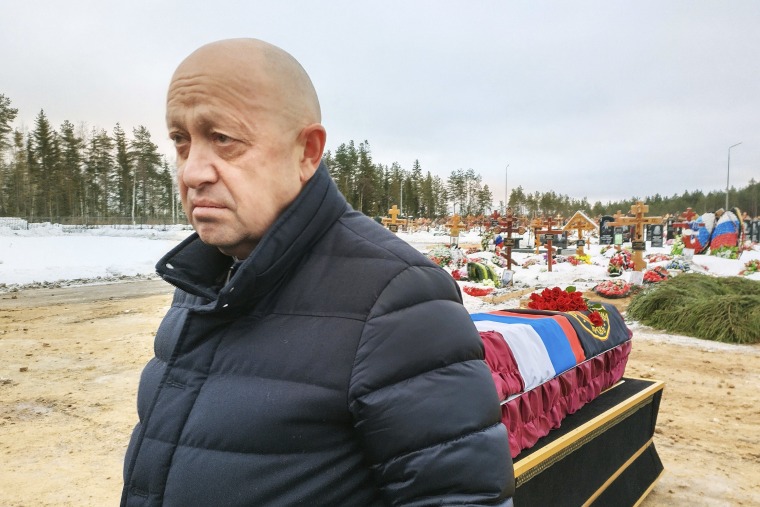 Tatiana Stanovaya, a Russia expert at the Washington-based Carnegie Endowment for International Peace think tank, wrote of a looming tussle between pragmatists wishing to de-escalate the conflict and hawks who want to double down and radically restructure Russia's political system.
"Their struggle for supremacy is set to be one of 2023's key political fights, and one that hinges largely on events on the battlefield: the worse Russia performs militarily, the more vicious the pragmatists' battle with the hawks," she wrote in a research note published Monday.
"The hawks will take the offensive, targeting the military brass and politicians," she added.
To date, the hawks have been far louder than the pragmatists, and a chorus of hard-right bloggers has excoriated Russia's military performance, while television pundits have called for a tougher approach.
Prigozhin has fostered a tough image online — appearing with a sledgehammer in one video and, according to Reuters, commenting in approval of another that showed an accused deserter being executed with a sledgehammer.
In a Jan. 1 video, Prigozhin appears to inspect a pile of bodies described in the clip as those of Wagner fighters in black bags in a makeshift morgue, saying: "Their contract is over. They can go home."
Ukrainian officials accuse Prigozhin of using his mercenaries as cannon fodder by throwing them into the fight to wear down Kyiv's defenses and secure a high-profile victory no matter the human cost. 
After months of fighting, that strategy may have just secured its first battlefield breakthrough — and a Kremlin response.