Gen. Sergei Surovikin, the deputy commander of the Russian group of forces fighting in Ukraine, is believed to have been detained days after mercenaries staged a revolt inside Russia, two people familiar with the matter told The Associated Press on Thursday, citing U.S. and Ukrainian intelligence assessments.
The people spoke on condition of anonymity because they were not authorized to discuss the matter publicly.
It's not clear whether Surovikin faces any charges or where he is being held, reflecting the opaque world of the Kremlin's politics and uncertainty after the revolt.
But his reported detention comes days after Wagner Group mercenaries took over the military headquarters in the Russian city of Rostov-on-Don and were heading toward Moscow in what appears to have been an aborted insurrection.
Wagner head Yevgeny Prigozhin has spoken positively of Surovikin while criticizing the country's military brass and suggested that he should be appointed the General Staff chief to replace Gen. Valery Gerasimov. The New York Times this week reported that U.S. officials believe Surovikin had advance knowledge of Prigozhin's plan to stage the revolt.
The White House and the Kremlin declined to comment.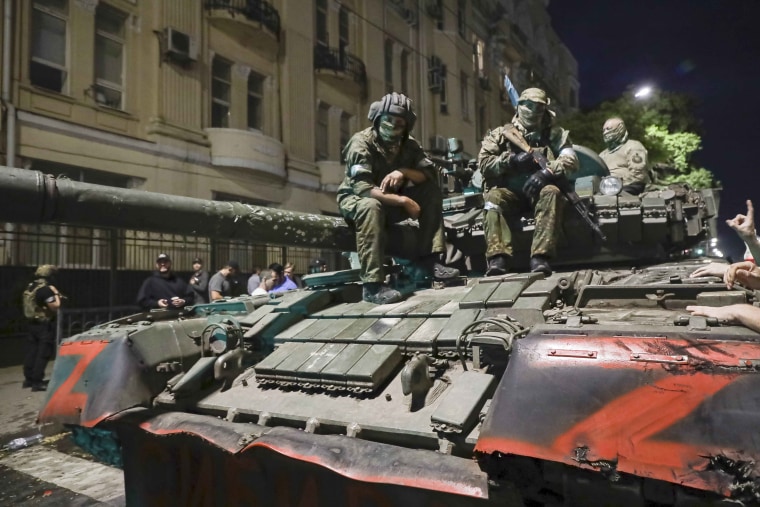 Surovikin, who has longtime links to Prigozhin, hasn't been seen since the start of the rebellion when he posted a video urging an end to it.
A Russian military blogger, the Moscow Times, and the Financial Times reported that Surovikin, who is also the commander of the Russian air force, has been arrested.
There has been intense speculation that some top military officers may have colluded with Prigozhin and may now face punishment for the mutiny that briefly sent a virtually unchallenged march toward Moscow that Putin has labeled treason and a "stab in the back."
Alexei Venediktov, former head of the Ekho Moskvy, a prominent independent radio station that was shut down by authorities after Moscow invaded Ukraine, said Surovikin and his close lieutenants haven't been in contact with their families for three days, but stopped short of saying that he was detained.
Another prominent military messaging channel, Rybar, which is run by a former Defense Ministry press officer, reported a purge in the ranks was underway as authorities looked into allegations that some could have sided with Prigozhin.
Surovikin has been linked to Prigozhin since when both were active in Syria, where Russia has waged a military action since 2015 to shore up Syrian President Bashar Assad's government and to help him reclaim territory after a devastating civil war.
 While Prigozhin had unleashed expletive-ridden insults at Shoigu and chief of the General Staff Gen. Valery Gerasimov before last week's mutiny in which he demanded their ouster, he has continually praised Surovikin and suggested naming him to replace Gerasimov. When the rebellion began, however, Surovikin recorded a video urging a halt to the mutiny.
Earlier this week, The New York Times reported that U.S. officials believed that Surovikin had advance knowledge about the mutiny. Asked about that report, Kremlin spokesman Dmitry Peskov shrugged it off as part of "speculations and gossip."
On Thursday, Peskov refused to comment on whether Surovikin had been arrested.
Asked by the AP if the president still trusts Surovikin, he replied that Putin works with the defense minister and the chief of the General Staff and referred questions about officers to the Defense Ministry. He also referred all other questions about Surovikin and his status to the ministry.
As to whether Putin considers it necessary to dismiss military officials who had had links with Prigozhin, Peskov said "the issue isn't my prerogative, and I have nothing to say on that."
The bald, fierce-looking Surovikin, who was nicknamed "General Armageddon" by Western media for his brutal tactics in Syria and Ukraine, was credited with shoring up Russian defenses after Moscow's retreat from broad areas of Ukrainian territory last fall amid a swift counteroffensive by Kyiv.
Named by Putin in the fall to lead Russian forces in Ukraine, Surovikin presided over the bombing campaign that targeted Ukraine's power plants and other vital infrastructure but failed to knock out power supplies.
In January, Putin replaced him with Gerasimov, putting the General Staff chief in charge of the Russian battle in Ukraine. Surovikin was demoted to the position of Gerasimov's deputy.
Gerasimov's own fate also is unclear after the abortive mutiny. While Shoigu showed up at several events attended by Putin, Gerasimov was mysteriously absent.