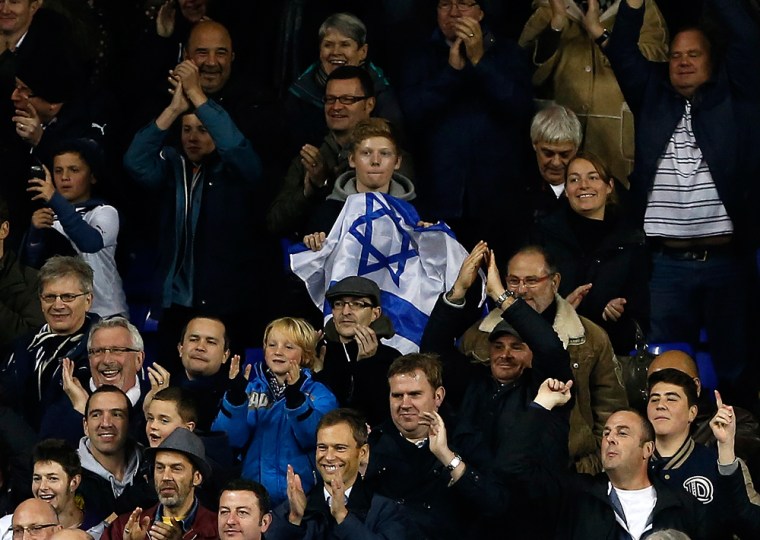 LONDON -- Sports fans who call themselves the "Yid Army" have been warned they face potential criminal prosecution amid a crackdown by soccer chiefs that has triggered debate in Britain about whether the so-called "Y" word is acceptable.
Long-simmering controversy over whether supporters of London's Tottenham Hotspur Football Club -- known as Spurs -- should be permitted to chant the word "Yid" during games exploded when authorities warned that chanting the term could result in fans being fined up to $1600 and being banned from stadiums across the U.K. and abroad.
The North London-based Spurs boast a large Jewish following and although "Yid" has traditionally been used as an anti-Semitic slur, some fans consider the term a badge of honor and have adopted the "Yid Army" and chant "Yiddo" to show support for players.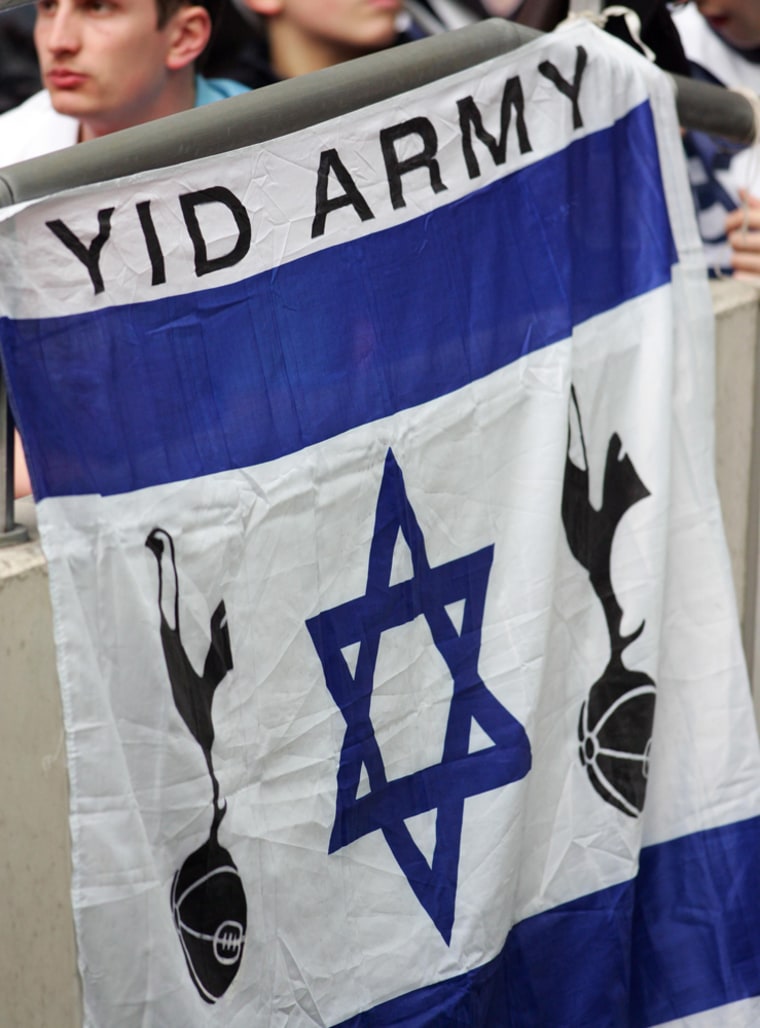 However, other Jewish fans are uncomfortable with the word and support the governing body's attempt to eliminate it.
The controversy has been front-page news in Britain, with Prime Minister David Cameron even waded to the debate this week when he suggested it was acceptable for Spurs supporters to chant "Yiddo."
"Hate speech should be prosecuted –- but only when it's motivated by hate," he said.
But Cameron's stance is at odds with soccer officials, who say the word is "likely be considered offensive by the reasonable observer" and have warned that its use could prompt charges under the Football Offenses Act.
"Although the term derives from the Yiddish word for a Jew, its use in the English language has been, both historically and in contemporary use, derogatory and offensive," the Football Association said in a statement last week. "Use of the term in a public setting could amount to a criminal offence, and leave those fans liable to prosecution."
That warning sparked fury from some Spurs fans.
"There's no bigger adulation the Spurs faithful can give to a player than to refer to them as a 'Yiddo' because it's basically saying you're one of us," said Darren Alexander, chairman of the Tottenham Hotspur Supporters' Trust, adding that the word had been directed toward players of all races and creeds. 
Although he is Jewish, Alexander said that he regularly chanted the term -- which began as a way of drowning out opposition fans singing anti-Semitic songs referring to Auschwitz. Supporters of some rival teams have also mimicked the sound of a gas chamber by hissing.
But Jonathan Arkush, the vice-President of the Board of Deputies of British Jews, applauded the move to crack down on the term and said it would reduce anti-Semitism in soccer grounds."
He added that while he hoped people would desist from using the word, not everyone used it in a hateful manner and that the organization had never said it was a matter for the criminal courts.
High-profile journalist Mark Damazer, a Spurs fan since 1961 who also serves as master of Oxford University's St. Peter's College, also backed efforts to prevent the use of the word, which he said still leaves him "shocked."    
In a column in London's Evening Standard newspaper, Damazer said there were "surely better ways to deal with Jew-baiters" than to adopt a term of hate.
"Well-meaning non-Jewish Tottenham fans may think of it as a defense mechanism to employ against anti-Semites among opposing supporters," he wrote. "But this is a word that for centuries has not merely been used to convey ignorance, suspicion and prejudice."
There are about 300,000 Jews in Britain, according to recent census data, out of a total population of almost 64 million.
Columbia University Professor Alisa Solomon said in the Yiddish language "Yid" was a neutral term meaning Jew but in other cultures it has been used as a negative term.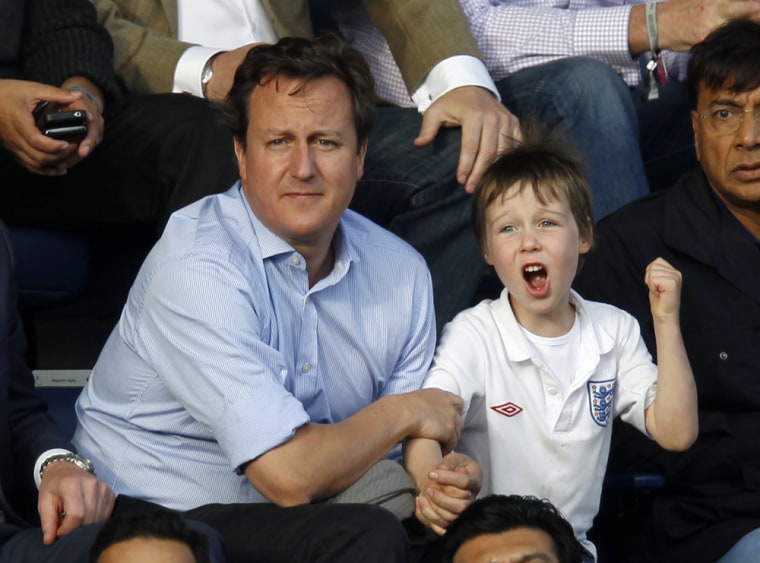 "It has a history of it being used as a slur," she said. "There is no question that 'Yid' has been meant in the same way that the N-word or the F-word have been used."  
She added: "If people are offended it's a genuine emotion. The history of the taking up of that term by non-Jews to insult Jews is long and violent."
Such assessments have failed to sway Cameron, the country's Conservative prime minister.
Cameron threw his support behind the "Yid Army" chant, telling The Jewish Chronicle newspaper that "there's a difference between a Spurs fans self-describing themselves as 'Yids' and someone calling someone 'Yid' as an insult."
David Baddiel, one of Britain's best-known comedians, said Cameron did not understand the wider context of the word "Yid" and would not let another racist term "pass his lips."
He added: "I am not in the business of banning things ... I just want to feel, as a Jew, that race-hate language about my race is given the same thought and significance and protection against hearing it that other ethnic minorities have," he told ITV News.
Ben Gelblum, a lifelong supporter of arch-rivals Arsenal -- who are based a mere four miles down the road, agreed. He said that it was hard to explain to his young sons, Rocky, 11, and Woody, five, why some Arsenal fans used the word as an insult.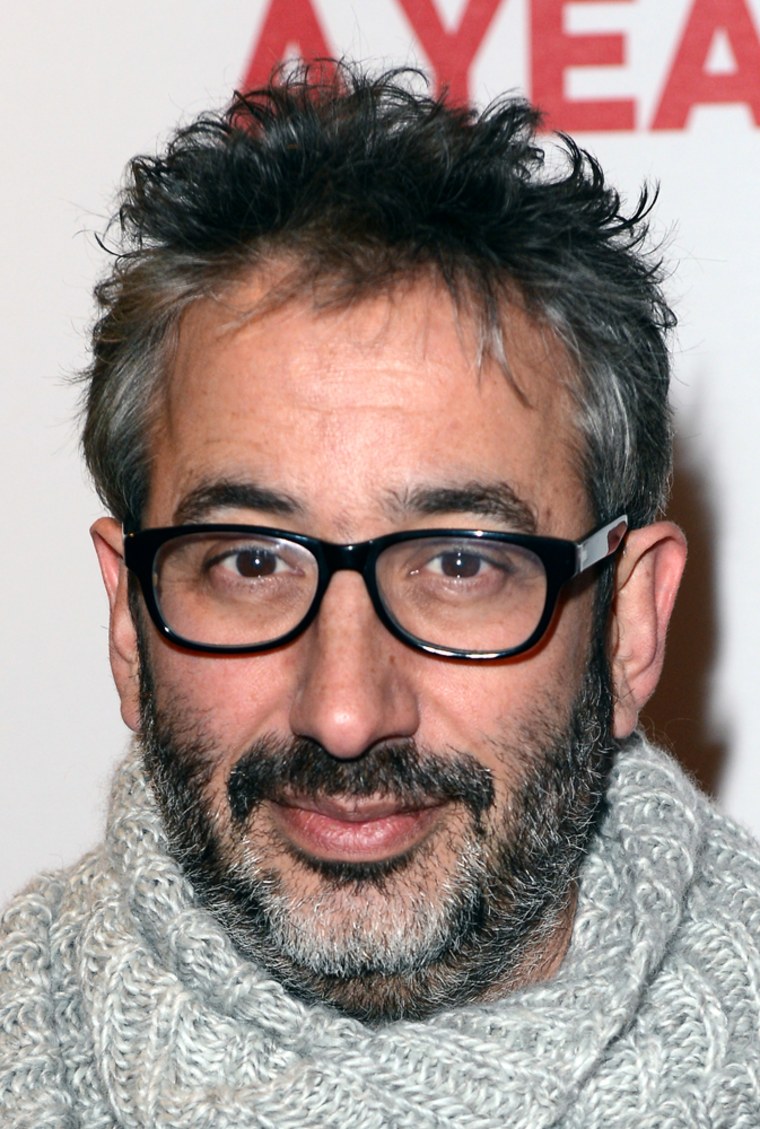 "While Tottenham fans, even some who are Jewish, may be trying to reclaim the word, they can't claim it on behalf of all Jews," he said. "Worse still they open it up to other fans, including some Arsenal fans, to use it as an insult. I can't justify to my boys why it is acceptable to shout a racist epithet. When I was younger there were other racial terms shouted at football which have now thankfully been stamped out, but this one seems to persist."
A spokesman for Tottenham Hotspur Football Club acknowledged the "complex debate" around the issue but said "consideration should be given to the appropriateness and suitability of [the word's] continued use."
London's Metropolitan Police said in a statement that the force was working closely with Spurs and other soccer clubs to ensure there was no misunderstanding about what constitutes racist language.
"Offensive language, within football chants or otherwise, has no place within football, or indeed in society, and those who engage in such behavior should be under no illusion that they are committing a crime," the statement added.
However, many Spurs supporters were openly defiant of the warnings during a game last Saturday -- regularly chanting the term along with, "We'll sing what we like." No arrests were reported.