BANGKOK — A YouTube chef who is the son of renowned Spanish actors has confessed to killing and dismembering a man before dumping his body parts around a popular tourist island, police in Thailand said.
Daniel Sancho Bronchalo, 29, appeared in court Monday after being arrested on suspicion of murdering Edwin Arrieta Arteaga, 44, a Colombian surgeon.
Details of the grisly case first emerged last week, when local media reported that the body parts had been found around the island of Koh Phangan, a hub for revelers that is renowned for its psychedelic retreats and full moon parties.
Sancho, a chef with a YouTube channel, initially reported a missing person but then confessed over the weekend, Thai police said.
He told investigators that he had a fight with Arrieta last Wednesday after Sancho asked to break up with him because he was going to get married to someone else in Indonesia, Koh Phangan police captain Sucheep Chadakarn told NBC News.
"He said that if the talk wasn't successful, he thought he had to kill him because he had the partner waiting to get married," Chadakarn said.
Arrieta had threatened to cause trouble so Sancho punched him, then Arrieta bit his hand, so Sancho hit his head over and over until he died, he said.
The Spanish news agency EFE reported that Sancho told them he denied having a romantic relationship with Arrieta even as he admitted the crime. "I am guilty, but I was Edwin's hostage. He held me hostage. It was a glass cage, but it was a cage," it quoted Sancho as saying.
EFE reported a family lawyer who visited Sancho as saying, "I think he is relaxed. He knows what he did … He wants to plan how to live" in prison.
In Thailand, murder carries a possible death penalty.
Sancho confessed Saturday to dismembering the body into 15 pieces and took the police to locations where he had dumped them, including near a pier and a hotel, Chadakarn said.
Some of the remains were dumped in the sea, while others were found in garbage pits. Soiled clothes were also found last week, he said, with four body parts washing up to the shore.
Sancho told the police he bought a kayak after the owner refused to rent it out the night of the gruesome murder, Chadakarn said.
Investigators had only recovered seven pieces of the remains so far, he said, adding DNA tests were underway to confirm they were of Arrieta.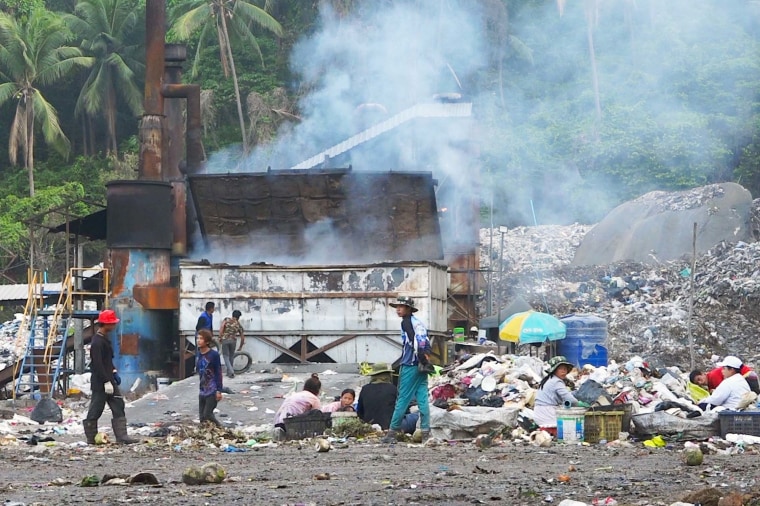 Thai Police had worked with immigration officials to cancel Sancho's visa, Chadakarn said.
He's now being held at the Samui prison in Koh Samui Island after appearing in court as police sought his ongoing detention while more evidence is collected for trial.
Thai officials were in contact with the Spanish Embassy in Bangkok, Chadakarn added.
The embassy redirected NBC News to the Spanish Foreign Affairs Ministry, which said it was unable to disclose the personal details of the accused owing to data protection regulations.
"However, we can confirm that the Spanish Embassy in Bangkok is in permanent contact with the person concerned, with his family and with the local authorities, and that he is being provided with the consular assistance required in these cases," it said in a statement.
Sancho is the son of Rodolfo Sancho and Silvia Bronchalo, who are famous Spanish actors. According to The Associated Press, his uncle, Felix Sancho, told journalists in Spain that, "A little respect for the family is all we ask for, because this is so painful."
Colombia's Ministry of Foreign Affairs, in a statement posted on its website Sunday, thanked the Thai Police for the investigation, expressing its condolences to the family of the victim. 
Nat Sumon reported from Bangkok, and Mithil Aggarwal reported from Hong Kong.