Two people were stabbed in a London Tube station Saturday evening in what police described as a possible "terrorist incident."
The victims were stabbed at Leytonstone underground station just after 7 p.m. (2 p.m. ET) by a 29-year-old male suspect, police said. None of those were thought to have sustained life-threatening injuries.
"We are treating this as a terrorist incident. I would urge the public to remain calm, but alert and vigilant," said Commander Richard Walton, who leads the Counter Terrorism Command for London's Metropolitan Police Service. He asked anyone who captured the incident on video or in photos to contact the Counter Terrorism Command.
Officials had not determined a motive for the stabbings, said police, adding they were treating it as a "terrorist incident" but not a terror attack. Police were searching a home in East London in connection with the stabbings.
A witness, David Michael Garcia, described hearing the stabber shout after he was handcuffed.
"'He said, 'This is for Syria' and then while he's walking up the ramp, as soon as he got to the top he said again 'this is for Syria,'" Garcia told NBC News' U.K. partner ITN.
When officers arrived, they used a Taser stun gun on the suspect, who was reportedly threatening other people with a knife, and arrested him, Metropolitan Police said in a statement.
Related: London Tube Stabbing Triggers Hashtag: #YouAintNoMuslimBruv'
A 56-year-old man suffered serious injuries and one other suffered minor injuries in the attack, police said. A woman was threatened by the suspect but was not injured.
Police had originally said three people had been injured but revised down that number to two on Sunday morning.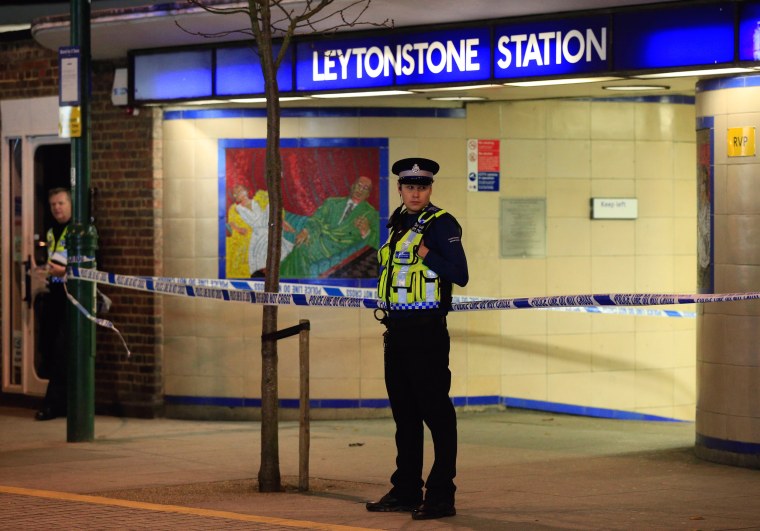 "The threat from terrorism remains at severe, which means that a terrorist attack is highly likely," Walton said. The counter terrorism command's involvement doesn't mean the incident has been concluded to be an act of terrorism.
The stabbings come at a tense time in Europe following the Nov. 13 massacre in Paris that killed 130 people, which resulted in arrests of terror suspects in multiple countries.
The station re-opened early Sunday.
Mark Newton, the assistant chief constable of the British Transport Police, said that extra security measures on the rails had been put in place before Saturday's attack, and even more officers were deployed Sunday. He encouraged travelers to use public transportation as they usually do.
"The measures we put in place make the important balance between a system with easy access for passengers and a secure one," Newton said.
Related: French Military Enrollment Triples After Paris Terror Attacks
"It was shocking because Leytonstone, a multicultural area, you got people of all walks of life here," Garcia said. "This guy, he's got problems," Garcia said. "You wouldn't want to give him help, but he needs help. He's messed up."