BEIRUT — An emboldened President Bashar al-Assad vowed on Monday to take back all of Syria, hours before the start of a cease-fire brokered by the United States and Russia.
In a gesture loaded with symbolism, state television showed Assad visiting Daraya — a Damascus suburb long held by rebels but recaptured last month after fighters there surrendered in the face of a crushing siege. The Syrian leader performed Muslim holiday prayers alongside other officials in a bare hall in a Daraya mosque.
"The Syrian state is determined to recover every area from the terrorists," Assad said in an interview broadcast by state media, flanked by his delegation at an otherwise deserted road junction.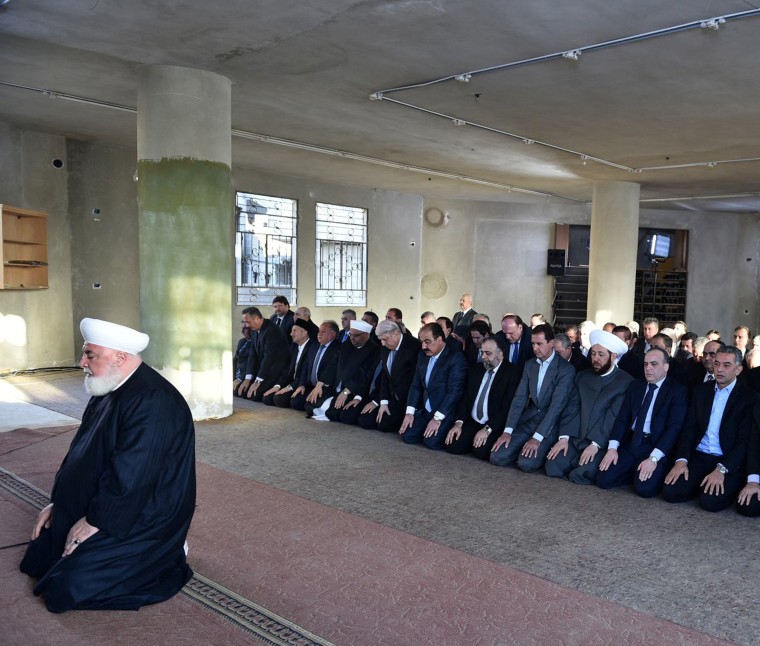 He made no mention of the cease-fire agreement, but said the army would continue its work "without hesitation, regardless of any internal or external circumstances."
The cease-fire is due to take effect at sundown, and includes improved humanitarian aid access and joint U.S. and Russian targeting of hardline Islamists. But it faces big challenges, including how to separate nationalist rebels from the jihadists.
The rebels say the deal benefits Assad, who appears stronger than at any point since the early days of the war, with military support from Russia and Iran.
The capture of Daraya, a few from Damascus, followed years of siege and bombardment and has helped the government secure important areas to the southwest of the capital near an air base.
Backed by Russian air power and Iranian-backed militias, the army has also completely encircled the rebel-held half of Aleppo, which has been divided into government and opposition-held zones for years.
In the footage of his visit to Daraya, Assad, 51, appeared to be driving his own vehicle, a silver SUV, as he arrived at the mosque. He smiled and waved as he entered.
Daraya was evacuated following a local agreement between the army and rebels that let fighters escape to a rebel stronghold while civilians were sent to another government-held area. The U.N.'s aid chief, Stephen O'Brien, voiced "extreme concern", emphasizing the harsh conditions that led to the surrender. The government has sought similar deals in other besieged areas.
Russia's intervention in the Syrian war a year ago has tilted it in Assad's favor, after rebel advances had posed a growing threat to his rule. It has also given Russia decisive leverage over international diplomacy that has thus far failed to make any progress towards a political settlement.
The Russia-U.S. deal is the second attempt to bring about a ceasefire this year, after an agreement concluded in February collapsed as each side blamed the other for violations.
Washington, which supports some rebel factions, has been seeking to refocus the fighting in Syria on the Islamic State group, which still controls swathes of the country and has not been included in any ceasefires.
Fighting raged on several key frontlines on Monday, including Aleppo and the southern province of Quneitra.
"There are no signs we are going to a truce so far," said Rami Abdulrahman of the Syrian Observatory for Human Rights, which monitors the conflict.