Serbian Novak Djokovic said he stood by his statement on Kosovo but wished to put the controversy behind him after his second-round victory at the French Open on Wednesday.
The world No. 3 wrote: "Kosovo is the heart of Serbia" on a camera lens following his first-round win on Monday, the day 30 NATO peacekeeping troops were hurt in clashes with Serb protesters in the Kosovo town of Zvecan — where Djokovic's father grew up.
It caused a furor, with Kosovo's Olympic authorities asking the International Olympic Committee to open disciplinary proceedings against Djokovic and French Sports Minister Amelie Oudea-Castera saying the 22-time Grand Slam winner's comments were "not appropriate."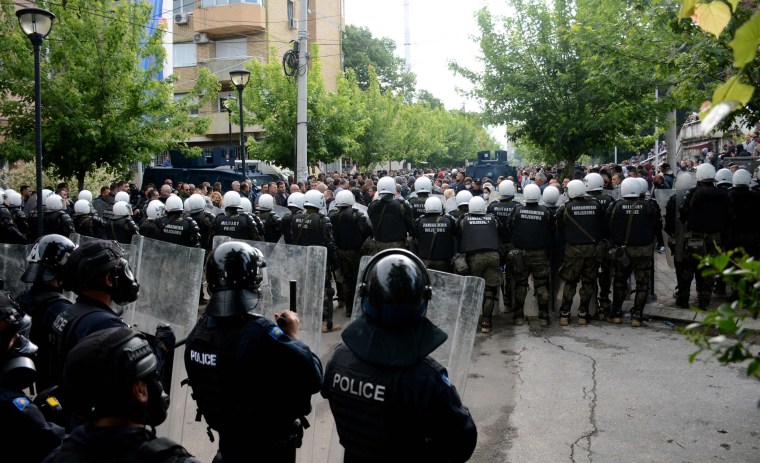 Djokovic is not set to face any punishment as both the French and international tennis federations have said that no Grand Slam rules were broken.
"I would say it again, but I don't need to because you have my quotes if you want to reflect on that," Djokovic said at a news conference on Wednesday.
"Of course I'm aware that a lot of people would disagree, but it is what it is. It's something that I stand for. So that's all. I have no more comment on that. I said what I needed to say."
NATO is prepared to deploy more troops to Kosovo to quell violence in the ethnically polarized north, the alliance's chief, Jens Stoltenberg, said Thursday, adding that the first 700 reinforcement troops are on the way there.
"NATO will remain vigilant. We will be there to ensure a safe and secure environment, and also to calm down and reduce tensions," he told reporters on the sidelines of a NATO foreign ministers' meeting in Oslo.
Unrest in Kosovo's north has intensified since ethnic Albanian mayors took office in the region's Serb-majority area after April elections boycotted by the Serbs, a move that led the U.S. and its allies to rebuke Pristina.
NATO decided to boost its 4,000-strong mission in the region with 700 additional troops after 30 of its KFOR peacekeepers and 52 ethnic Serb protesters were hurt on Monday.
Stoltenberg called the violence against NATO troops "totally unacceptable" and said allies were readying more troops in case NATO needed to send additional reinforcements to the region.
"Our message both to Belgrade and to Pristina is that they have to have engage in good faith in the EU-facilitated dialogue," he added.