BANGKOK — Srettha Thavisin from the populist Pheu Thai party secured enough votes in Parliament to become Thailand's 30th prime minister Tuesday, hours after former Prime Minister Thaksin Shinawatra returned from years of self-imposed exile and began an eight-year prison sentence.
While the vote was not complete, Srettha had enough votes to win. The voting was suspended with about 20 votes left to cast after someone collapsed on the floor of Parliament.
The apparent victory by Srettha, a real estate tycoon, ends months of suspense, legal wrangling and horse trading that allowed the second-place election winner to form a government after the surprise winner, the Move Forward Party, was repeatedly rejected by conservative senators appointed by a previous military government.
Srettha will lead a coalition of 11 parties that includes two pro-military parties and excludes Move Forward. Critics called the new government a betrayal of the election results, but Pheu Thai leaders defended it as a necessity for ending the political deadlock and creating reconciliation.
At Pheu Thai party headquarters, supporters in red danced in celebration.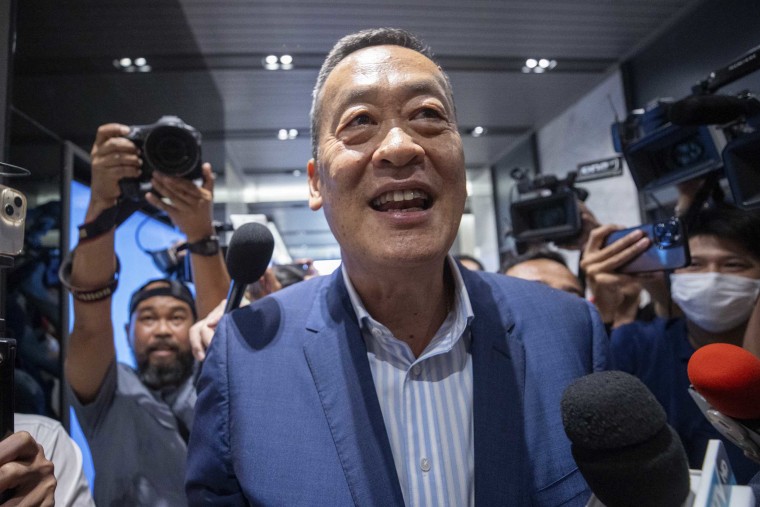 Pheu Thai said the coalition agreed to support its platform of strengthening the economy, increasing the minimum wage and ending mandatory conscription. It will also support the continued legalization of medical marijuana and work to amend the constitution to make the country "more democratic," while not touching the royal defamation law, Pheu Thai said.
The parliamentary vote came hours after Thaksin returned to Thailand to face criminal charges. He left Thailand 15 years ago after a 2006 military coup that cut short his second term as prime minister and set off years of upheaval.
His return was an emotional moment for supporters of the 74-year-old billionaire, who won the loyalty of millions with populist policies that directed attention, and funding, to the country's largely rural, often impoverished, north.
Hundreds of people gathered outside the airport hours ahead of Thaksin's morning arrival, donning red clothes and holding signs with welcoming messages. They sang and chanted in anticipation, then raised a raucous cheer when he appeared at the terminal door.
"I feel fulfilled that I traveled here today to pick him up. If possible I want to hug him. Everyone has tears, tears coming out of their eyes," said Makawan Payakkae, a 43-year-old from Maha Sarakham province, in Thailand's northeast.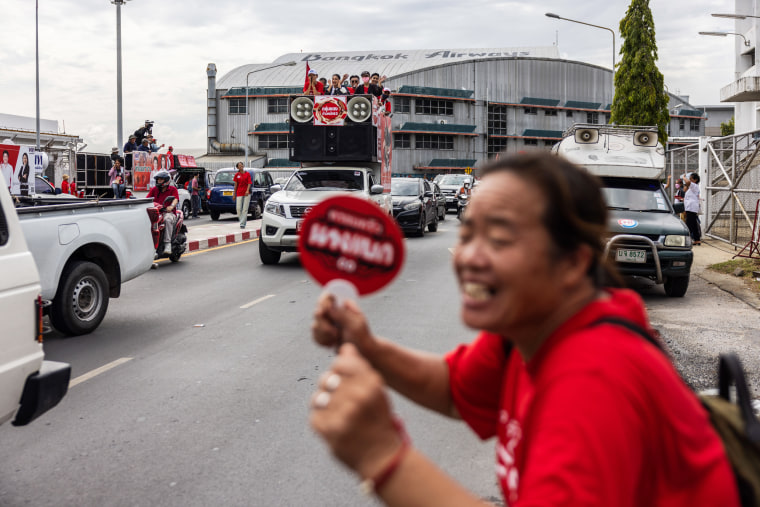 Thaksin and parties backed by him struggled with the military for years. A Pheu Thai government led by Thaksin's sister Yingluck Shinawatra was ousted in 2014 by then-army chief Prayuth Chan-ocha, who is now the departing prime minister after voters largely rejected military-linked parties in May.
Before his return earlier Tuesday, Thaksin had said his decision to return had nothing to do with Pheu Thai's bid for power, but many observers suspect that the divisive former leader is betting that a friendly government will be able to cut his sentence short.
"Thaksin's plans to return to Thailand were postponed after the election results were announced — this implies a strong connection between the election, formation of coalitions, and selection of the prime minister on one hand, and Thaksin's personal agenda on the other," said Napon Jatusripitak, a political science researcher and visiting fellow at Singapore's ISEAS-Yusof Ishak Institute.
Napon said Thaksin's decision to return now suggests that "he has received assurances that he will not have to serve a prison sentence in full."