Italy's top criminal court said Monday that it threw out the murder convictions of American student Amanda Knox and her former Italian boyfriend earlier this year because of "glaring errors" and a hit-and-miss hunt for a scapegoat to satisfy public opinion.
The stunning ruling in March — which wasn't explained until Monday's filing was published — marked one more twist in a years-long saga that boomeranged through the Italian criminal justice system, captivated two countries and left Knox and her ex-boyfriend, Raffaele Sollecito, to serve four years in jail.
At the center of the case was the brutal 2007 killing of Knox's 21-year-old roommate, Meredith Kercher.
Knox and Sollecito were arrested after Kercher was found dead in a pool of blood in the apartment the two women shared in the university town of Perugia, with as many as 40 knife wounds over her half-naked body.
Prosecutors argued that Kercher was killed as part of a sex game. Knox and Sollecito said they were alone together on the night in question, watching a movie, smoking pot and having sex, but they were convicted of the killing two years later.
In 2011, the convictions were overturned. Knox fled Italy for her hometown, Seattle, where she remained during a second trial and where she promised she would stay — even if she was convicted again.
"I will not willingly submit myself to injustice," she told TODAY in an interview last year.
In March, a conviction was once again overturned.
The latest decision, from the Court of Cassation, Italy's equivalent of the Supreme Court, slammed police and prosecutors for "stunning weakness" and "investigative bouts of amnesia."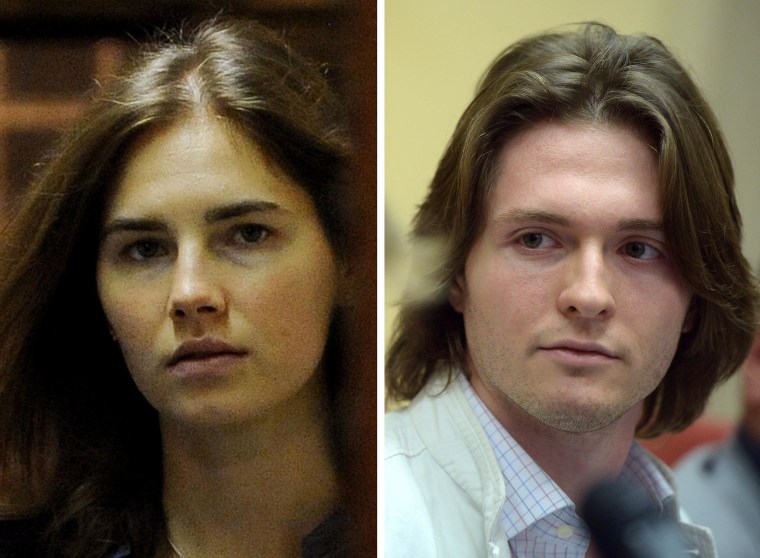 Because no biological evidence from Knox or Sollecito was found at the house in Perugia where Kercher was murdered, the 52-page opinion said, their "participation" in the killing should have been "excluded."
"There was no shortage of glaring errors in the underlying fabric of the sentence in question," the court wrote.
The alleged murder weapon, a kitchen knife found at Sollecito's house, was kept in a cardboard box — "the kind that gadgets are wrapped up in for Christmas" — and a bra clasp said to have carried DNA evidence was left on the floor for 46 days.
The third person accused in the murder, Ivory Coast-born Rudy Guede, who is serving a 16-year sentence after opting for a fast-track trial, left "copious" biological traces at the scene, the court said.
Avid media attention and the nationalities of the people involved led to "a spasmodic search for one or more guilty parties to offer up to international public opinion," the court concluded, which "certainly did not aid the search for the truth."
Further prosecution is barred under Italian law.
Related: Top Italian Court Overturns Amanda Knox's Murder Conviction
In a statement posted on her website Monday afternoon, Knox said that she was "grateful" that the court "forcefully declared my innocence."
"This has been a long struggle for me, my family, my friends, and my supporters. While I am glad it is now over, I will remain forever grateful to the many individuals who gave their time and talents to help me," she wrote.
"Today would not have been possible without your unwavering support. I will now begin the rest of my life with one of my goals being to help others who have been wrongfully accused."
Sollecito told the Italian news agency ANSA: "It is clear, it is definite, that I was the victim of a gross miscarriage of justice that will remain in history."
Sollecito's attorneys have said they are working on a claim for wrongful imprisonment.
Luca Maori, one of his attorneys, called Monday's explanation "no-nonsense" and "clear."
"All of our arguments have been accepted," Maori told ANSA. "In a few no-nonsense pages, the Supreme Court has clarified the whole affair: For Sollecito and Knox, there are no clues or evidence."