Three Americans, including two U.S. servicemen, rushed a gunman who opened fire aboard a train traveling from Amsterdam to Paris on Friday afternoon, thwarting a potential massacre.
Alek Skarlatos said in an interview that his childhood friend, Spencer Stone, did not hesitate when he spotted the gunman holding what appeared to be a machine gun and tackled him.
"I saw a guy entering the train with an AK-47 and a handgun and I just looked over to Spencer and said, 'Let's go, go!'" said Skarlatos, a specialist with the Oregon National Guard.
Stone, an airman first class in the Air Force, reached the attacker first and grabbed him by the neck, Skarlatos said.
"I grabbed the handgun. Got the handgun away from the guy and threw it, and then I grabbed the AK-47, which was at his feet," he added.
"If anybody would have gotten shot it would have been Spencer for sure," he said. "We're very lucky that nobody got killed, especially Spencer."
Another American, Skarlatos' and Stone's friend Anthony Sadler, and a British man living in France, Chris Norman, jumped in to help, they said.
Two people suffered serious injuries in the 5:45 p.m. attack near Arras, France, officials said. French Interior Minister Bernard Cazeneuve hailed the bravery of the "American passengers who were courageous," and said their actions prevented a greater tragedy.
"I looked up and saw a guy carrying an AK-47 or at least I assume it was some kind of machine gun," Norman, 62, said. "It could have been a real carnage, there's no question about that," he added.
Stone was cut by the suspect's knife, Norman said. The injuries are not life threatening, the official said. Skarlatos told Reuters that "We called him, he's doing great."
Skarlatos and Stone were being interviewed by French officials on Saturday morning and in good form, Mayor of Arras Frederic Leturque told NBC News.
"They did their job," he said.
Skarlatos' father, Emanuel, told NBC station KGW that his son called him from a police station to tell him what happened on the train.
"I got pretty emotional and I just said 'I'm proud of you, and I'm thankful and grateful and happy that you're safe," he said.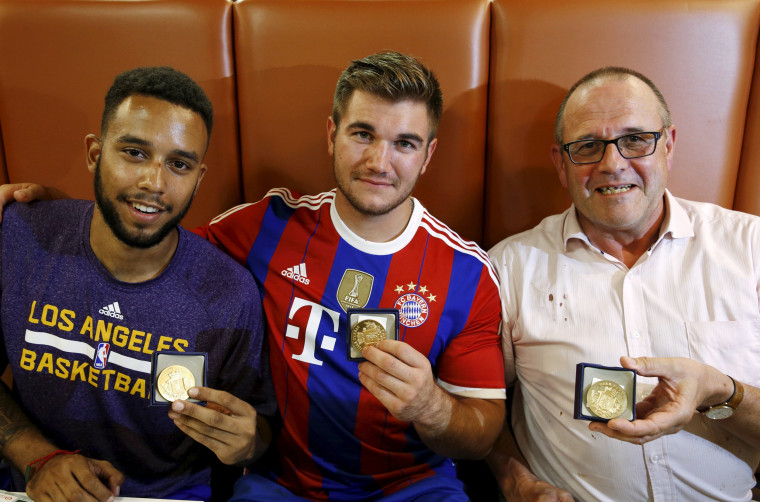 NBC's affiliate KCRA in Sacramento spoke to Sadler's father, who said he still felt "stunned" but also relieved to hear the news about his son.
"He leaves here a young man on an excursion to broaden his world view and have fun with his buddies, and he comes back a ... national hero," said his father, who is also named Anthony Sadler. "I'm told he might meet the President of France before he leaves so I'm still wrapping my head around that."
President Barack Obama was informed of the incident on the train Friday. A White House official said Obama "expressed his profound gratitude for the courage and quick thinking of several passengers, including U.S. service members, who selflessly subdued the attacker."
"While the investigation into the attack is in its early stages, it is clear that their heroic actions may have prevented a far worse tragedy," the White House official said.
The alleged attacker was arrested. A French Interior Ministry spokesman said investigators were working determine a motive. The Paris prosecutor's office said its anti-terrorist section has taken over the judicial investigation of the train attack.
France has been on high alert since terror attacks in January that left 17 people dead, including 12 at the Charlie Hebdo magazine office. In June, a man with links to radical Islam decapitated his boss and attempted to blow up an American-owned industrial gas plant.
Sadler, the American college student, was still in disbelief about the incident when he was interviewed by Reuters. "It's my last year in college, I came to see my friends on my first trip in Europe and we stopped a terrorist," he said. "It's kind of crazy."