WASHINGTON — Iraqi security forces have wrested control of Mosul from ISIS and are now clearing parts of the city's historic quarter of explosives and hidden enemy fighters, the U.S. military said Monday.
The announcement coincided with a triumphant speech by Iraqi Prime Minister Haider al-Abadi, who called the battle "a victory over darkness, brutality and terrorism."
The announcements marked the end of a nine-month offensive to retake Iraq's second-largest city, which ISIS stormed in 2014 and proclaimed as a capital of its Islamic caliphate. Mosul is a main front in the war against ISIS; the other is Raqqa in Syria, which the terrorist group considers its second capital.
Photos: Iraqis Celebrate Bitter Victory Over ISIS in Ruins of Mosul
"Make no mistake; this victory alone does not eliminate ISIS and there is still a tough fight ahead. But the loss of one of its twin capitals and a jewel of their so-called caliphate is a decisive blow," Army Lt. Gen. Stephen Townsend, commander of the anti-ISIS Operation Inherent Resolve, said in a statement.
While the United States has played a supporting role in the fight, with about 1,600 advisers following the battles and calling in airstrikes, Townsend credited Iraqi security forces with the Mosul victory, as well as Iraqi militia forces, Kurdish Peshmerga fighters and other allied countries.
Related: Iraq PM Abadi Arrives in Mosul to Declare 'Victory' Over ISIS
He noted that it came with plenty of sacrifice, including the deaths of fighters, police and civilians. Religious and cultural objects were also looted and destroyed.
Much of the city is now rubble.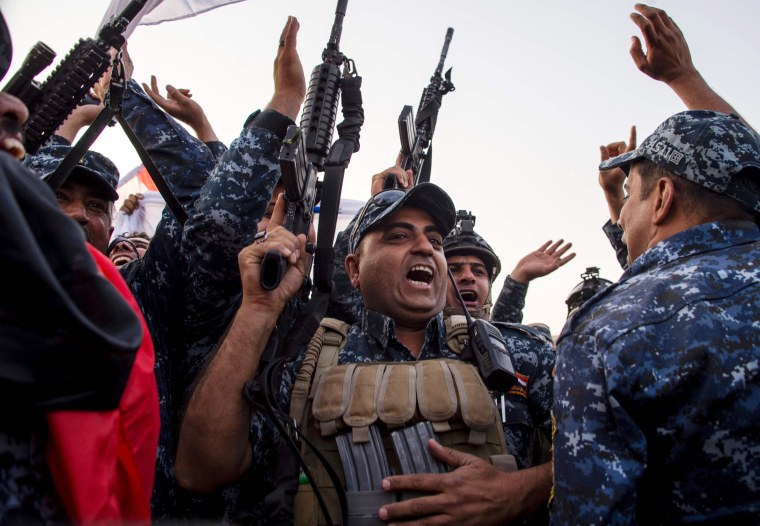 "People of all ethnicities and sects have suffered and sacrificed together, not only for their own country, but to help provide security to the region and the world," Townsend said.
Related: In Battle Against ISIS in Syria and Iraq, Civilians Suffer Most
ISIS is known to have used civilians as human shields and to have shot and killed Iraqi residents trying to flee, according to the U.N Human Rights Office. The U.S.-led coalition airstrikes meant to root out the jihadists have also killed hundreds of civilians.
The victory in Mosul comes more than 24 hours after a cease-fire began in southwestern Syria. However, the U.S. military still has no guidance on how it will affect operations in that country, according to three US defense officials.
One defense official told NBC News that the U.S. military still does not even know exactly where the cease-fire encompasses. "We haven't been given what areas it covers," the official said. "We don't know what the cease-fire means or how we're going to do it."
"I assume we're going to have a role. Maybe we won't," the official said, adding, "We have not been given a military mission yet."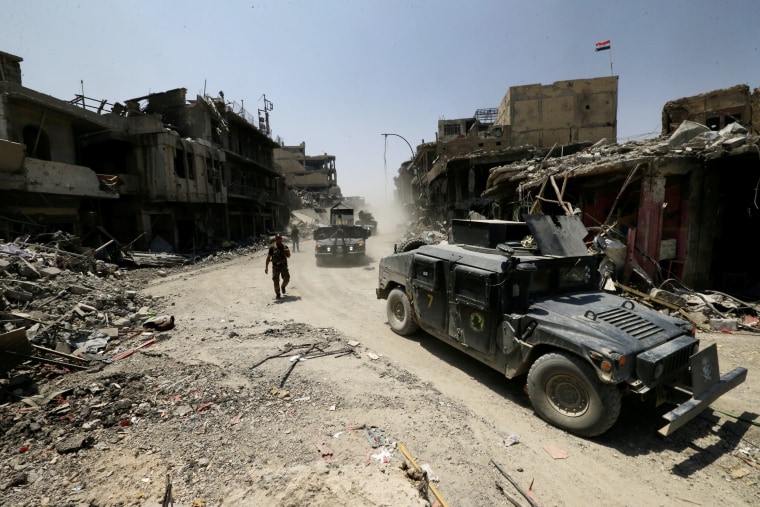 "The U.S. military does not operate in that area," another official said, adding, "That is an area of conflict between regime and Syrian opposition forces, not ISIS."
The official said that the U.S. military does not have any "formal role in monitoring the cease-fire or enforcing it in any way." Asked whether the Defense Department has issued any guidance on current or future roles, the official referred the question to the State Department.
Asked whether the force has any new guidance given the cease-fire, the spokesman for Operation Inherent Resolve in Baghdad, Col. Ryan Dillon, said the Combined Joint Task Force mission "has not changed. We are in Iraq and Syria, working by, with, and through partner forces, to militarily defeat ISIS."
On Sunday, President Donald Trump tweeted, "We negotiated a cease-fire in parts of Syria which will save lives. Now it is time to move forward in working constructively with Russia!"
Asked about media reports that the United States, Russia, and Jordan are creating a joint monitoring center in Amman, Jordan, U.S. defense officials said to ask the State Department.
Courtney Kube reported from Washington, D.C. Jon Schuppe reported from New York.