The U.S. military has moved its forces away from the Turkish border with northern Syria, after the White House said Sunday night that Turkey would soon begin an operation in a part of northeastern Syria where it wants to resettle Syrian refugees — and that U.S. forces wouldn't be there to help or stop them.
The U.S. has not received orders to commence a large-scale withdrawal from the region, remaining in a "wait and see" position, according to a U.S. official with direct knowledge of the situation.
In a statement issued late Sunday, the White House said Turkey would "soon be moving forward" with its "long-planned operation" in northern Syria and that the United States wouldn't be involved.
The statement was issued after Turkish President Recep Tayyip Erdogan spoke by phone with President Donald Trump earlier on Sunday.
Trump remained defiant on the matter, tweeting Monday: "The Kurds fought with us, but were paid massive amounts of money and equipment to do so.
"They have been fighting Turkey for decades. I held off this fight for almost three years, but it is time for us to get out of these ridiculous endless wars, many of them tribal, and bring our soldiers home."
"We will fight where it is to our benefit, and only fight to win," he continued.
A U.S. official with direct knowledge of the situation in northern Syria, who wanted to remain anonymous because they were not authorized to speak on record, confirmed to NBC News on Monday that the U.S. military said this Turkish operation could be launched "at any time," but American forces have currently cut all ties and coordination with the Turkish military, so they don't expect any advanced warning from Turkey as to when or how this operation will begin.
'A huge mistake'
The announcement is a major blow to the Kurdish-led Syrian Democratic Forces, or SDF, which the United States relied upon heavily as the most effective fighting force against ISIS and the reaction from Kurds so far has been one of anger.
On Monday, Mustafa Bali, the official SDF spokesperson, told NBC News the U.S. decision to stand aside as Turkey moves into Syria was "shocking and unexpected."
Bali called it "a huge mistake" that will allow ISIS to "reunite itself and appear again stronger than before."
"We at the SDF believe that everything we achieved in the last five years, and all the sacrifices we made to defeat ISIS will all be destroyed with the latest American decision," he said.
"It seems that the policy of the United States is to betray their friends and allies," Bali added.
Erdogan spokesman Ibrahim Kalin tweeted Monday saying Turkey will continue to fight against ISIS and will not allow it to return "in any shape and form."
Download the NBC News app for breaking news
The SDF concerns echo a warning issued last month in a bipartisan congressional report that urged the White House not to draw down troops in Syria.
The report by the 12-member Syria Study Group warned that the war in Syria is far from over and that ISIS is still a threat, contradicting the White House's claim on Sunday night that ISIS had been defeated.
In its most recent quarterly annual report on U.S. operations in Syria, released in August, the Defense Department's inspector general also said that "ISIS remains a threat in Iraq and Syria."
Panos Moumtzis, regional humanitarian coordinator for the Syria crisis with the United Nations, said Monday civilians must be spared in any Turkish military operation in northeast Syria, Reuters reported.
Moumtzis said the U.N. has drawn up contingency plans to reach people who might flee south with food and medical aid.
"We are hoping for the best but preparing for the worst," he told reporters in Geneva.
The Syrian Observatory for Human Rights warned Monday of the fate of "millions of Syrians who could become refugees if Turkey carries out its threats of war."
Meanwhile, Moscow, which has sided with President Bashar al-Assad in the bloody civil war in Syria, reiterated Monday that the country's territorial integrity must be preserved.
"We hope that our Turkish colleagues would stick to this position in all situations," Kremlin spokesman Dmitry Peskov told reporters.
"Donald Trump is not a Commander-in-Chief. He makes impulsive decisions with no knowledge or deliberation," tweeted Brett McGurk, former special presidential envoy for the global coalition to defeat ISIS with the U.S. Department of State and NBC News foreign affairs analyst.
"He sends military personnel into harm's way with no backing. He blusters and then leaves our allies exposed when adversaries call his bluff or he confronts a hard phone call."
Trump's ally, Senator Lindsey Graham, R-S.C., tweeted Monday that he didn't know all the details regarding Trump's decision in northern Syria and was in the process of setting up a phone call with Secretary of State Mike Pompeo.
"If press reports are accurate this is a disaster in the making," he said.
In a series of tweets, Graham went on to say that the decision would ensure that ISIS would come back and become "a stain on America's honor for abandoning the Kurds."
Graham also said that he will introduce a Senate resolution opposing Trump's decision and asking for its reversal if the plan goes forward.
On Saturday, Turkey signaled its intention to begin operations, saying an incursion was "imminent" in the region, where U.S. troops have been seeking to broker an agreement between Turkey and the Syrian Kurds.
The U.S. statement made it clear that when and if Turkey takes action, U.S. forces "will not support or be involved in the operation," and "will no longer be in the immediate area."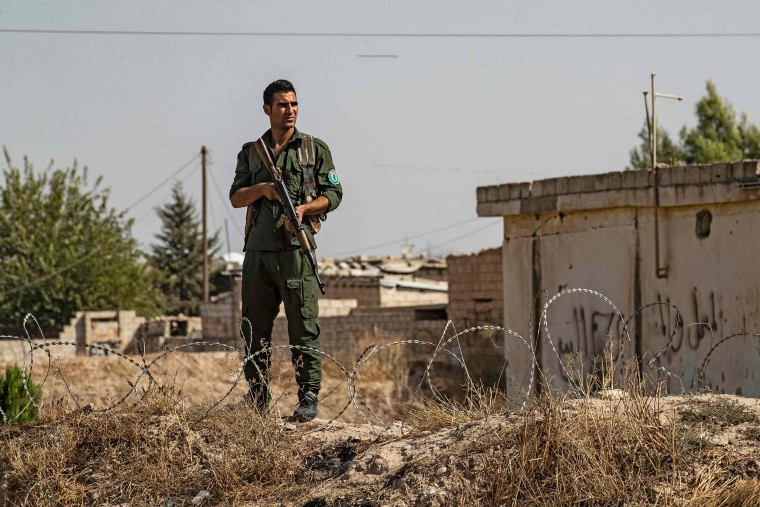 The White House said it was now up to Turkey to figure out what to do with Islamic State fighters who have been captured in the area. Many of those fighters had been held by Kurdish-led forces, but Turkey considers the Kurds an enemy, and Erdogan has previously criticized U.S. support for Kurdish groups in Syria.
The United States has struggled for years with how to reconcile its support for the SDF and its Kurdish component with its delicate relationship with Turkey, a NATO ally. Turkey considers the Kurdish fighters in Syria to be inseparably linked to the PKK, a Kurdish group inside Turkey that has waged a decadeslong insurgency against Turkey's government and is considered a terrorist group by the United States.
Alex Johnson reported from Los Angeles; Josh Lederman from Washington; Yuliya Talmazan from London; Aziz Akyavas from Istanbul and Marc Smith from Kyiv.