Ukraine struck the headquarters of Russia's Black Sea Fleet in a missile attack Friday that left a serviceman missing and the main building smoldering, according to officials on both sides of the conflict and images from the scene in annexed Crimea.
The Russian Defense Ministry initially said one servicemember was killed but then issued a subsequent statement saying he was missing following the attack in the port city of in Sevastopol.
The Crimean Peninsula, which Russia annexed from Ukraine in 2014 in an act that most of the world considered illegal, has been a frequent target since Russian President Vladimir Putin ordered a full-scale invasion of Ukraine almost 19 months ago.
Previous attacks resulted in several civilian deaths, but Russian officials haven't yet reported any military personnel killed. Six people were reported wounded following a July 2022 attack on the Black Sea Fleet headquarters, but it wasn't clear whether they were civilians or servicemembers.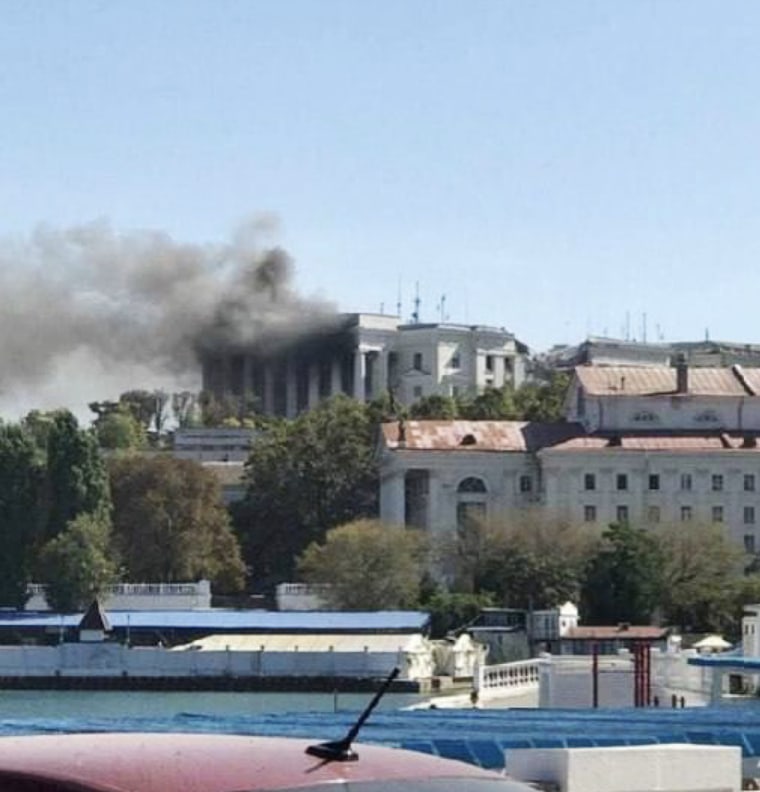 The Russian-installed governor of Sevastopol, Mikhail Razvozhayev, said no one was injured Friday outside of the burning headquarters building, but he didn't provide information on other casualties. Firefighters battled the blaze, and more emergency forces were being brought in, an indication the fire could be massive.
Ukrainian officials have claimed responsibility for a series of other recent attacks on Crimea but didn't immediately confirm or deny that Kyiv had launched missiles at Sevastopol on Friday.
In an apparent acknowledgement of Ukraine's responsibility for the barrage, the country's air force commander posted a video of air sirens blazing and smoke rising from the building along with a message thanking the pilots.
"We promised that 'there will be more,'" Lt. Gen. Mykola Oleschuk said.
Sevastopol residents said they heard explosions and saw smoke, Russian news outlets reported, and images showed gray plumes over the seafront. The Associated Press could not immediately verify the videos.
A stream of ambulances arrived at the fleet's headquarters, and shrapnel was scattered hundreds of meters (yards) around, Russian state news agency Tass reported.
The Defense Ministry said five missiles were shot down by Russian air defense systems responding to the attack on Sevastopol. It was not immediately clear if the headquarters was hit in a direct strike or by debris from an intercepted missile.
Oleg Kryuchkov, an official with the Crimean administration, said one cruise missile downed near Bakhchysarai, about 18.5 miles inland, sparked a grass fire.
Razvozhayev said civilian infrastructure wasn't damaged but did not mention the impact on the fleet headquarters.
He initially warned Sevastopol residents that another attack was possible and urged them not to leave buildings or go to the city center. He later said there was no longer any threat of an air strike but reiterated calls not to go to the central part of the city, saying roads were closed and and unspecified "special efforts" were underway.
Police asked residents to leave the central part of the city, Tass said.
The reported attack came a day after Russian missiles and artillery pounded cities across Ukraine, killing at least five people as President Volodymyr Zelenskyy met with U.S. President Joe Biden and congressional leaders in Washington with an additional $24 billion aid package being considered.
Sevastopol serves as the main base for Russia's Black Sea Fleet. The Russian-installed authorities in the city accused Ukraine on Sept. 13 of carrying out the biggest attack in Crimea in weeks, one on a strategic shipyard that damaged two ships undergoing repairs and caused a fire at the facility.