KHARKIV, Ukraine — Oksana Stetsenko runs to her son Nikita, tears streaming down her face as she hugs him tightly.
In the TV spot on pro-Kremlin NTV, a reporter explains that the Ukrainian mother had "lost contact" with the boy in the fall, when the Russian military took 13 kids from a boarding school in the Ukrainian town of Kupyansk, east of Kharkiv. 
According to the May 20 TV report, the children had been taken to "a safe place," in line with Moscow's official narrative depicting Russia as the savior. But Stetsenko told a different story about a week later, when she returned safely to Ukraine with Nikita.
"They took our children and they had no right to keep them there," Stetsenko told NBC News in late May, as she sat on a bench in the sun in Kharkiv's sprawling Gorky Park watching Nikita, 12, ride a bicycle. "I don't understand why they didn't tell us, why they didn't give them back." 
Nikita's experience is part of what Ukraine says is Russia's systematic and large-scale effort to erase Ukrainian identity. 
President Volodymyr Zelenskyy says that more than 200,000 children have been deported to Russia or a Russian-occupied territory since President Vladimir Putin's invasion in February 2022. And that number could be as high as 300,000, according to the Ukrainian president's adviser on child rights, Daria Herasymchuk.
But Ukrainian officials say their real fear, for children like Nikita, is the indoctrination they endure after being taken by Russian forces. Nikita described singing the Russian national anthem, being taught a Russian curriculum. 
Dmytro Lubinets, the Ukrainian ombudsman for human rights charged with leading the daunting reunification process explained the playbook, as seen from Kyiv.
"Deport these children to [the] Russian side," he said in an English-language interview with NBC News in late May. "Take away their Ukrainian documents. Give them Russian documents. [Tell them] … 'Look, you were never Ukrainians because Ukraine never existed like a state. The Ukrainian nation never existed like a nation. You [were] all the time Russian.'"
On Sept. 8, Nikita says Russian troops took him and 12 classmates from the basement of the Kupyansk Special School, loaded them onto trucks and transferred them to Svatove, in Russian-occupied Luhansk. The town, which had been under occupation since the first days of the war, was retaken by Ukraine in a sweeping counteroffensive two days later.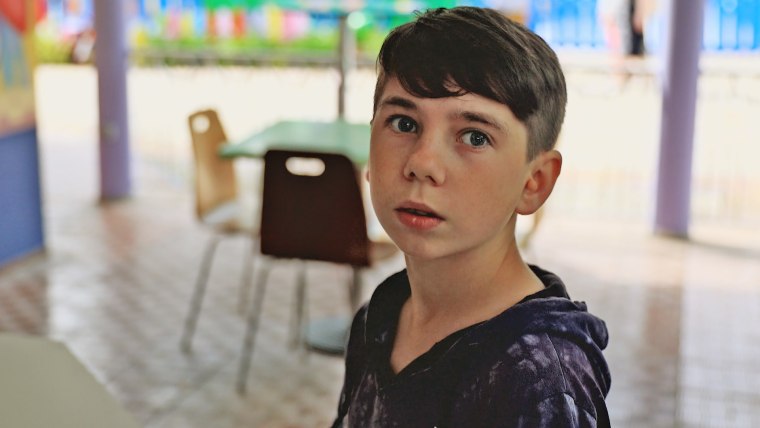 On Sept. 11, a pro-Russian Telegram channel announced the "safe evacuation of 13 kids" from Kupyansk. Within days, Nikita said, they were driven deeper into the occupied region to the Perevalsk Special Correctional Boarding School. 
Russian Presidential Commissioner for Child Rights Maria Lvova-Belova told NBC News that the group of 13 students had been "taken out from under shelling" and transferred to the school in Perevalsk on Sept. 14.
It was an agonizing time for Stetsenko, who had no idea where her son was for months. Even though Nikita was just about 100 miles south of his home village of Pischane, the front line laid between mother and child.
"Tears soaked my pillow," she said. "I had no idea where to start, or how I would ever get him back." 
"It was hard for the soul," she added. 
Then, the nongovernmental organization Save Ukraine contacted Stetsenko, saying they could offer her a way to get Nikita back, but it would require her to travel 3,000 miles into Russia.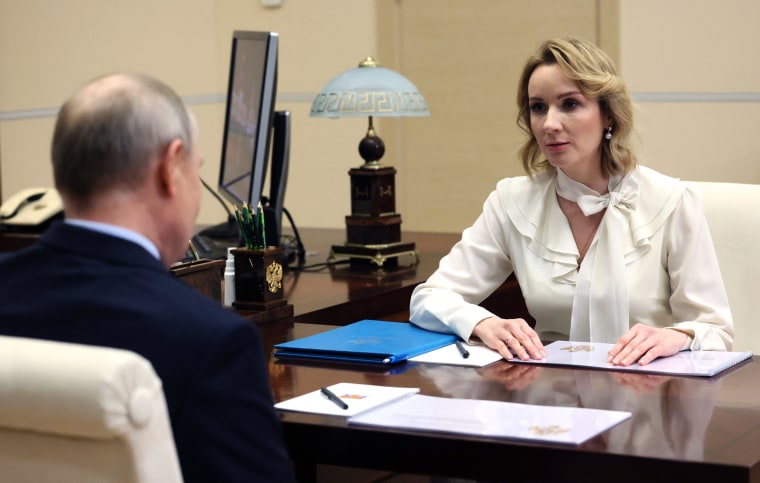 Locating and returning children in the midst of war costs thousands of dollars, so Save Ukraine organizes and funds travel for women like Stetsenko.
"I was shaking at every border crossing," she said. Going to Kyiv was intimidating, Stetsenko said. But leaving the country for the first time with her new Ukrainian passport was terrifying.
With Save Ukraine's guidance, she traveled to Poland, then Belarus, and then boarded a flight to Moscow — the second time she had ever flown. She took the train to southwest Russia, which is where the Russian TV picked up her story. 
Lvova-Belova shared the NTV report of Nikita and Stetsenko's reunion on Telegram. Her official page on the instant messaging service is full of videos of children who, she says, Russia has "saved." 
"It's hard to watch this reunion without tears," Lvova-Belova captioned Nikita's story. 
"Russia has always helped and continues to help families be united," she said in a statement to NBC News, echoing President Putin.
"Children are sacred," he said last week in a meeting with South African President Cyril Ramaphosa. "We took them out of the conflict zone, saving their lives and health. That's what happened."
"We have never been against children being reunited with their families, if, of course, their relatives come through," Putin added. "There have never been any obstacles to this, there are not, and of course, there never will be." 
Mykola Kuleba, the CEO of Save Ukraine, said this is an outright lie: The Russian government has not willingly returned any Ukrainian children, he said. 
"They're not giving them back — we're taking them back," he added. 
In March, the International Criminal Court issued an arrest warrant for both Lvova-Belova and Putin, accusing them of the "unlawful deportation and transfer of Ukrainian children," which is a war crime. Their actions, the warrant continued, "demonstrate an intention to permanently remove these children from their own country." 
And since March, Kuleba says, it has proved harder to return Ukrainian kids. The Ukrainian government says at least 370 children have been returned so far, all without Russian help. 
"Russians understand now that each case is valued for the ICC," Kuleba said. "Each case is evidence of a war crime."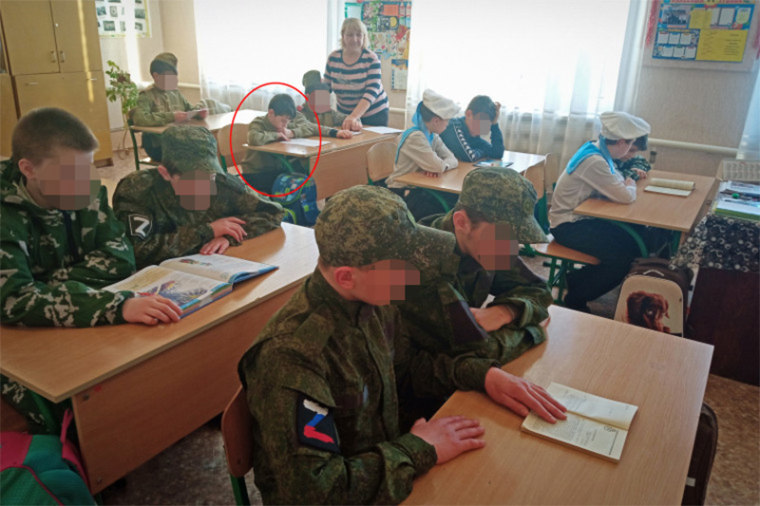 But Stetsenko is clear in that no Russian official and no one from the school ever contacted her. 
"Unless you're a mother, you can't possibly understand," she said of those first months of uncertainty about her son. 
Ukrainian officials say the biggest fear is that the youngest kids will quickly be absorbed into the system of foster care, orphanages and summer camp facilities across Russia, soon forgetting their home country. 
In a picture on the Perevalsk school's website, Nikita can be seen with his head on his desk during a lesson. They often had to sing the Russian national anthem, he said. 
"I'm here. Artem is right there," he said, pointing out other kids in the picture. Artem Zhornyk, 15, seen in the picture wearing a uniform emblazoned with Russian pro-war Zs, was also at the school in Kupyansk with Nikita and has been returned to Ukraine after his mother, Natalya Zhornyk, made the same arduous journey as Stetsenko. 
Asked if they were Ukrainian kids in the picture, "No," Nikita said, shaking his head. They're not Ukrainian anymore "Because they were 'grabbed.'"
Molly Hunter, Ostap Hunkevych and Ed Flanagan reported from Kharkiv; Daryna Mayer reported from Kyiv; and Bianca Britton and Yuliya Talmazan reported from London.