Seventeen paintings stolen from a museum in Verona, Italy — including works by Tintoretto, Rubens and Mantegna — have been recovered in what Ukraine's president hailed Wednesday as a "brilliant operation."
President Petro Poroshenko said the recovery of the stolen art, estimated to be worth more than $18.3 million, had demonstrated Ukraine's efficient fight against art smuggling.
Ukrainian border guards found the stolen paintings hidden in plastic bags on a small island on the Dniester River between Ukraine and Moldova.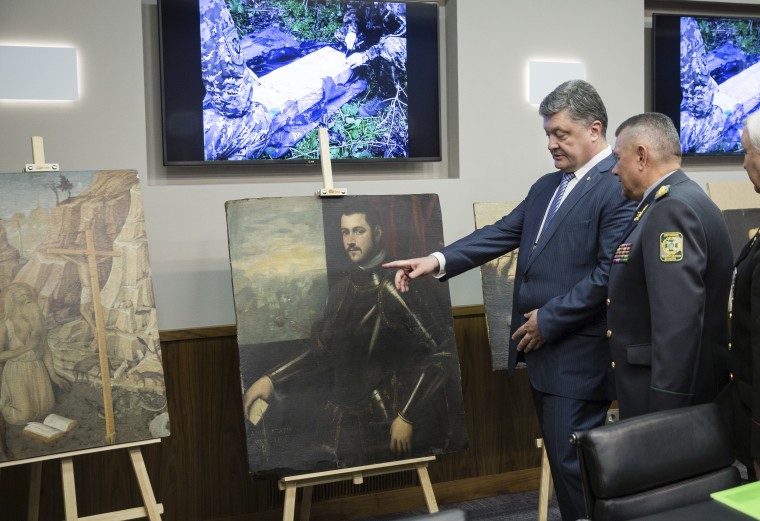 The paintings were stolen from Verona's Castelvecchio museum in November by three masked, armed men who entered the museum in a medieval castle after it closed and just before its alarm system was activated.
They tied up a security guard and a cashier, quickly took the paintings from the walls and got away in the security guard's car.
Italian authorities last month announced the arrest of 13 suspects in Italy and the former Soviet nation of Moldova. They included the Italian guard on duty when the robbery took place and his twin brother, along with the brother's Moldovan wife.
Investigators analyzed 4,000 hours of video and hundreds of phone calls to identify the suspects. In intercepted phone calls, the thieves congratulated themselves, calling the heist "a big hit" and saying they would have to wait a few months before trying to offload such valuable paintings.
The Ukrainian Border Guard agency said the paintings were mailed from Moldova to Ukraine's Odessa border region and kept there by members of a criminal group that included citizens of Ukraine, Moldova and Russia.
"We have not only preserved the global value of these paintings, but also reaffirmed Ukraine's prestige by such efficient actions," Poroshenko said.