U.S. targets in Iraq and Syria have been attacked at least 24 times since Oct. 17, a senior U.S. defense official said Monday.
The attacks have been conducted primarily with rockets and drones, the official said, and 15 have been against U.S. targets in Iraq and nine against U.S. bases in Syria. The official did not report any U.S. injuries.
At least five of the attacks have come since the U.S. launched retaliatory strikes on two Iranian-linked targets in Syria on Thursday.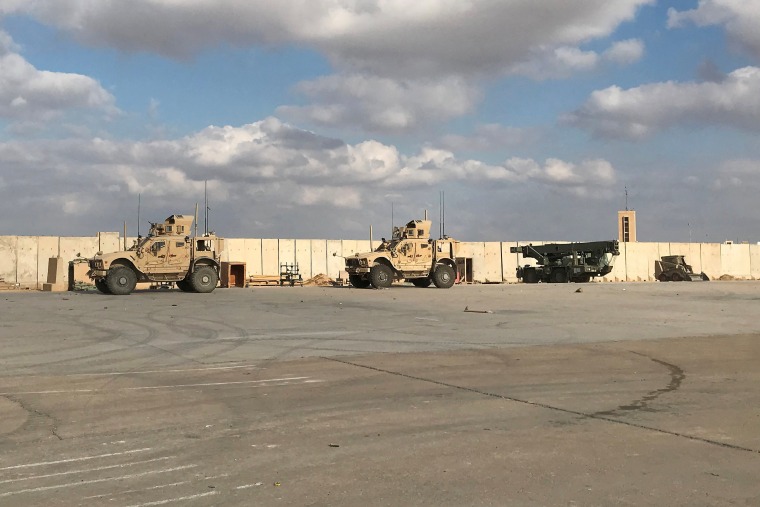 A senior U.S. military official said that the two locations hit by the U.S. were a weapons storage area and an ammunition storage area and that the U.S. used precision munitions dropped by two F-16s. No casualties were detected, the senior defense official said.
Defense Secretary Lloyd Austin said that the attacks the U.S. launched Thursday were "separate and distinct from the ongoing conflict between Israel and Hamas" and that they do not represent a shift in the U.S. approach to the conflict.
Before they retaliated, U.S. and coalition forces had been attacked at least 19 times in Iraq and Syria, according to defense officials. On Oct. 18, at least two one-way attack drones targeted al-Tanf military base in southern Syria, U.S. Central Command said. The same day, there were two separate drone attacks against U.S. and coalition forces stationed at al-Asad base in western Iraq. An American civilian contractor died of a heart attack sheltering in place, and 21 U.S. personnel suffered minor injuries, including 19 with traumatic brain injuries. All those injured have returned to duty.
On Friday, a defense official reported that another attack had occurred in Iraq, saying U.S. forces had shot down a one-way drone "a few kilometers" from the Asad base. On Monday, there was a multi-rocket attack on the same base, which did not cause casualties or infrastructure damage.
The U.S. defines attacks as attempted strikes on U.S. facilities. Not all attempts actually reach the U.S. targets. 
Brig. Gen. Pat Ryder, the Defense Department press secretary, said last Tuesday that the groups conducting the attacks are supported by Iran and its Islamic Revolutionary Guard Corps.
"We always reserve the right to defend ourselves, and we will never hesitate to take action when needed to protect our forces and our interests overseas," he said.
On Monday, a senior defense official said, "Iran's objective for a long time has been to force a withdrawal of the U.S. military from the region. What I would observe is that we're still there. ... [W]e have been very clear about what we want, which is for Iran's senior leaders to direct its proxies and militias to stand down and stop these attacks. And we've backed it up with with the use of force."