Moviegoers in search of some summer escapism might think the anticipated blockbuster "Barbie" would be a safe haven from the dizzying complexities of international politics.
Not so: The movie has been banned in Vietnam over a scene that features a map showing the South China Sea — a strategically important body of water that's hotly contested by China and a number of its neighbors, many of whom have close ties to the United States.
Warner Bros. defended its picture Friday, saying the map is nothing more than a "child-like crayon drawing" and certainly not any kind of political statement.
So what's actually going on here?
Why did Vietnam ban the movie?
"Barbie" was set to hit Vietnamese theaters the same day as its American general release, July 21.
But on Monday the country's Ministry of Culture, Sports and Tourism announced it was revoking the movie's license, according to state media. Vietnamese newspapers reported digital posters for the film had been pulled from the websites of local distributors.
"We do not grant a license for the American movie 'Barbie' to be released in Vietnam because it contains the offending image of the nine-dash line," Vi Kien Thanh, head of the ministry's department of cinema, told the state-run Tuoi Tre newspaper.
What's the 'nine-dash line'?
This is China's vast — and fiercely disputed — territorial claim over most of the South China Sea. It is made up of nine broad-brush dashes, representing a colossal maritime claim that has been summarily rejected by international law.
The South China Sea, double the size of the Gulf of Mexico, is a teeming trade route with abundant estimated reserves of oil and gas. And in recent years it has become an increasingly prominent stage for the spiraling tensions between Washington and Beijing.
China says it has "exercised jurisdiction over relevant islands, reefs and waters in the South China Sea for thousands of years," as its foreign ministry put it in 2020. The problem is so do its neighbors: Indonesia, Malaysia, the Philippines, Brunei, Taiwan and Vietnam.
China's nine-dash line was rejected at a Hague tribunal in 2016, and most Western experts say it has no basis in international law.
"It doesn't make any sense from a historical or legal point of view, but it's now become this kind of emotional claim," said Bill Hayton, author of "The South China Sea: The Struggle for Power in Asia."
"Chinese Nationalists — and Vietnamese nationalists — get very passionate about it, and it's become a marker of national belonging," he told NBC News.
What did 'Barbie' do to offend Vietnam?
It appears the map is included in the movie's trailer — although if that's the case there are many unanswered questions.
Margot Robbie, who plays "Barbie," is seen standing in front of a crude cartoon map. There is a line made up of what appears to be eight (rather than nine) dashes near China, but no other neighbors are shown.
The map is little more than a scribble, so proper analysis is difficult. But included within it there is another similar dotted line connecting what appears to be North America with the Danish territory of Greenland, suggesting these lines could represent something other than a maritime boundary.
Vietnam nonetheless felt the map showed "Barbie" was taking China's side. The studio has denied any such intention.
"The map in Barbie Land is a whimsical, child-like crayon drawing," Warner Bros. said in a statement Friday. "The doodles depict Barbie's make-believe journey from Barbie Land to the real world. It was not intended to make any type of statement."
Warner Bros. did not immediately respond to a request for further comment about the map. The Vietnamese culture ministry also did not immediately respond to a request for comment about Warner Bros.'s explanation.
Has this happened before?
This week the same issue stirred trouble for the South Korean pop sensation Blackpink.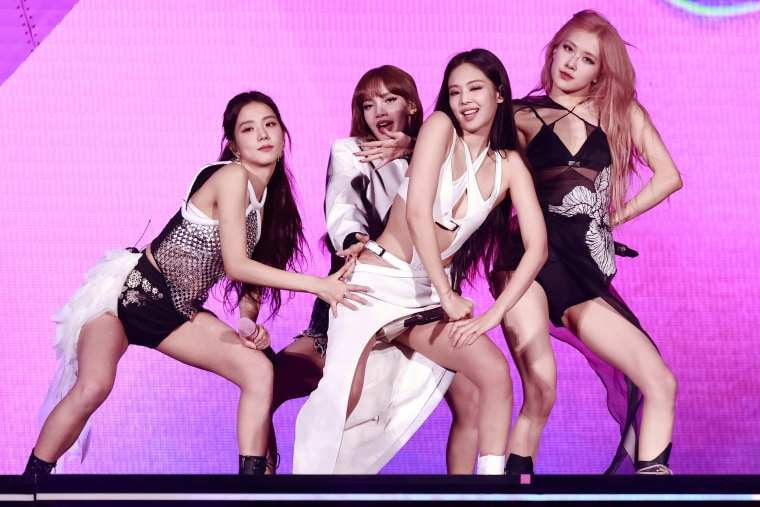 Vietnam's culture ministry said it was investigating the K-pop group's China-based tour promoter, iMe Entertainment, which the ministry said had used the nine-dash line on its website. Some Vietnamese fans online demanded a boycott, according to Reuters.
The images appear to have been taken down. But Tung Ngo, a journalist with Channel News Asia in Vietnam, tweeted that the maps did not in fact show the nine-dash line but locations of cities being visited by the tour, which outlined a similar shape.
The promoter has apologized, Vietnam's news website VnExpress reported. But it's far from the first time this has happened.
Just last year, Vietnam banned the Sony action film "Uncharted" because it really did show a map featuring the nine-dash line. And Malaysia and the Philippines joined Vietnam in banning DreamWorks' 2019 animated film "Abominable" for the same reason. (DreamWorks Animation is owned by Universal Pictures, a division of NBCUniversal.)
China has a rich history of banning movies and TV shows that show maps or imagery that its stringent state censors disapprove of.
"Top Gun: Maverick" was never released in mainland China after arm patches on the bomber jacket worn by star Tom Cruise featured the flags of Japan and Taiwan.
This was a rare case, however, with Hollywood frequently abiding by Beijing's sensitivities to gain access to its gigantic market. Last year, "Fast & Furious" actor John Cena apologized in Mandarin for calling Taiwan a country during the film's publicity tour.
Why is this such an emotional issue?
China says it wants a safe and cordial resolution to the South China Sea dispute, and describes the situation there as stable. However it has been bullish in backing up its claims.
It has expanded several reefs by reclaiming land and building bases for apparent military use. It has been accused of harassing fishing vessels from Vietnam and elsewhere as well as "buzzing" American aircraft and ships, which travel these seas to demonstrate that, in the eyes of most of the world, they are international waters.
China says that it is protecting its sovereignty and maritime interests and that it is the American planes and warships — as well as those of Washington's allies — that are threatening its national security and undermining regional peace and stability.
"The conflict for the South China Sea is inevitable due to its strategic importance," sid Jin Yongming, an international law professor at the Ocean University of China. "The abundant biological and nonbiological resources in the region make it a place that many countries fight for."
The South China Sea also has an emotional pull for China and Vietnam because "it is bound up with feelings of national humiliation for both countries," said Hayton, the author, who is an associate fellow at Chatham House, a think tank in London.
For China, the sea represents territory it perceives as having been stolen by Japan, France, the United Kingdom and others during China's so-called century of humiliation between the middle of the 19th and 20th centuries, Hayton said.
In reality, according to his research, the nine-dash line is "the result of translation errors, and bad mapmaking" by pre-Communist China that was then inherited by the party that rules today, he said.
"The Chinese government in the 1930s had no idea where these islands were," he said, "so they copied colonial maps, made various mistakes along the way, and then they drew a line around the South China Sea without really understanding what it meant."