PADUA, Italy — Rehabilitation could be a piece of cake for Francesco Cannito. Specifically, it's panettone, the Italian Christmas delicacy that the convicted murderer hopes will help him find redemption.
"Spending time in the cell is a waste of time. All you do is think about the mistakes you've made in the past," said the 51-year-old, who is serving 23 years in Due Palazzi prison. Around him, 20 other inmates busily stir vanilla, beat eggs and whisk cream in industrial machinery. "Now I am learning something that could change my future."
Cannito is among 150 inmates in the northern Italian jail who bake the sweet loaf at Christmas time and make other confectionery during the rest of the year as part of a rehabilitation scheme.
Giovanni, who is serving a life sentence for multiple murder, said the bakery has changed his entire outlook.
"I even earn a decent salary, and instead of begging for money, I am able to send 500 euro [$600] to my family every month," said the 38-year-old Sicilian, who asked that his family name not be used.
"It's the proof that any man, anywhere in the world, whatever they have done, can change."
The prison bakery was started in 2005 by Officina Giotto, a non-profit that organizes workshops to teach inmates a trade and facilitates their reintegration into society.
It has not only helped men learn self-respect and a new skill, but it has created a product that is coveted in its own right. The jailhouse panettone is sold in more than 200 shops across Italy and a handful of stores across the world. Last year, the prison bakery won a coveted "Best Patisserie" prize from by Davide Paolini, also known as Gastronauta, one of the best known cooking critics in Italy.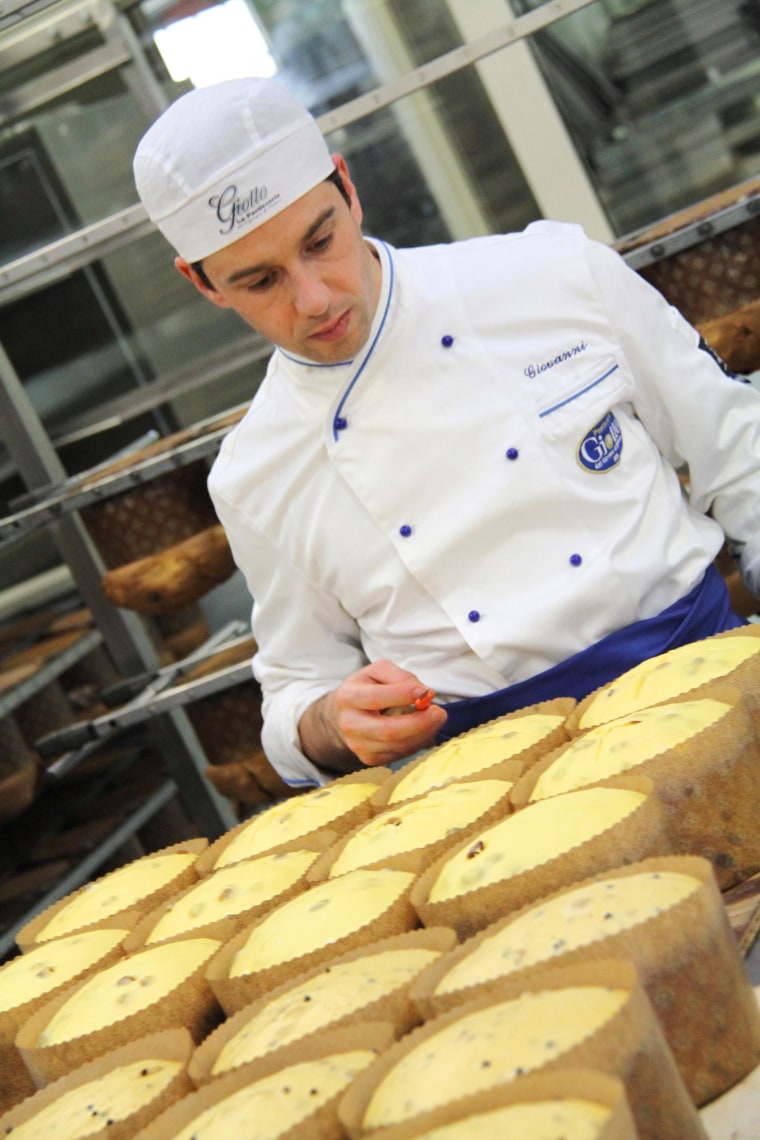 The endeavor has succeeded far beyond the hopes of its creators, according to Nicola Boscoletto, the President of Officine Giotto.
"We started in 2004, when we produced 5,000 panettone. This year we baked 82,000," he said. "At the beginning they were sold only locally, now you can find them all across Italy. And we receive orders from every continent."
Only two percent of those who participated have re-offended after being released, compared with 70 percent who are not part of the scheme, Boscoletto said.
Still, he admitted that some consumers are a bit squeamish when they discover where the sweet stuff comes from.
"Most people buy it because it's tasty. Then they discover it was baked by hands that once have killed or robbed. That's unsettling," he said. "But it's the proof that any man, anywhere in the world, whatever they have done, can change."
Popes are among those who've shown a weakness for the prison's celebratory sweet loaf, Boscoletto said.
"Since 2004, the popes ordered tens of panettone from us, both for himself and as a gift to others," Boscoletto said. "Pope Francis is yet to make an order for this year, but given that he cares deeply for inmates, we baked them anyway in the hope he will ask for them soon."
The scheme has been so successful that it has inspired similar rehabilitation programs in prisons in Brazil, Portugal, and recently Chicago. Bruno Abate, the Naples-born chief chef and owner of Chicago's Tocco heard about the project and launched a scheme to help inmates cook their way out of crime.
"It's hard," Abate admitted. "Once they are out in the street, it's easier for them to make a quick buck selling drugs, than struggle with minimum wage."
It takes 72 hours to bake the cupola-shaped panettone. For Cannito, those hours are nothing compared to the time he cannot get back. So for now, he is looking forward.
"I know my life has to change," he said as he worked thick golden dough with his hands.