JERUSALEM — How would you like a nine-day vacation with your new spouse up to 7,000 miles from home for just $1,800 including flights and hotels?
There's only one catch: You have to be a mixed-religion couple and one of you must be Jewish.
This is the deal offered by Honeymoon Israel, a nonprofit organization helping newlywed couples of different faiths find a way to connect with the Jewish community.
It is a growing market. Excluding the Orthodox community, around 72 percent of young Jewish Americans are now marrying non-Jews, according a study by the Pew Research Center in 2013. This compares with under 20 percent in the 1970s.
Avi Rubel, who started Honeymoon Israel around two years ago, took those statistics and translated them to a business.
"Our thinking is that if we don't offer these couples a real, genuine hug, then the next generation of Jews won't be here, aside from the Orthodox [community] of which the intermarriage rate is zero," he said.
That "hug" includes a nine-day trip to Israel that is heavily subsidized by Jewish donors.
NBC News joined a group of 15 couples who traveled to Jerusalem from San Francisco area in early December as part of their honeymoon.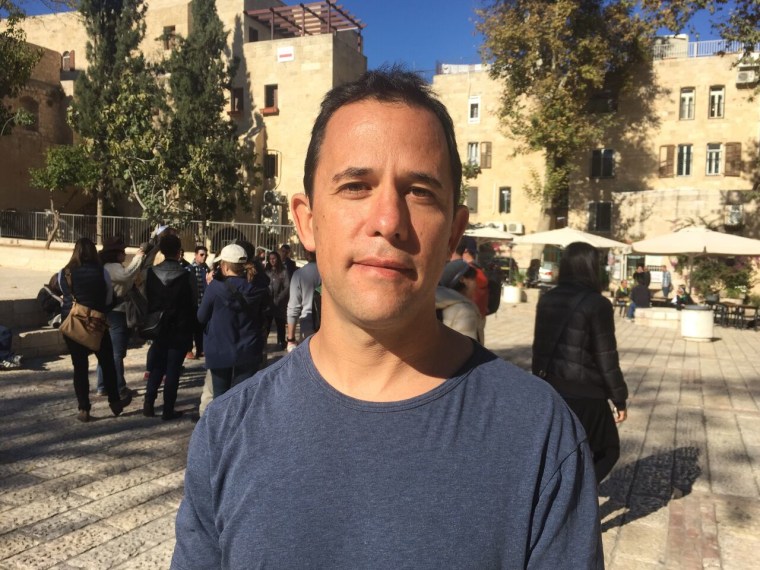 On their way to the city's Wailing Wall — the holiest site for Jews — the group stumbled across a family celebrating their kid's Bar Mitzvah ceremony. It took only a few seconds before they were dancing to "Hava Nagila," holding hands and dancing in a circle.
Among the couples were Talia Gracer, a Jewish family doctor, and Todd Ryan, who is Christian, both from Oakland, California.
"When I met Talia, I knew from the start that she wants a Jewish family," said Ryan, 32. "It was something that evolved over time that I became more and more comfortable about and more excited about, so this trip is very important for us."
The 31-year-old Gracer said "the best part about the trip" was that every couple was in the same position of having one person more connected with Judaism and another less familiar. "This is very unique," she said.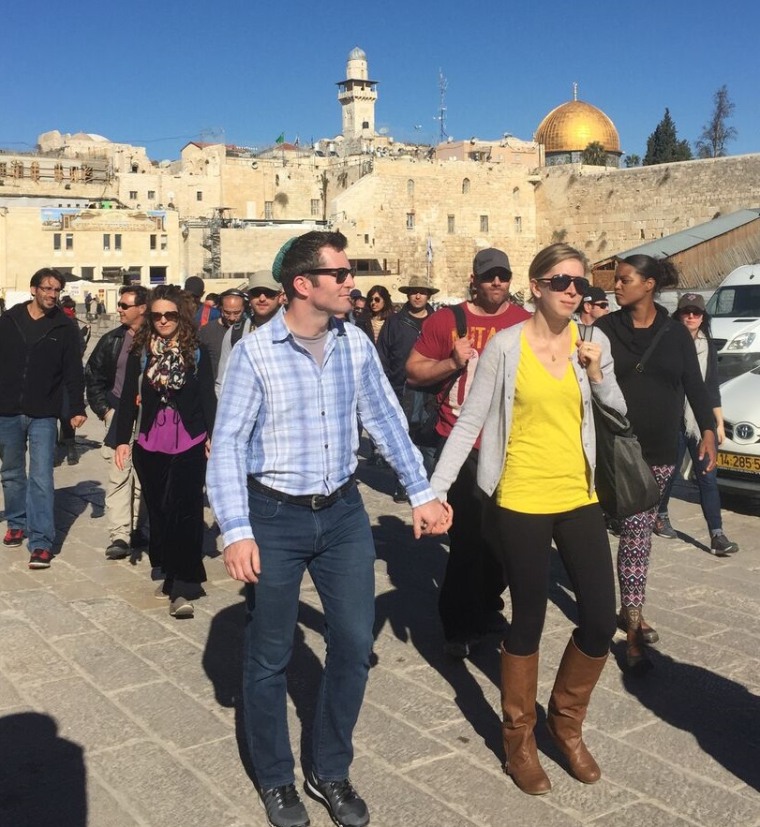 The tour also visits the Church of the Holy Sepulture, the place where Jesus was said to have been crucified that now serves as a place of pilgrimage for Christians around the world.
This physical convergence of Judaism and Christianity reflects the views of many of the couples on the trip, who said they would celebrate both Hanukkah and Christmas during the holiday season.
"Christmas is a big time when my husband's family gets together," Gracer said. "It's more about community than religion and it's really important for us to also be part of that."
Police officer Noah Serbin and new wife Jyesha Wren, also from San Francisco, were another couple on the trip.
"I'm new to learning the Jewish way of life," said Wren, who works as a midwife. "It's a great opportunity for me to learn more about these people and where Noah comes from and how we will build our life together."
Honeymoon Israel is solidly booked for all its upcoming trips until September 2016 and has a rate of four applications for every space.
Rubel said the trips were helping American Jews gain a different perspective on Israel. He said many visitors think of the country "only as a war zone" that is portrayed as a "negative stereotype in the media."
"All of a sudden they come here and say wow this place is so much to offer," he said. "Our goal is to say to couples, whether you are Jewish or decide to spend your life with someone Jewish, we want to help you figure out a way to be part of the Jewish community."